Publié le par Bernard Duyck
The fourth eruption of the year at Fuego is maintened with the same energy, constant explosions that generate plumes of ash rising to about 5 to 6,000 meters asl, which move and affect a large area west and south on about fifty kilometers. Particularly affected areas are San Pedro Yepocapa, Sangre de Cristo, and Panimache I & II.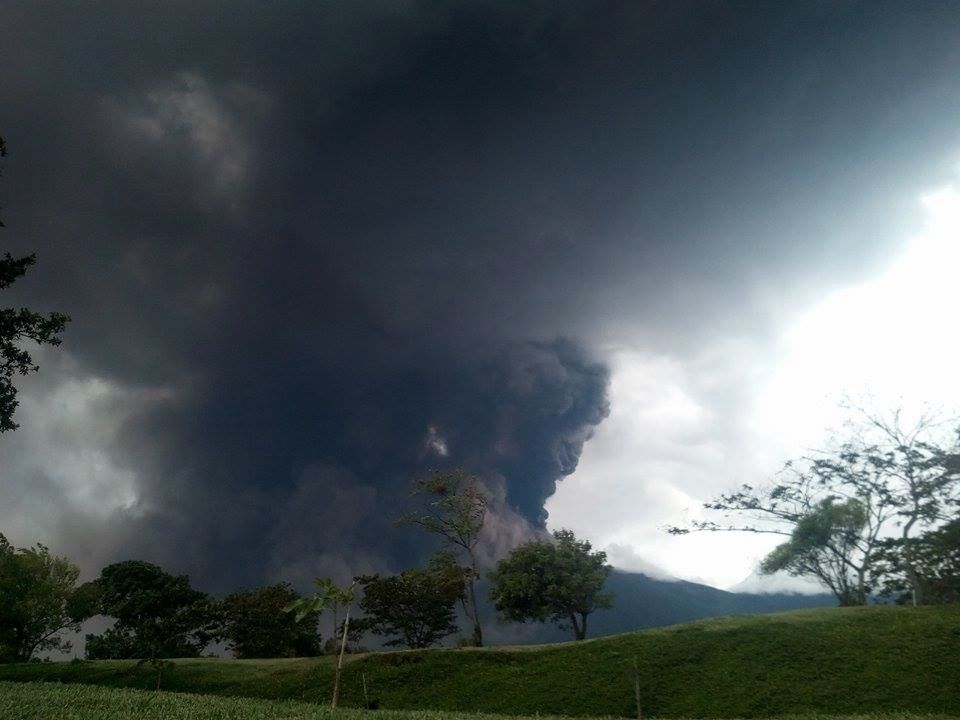 Volcanic activity of 05.05.2017 / 4th eruption of the year at Fuego - photo Sacatepéquez Starnews / Twitter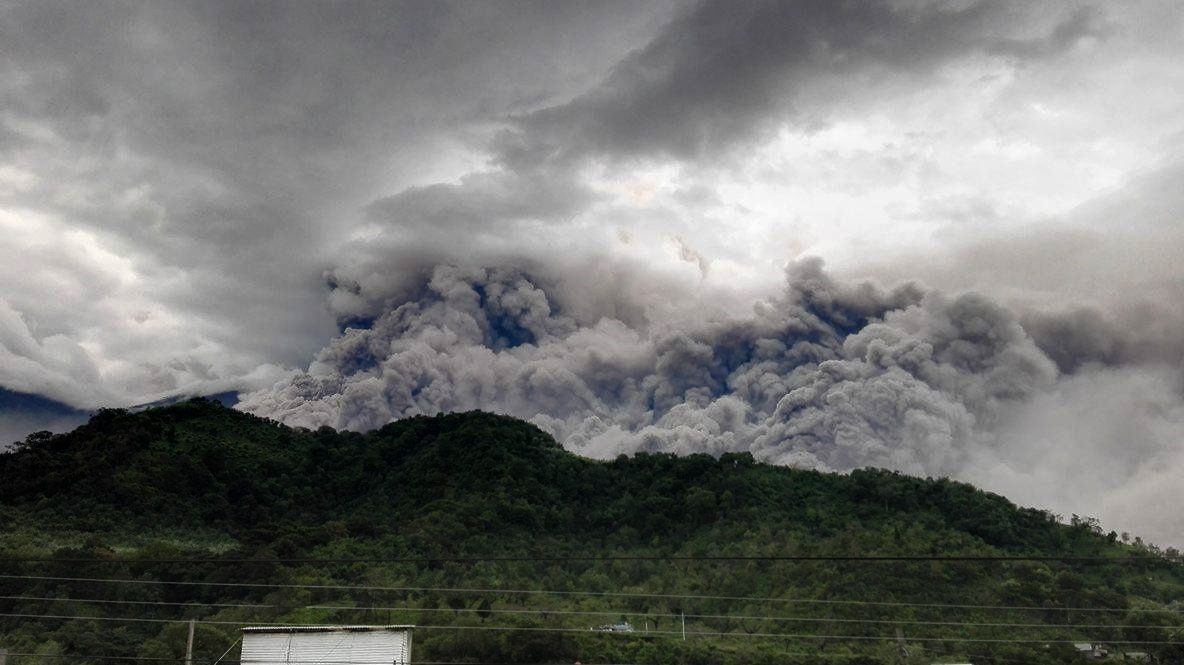 Fuego - 05.05.2017 - Pyroclastic flows seen from Yepocapa.- Photo John Charuc via Clima Guatemala (2)
Pyroclastic flows are reported in the main drainages: Trindad, Las Lajas, Ceniza and Santa Teresa barrancas, where large amounts of material accumulate, which can cause lahars and floods.

This eruption is the highest recorded since 2012; The orange level alert was declared and the Emergency Operations Center activated. It forced the evacuation of 300 people to Panimache I, and the village of Sangre de Cristo on the western flank. The classes were suspended in 10 schools located in Aldeas San Ándres Ozuna, Ceylán, La Rochela, Chuchu, Belice, Campamento, El Rodeo, Trinidad, Guadalupe and Don Pancho. The media disseminate caution to drivers because of a high loss of visibility.

Sources: Insivumeh & Conred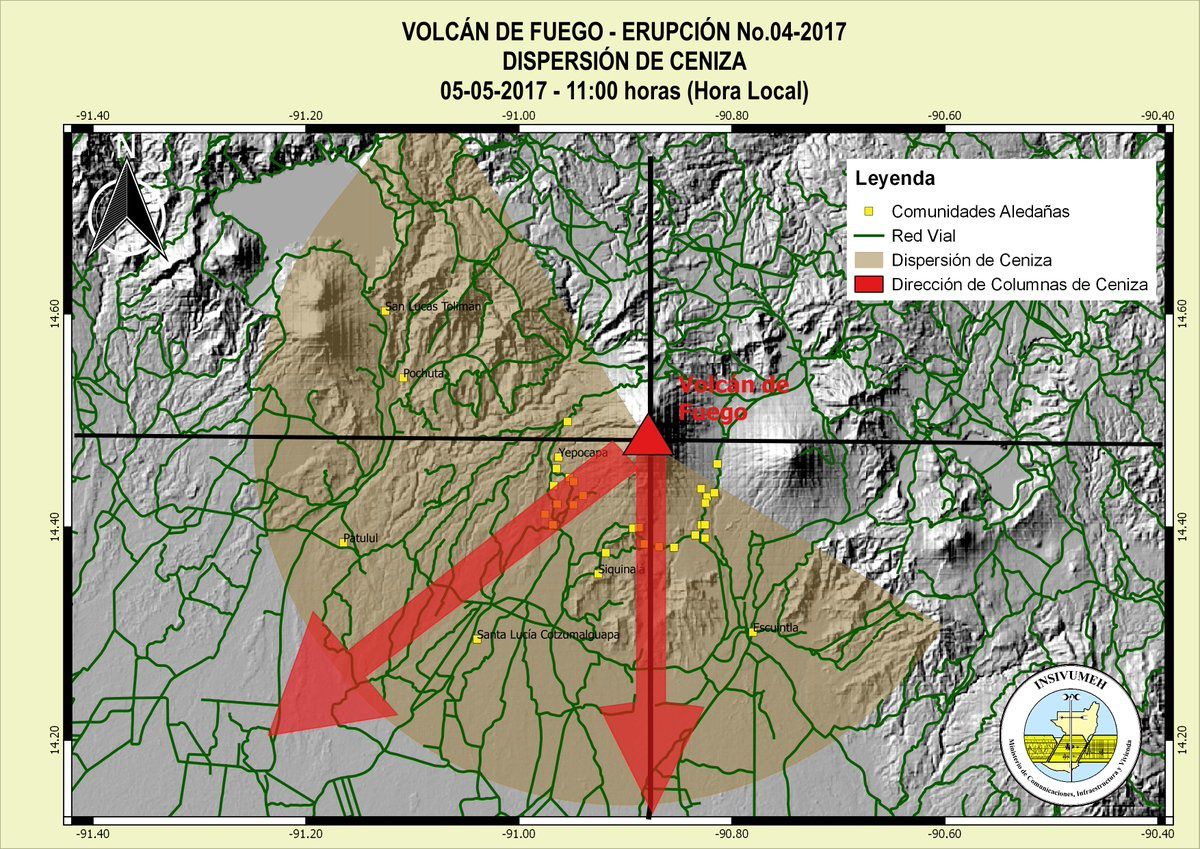 Zones and axes of dispersal of the ashes of the Fuego eruption 05.05.2017 / 11h local - Doc. INSIVUMEH
On May 3rd, between 9:55 and 10:00 local time, the lava delta formed by the 61 g episode in Kamokuna, set up since the end of March, collapsed. This is not surprising, as cracks had appeared there and the delta was showing signs of potential collapse ... what is different is the rapidity with which almost the entire delta has disappeared.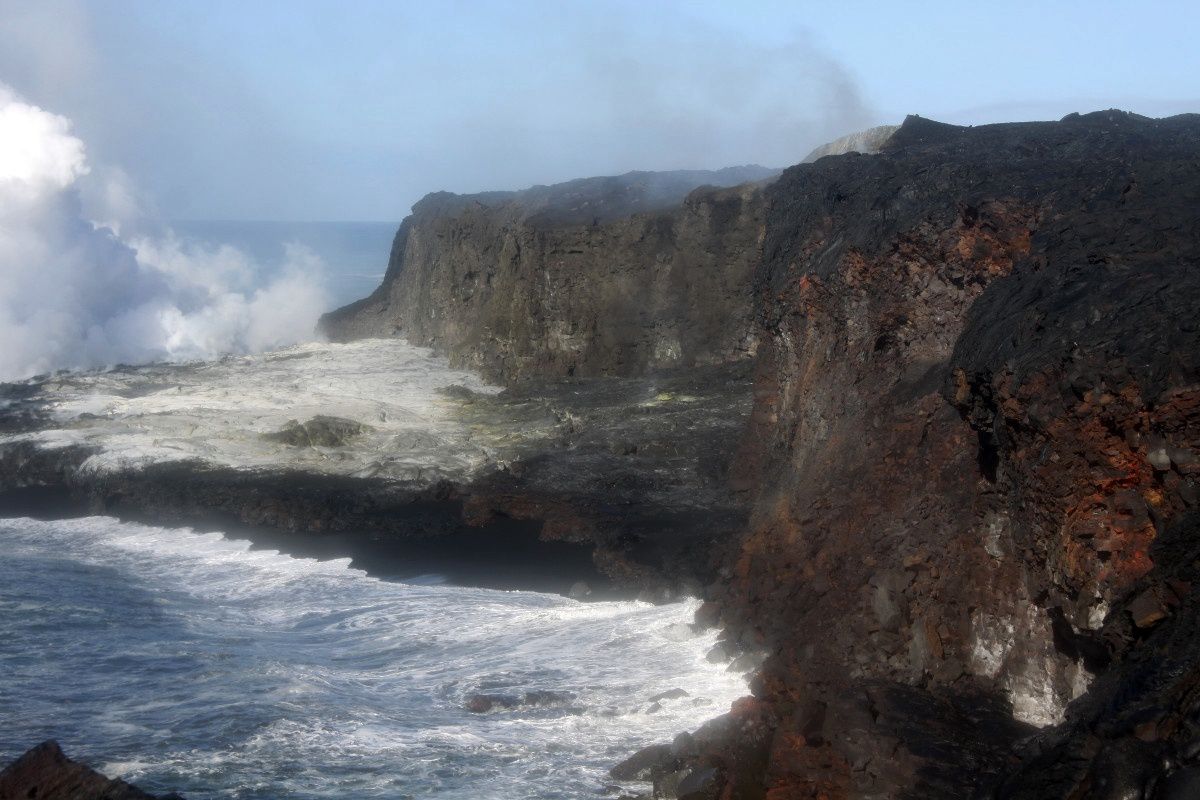 Kilauea - Kamokuna sea entrance 03.05.2017 - the lava delta at 7:50 local before the collapse - photo HVO / USGS
A large plume of steam first appeared in the middle of the delta in the crack zone, between 9:35 and 9:40; 25 minutes later, the plume weakened and between 9:55 am and 10:00 am, almost the entire delta collapsed, down to the cliff, leaving the ocean troubled by turbulence. During the following hours, small remaining parts disappeared.
On the morning of the 4th of May, the entrance of the lava into the sea was concealed by a thick plume of steam at the base of the cliff. According to a geologist from the USGS, there is no indication of the return of the fantastic lava jet in activity for months, while lava is visible at the base of the cliff.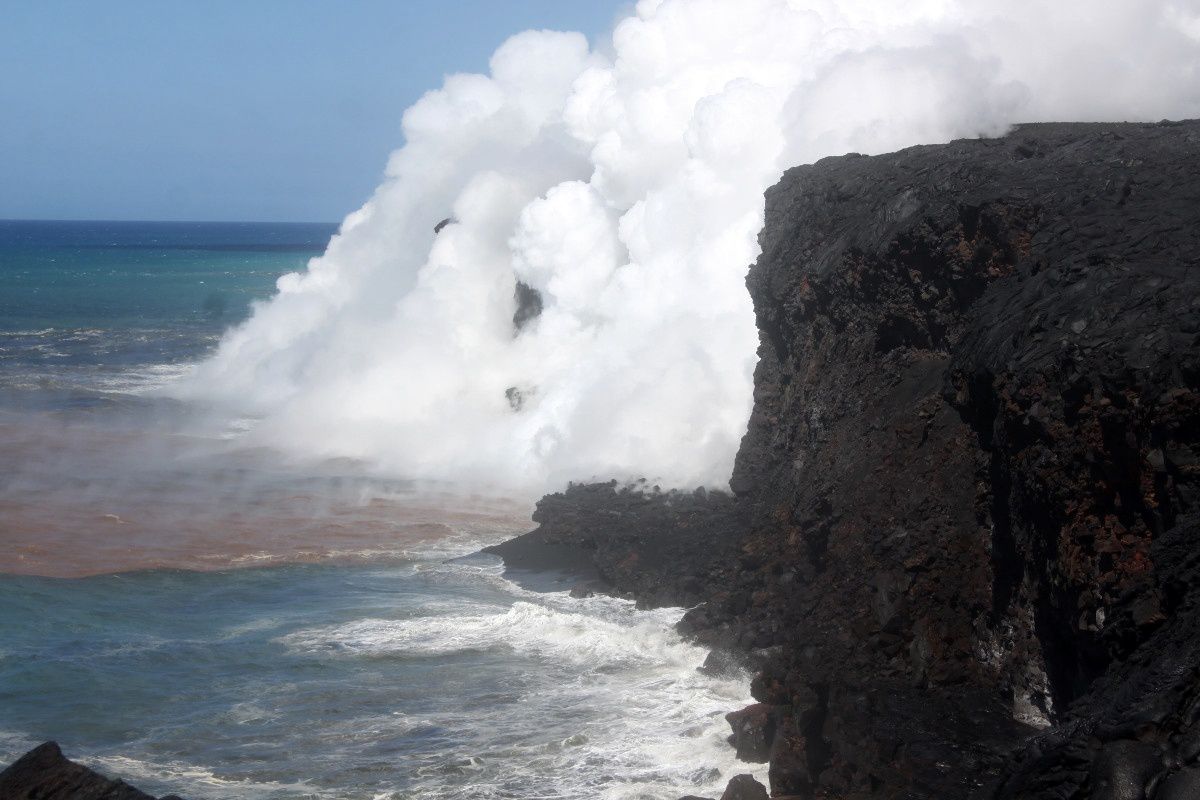 Kilauea - Kamokuna entry to sea 03.05.2017 - collapse of the delta between 9h55 and 10am; Sea water is brown and turbulent - photo HVO / USGS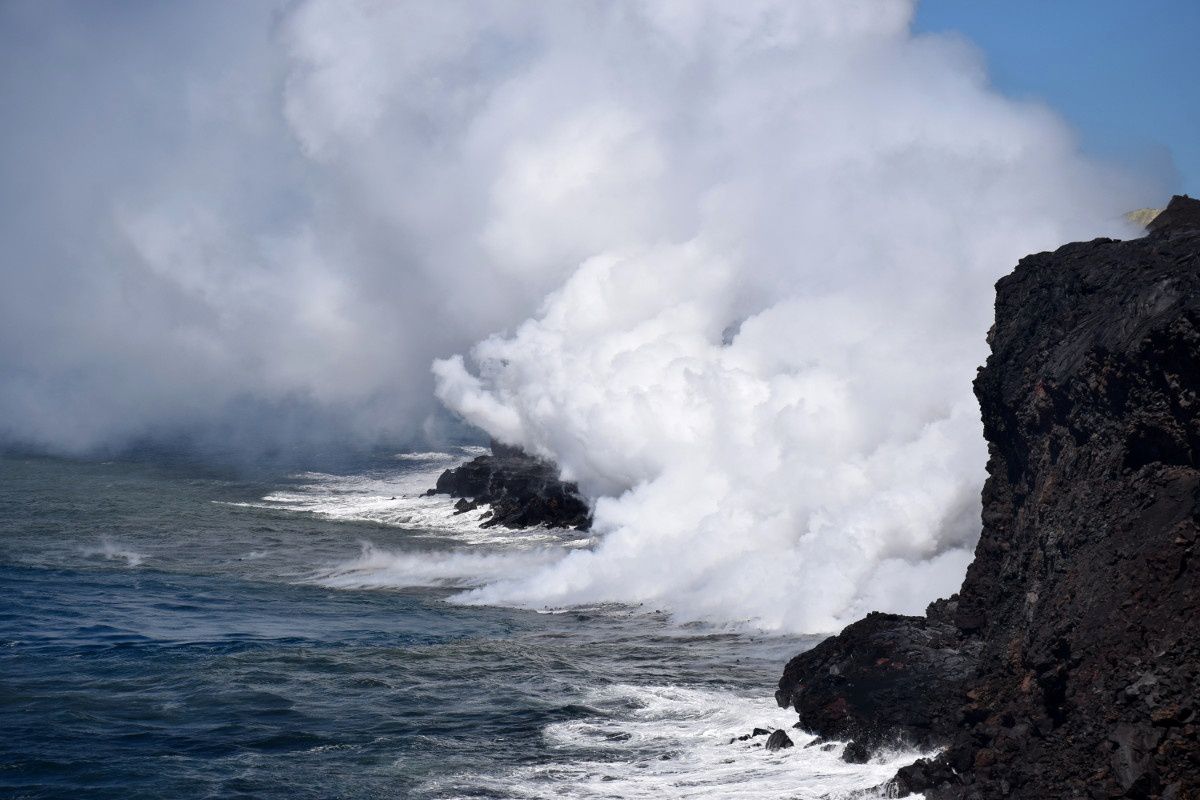 Kilauea - Kamokuna entry into the sea 04.05.2017 - this morning, a thick plume of steam cahe the entrance of lava at sea, at the base of the cliff - photo HVO / USGS
The collapse of the lava delta at Kamokuna explained by a geologist on 05.05.2017 - Matt Patrick / HVO / USGS via Big Islands video news
Sources: HVO & Big Island video news