Publié le par Bernard Duyck
When volcanic ash particles are violently expelled during an eruption, their friction creates electrical charges and triggers flashes of lightning.
When lightning strikes in the ash plume, heat is sufficient to change particles into small spheres of glass.
The researchers developed a method to measure one of the most striking and difficult to measure characteristics: volcanic lightning.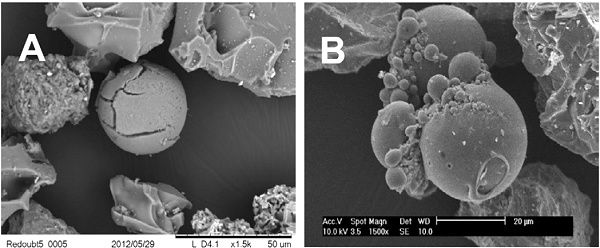 Spherules from the Redoubt eruption in 2009: A. A simple spherule surrounded by ash particles, B. A cluster of spherules. The size is less than that of a human hair - Doc. Lightning-induced volcanic spherules / Kimberly Genareau et al. - GSA
The recent study defines a model tested using glass spherules collected during the Redoubt eruption in 2009 in Alaska and the Eyjafjalajökull in Iceland in 2010 versus spherules created in the laboratory.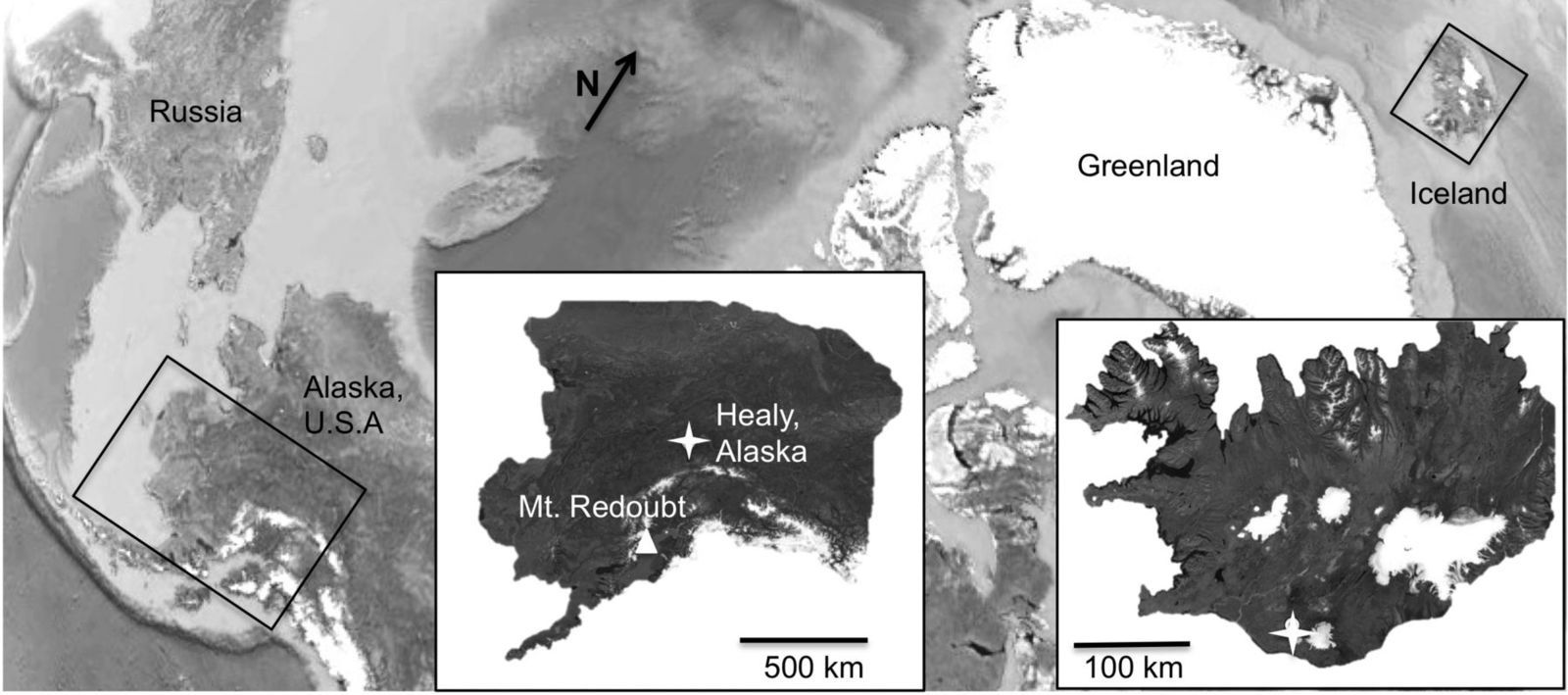 Location of eruptions and deposits from which the spherules studied originated - Doc. Lightning-induced volcanic spherules / Kimberly Genareau & al. - GSA
This model revealed the temperature and duration of the flash in the ash plume, where glass spherules were created.
They were formed in both cases at temperatures between 2,700 and 4,700 ° C (5,000 to 8,500 ° F); At Redoubt, heat formed spheres with a diameter between one thousandth and four thousandths of centimeter, while in Iceland the diameter of the spheres formed during the eruption of the Eyjafjalajökull is less than two thousandths centimeter.
The glass spheres, indicated by arrows, among the ash particles of the 2009 Redoubt eruption, seen under the electronic microscope - Credit: Wadsworth et al., JGR: Solid Earth / AGU.
The new study by Wadsworth and colleagues also reveals that the formation of the glass spherule is limited by the rate of heat transfer from the flash to the center of the ash particle.
The application of the model should make it possible to measure the size of the glass spheres in a deposit of volcanic ash, and to determine the temperature of flashes of lightning, and their lifetime ... work that can be carried out after the eruption.
These data will allow estimation of the rate of ash discharge, particle size distribution and pressure in the vent of the volcano.
They may also be involved in studies of the hazards posed by volcanic ash to aircraft turbines.
The method is also safer and cheaper than the deployment of conventional monitoring tools.

Sources:
- AGU Blogosphere / GeoSpace - Glass formed by volcanic lightning could be used to study eruptions - link
- AGU Publications - size limits for the rounding of volcanic ash particles heated by lightning - by Fabian B. Wadsworth, et al - link
- Geology - Lightning induced by volcanic spherules - by Kimberly Genareau et al. - link