Publié le par Bernard Duyck
Over the past week, the explosive activity of the Sabancaya has increased: there are an average of 41 explosions per day, and a seismicity related to the movements of internal fluids and the ascent of magma. The plumes of ash emitted reach 3,500 m above the crater, then dispersing over 40 km to a NE-E sector. Emissions of sulfur dioxide are measured at a maximum of 1716 tonnes per day.
The level of alert remains in Orange.

Source: OVI - OVS
In Villarica, strombolian eruptions have recently been classified into five categories, in a study published in the Journal of Geophysical Reseach / Gaudin D; & Al.
Following the ejection in mid-February 2017 of lava splashes at over 200 meters in height, questions about this unusual behavior observed since 2005 have been posed to the volcanologists, and motivated this investigation.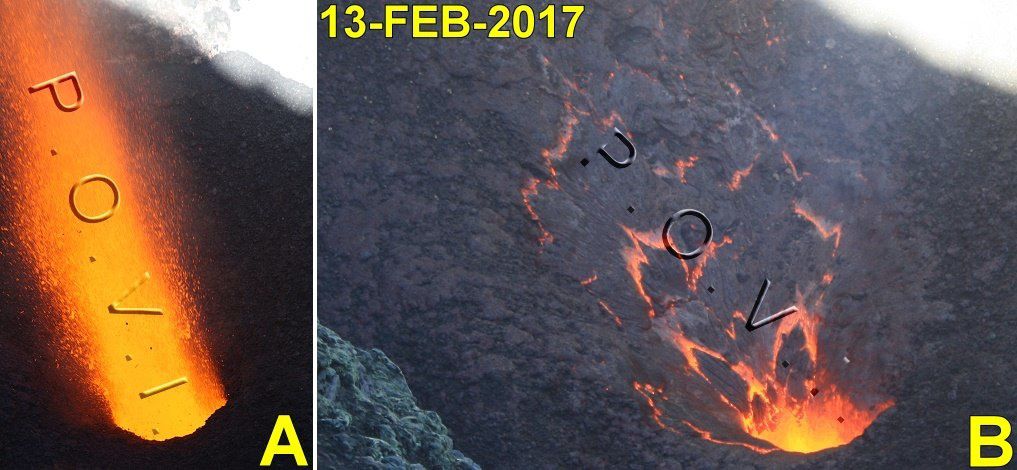 Villarica - A.- type 0 explosion (February 2017, VN Villarrica): it is defined as a high-speed emission (150-200 meters / second), dominated by gases, lava particles and pyroclasts. B.- 20 seconds after the explosion (a). Slim flow of lava splashes inside the transmitter duct. To the extent that the flow progresses on the slope, the surface on the point of solidifying, colder, expands, showing the incandescent interior. - photo Werner Keller / POVI

It is possible to note, in these 5 thermal photos taken at the Villarica, each of the eruptive styles described by Gaudin d. & Al. In his study
Using field observations and high-speed IR thermal videos, different types of activity, as well as their relationships and interactions were characterized.
It has been found that strombolian activities form a continuum from a common mechanism and are modulated by a combination of two factors: the length of the burst gas pocket with respect to the diameter of the vent and the presence, than the thickness of a layer of high viscosity in the upper part of the volcanic conduct.

Sources:
- POVI Araucania - ¿Conoces the clasificación del estilo eruptivo estromboliano del Volcan Villariaca?
- Journal of Geophysical Research - Integrating puffing and explosions in a general scheme for Strombolian-style activity - link
Integrating puffing and explosions in a general scheme for Strombolian-style activity - Damien Gaudin
In Papua New Guinea, following seismic activity and ash falls related to the Manam eruption, schools were closed; This concerns more than 800 students on Manam and the near island Boisa.
The level of alert established by the Rabaul Volcano Observatory has increased to three.

Source: Papua Newguinea Post-Courier 09.05.2017
News from Poas: the volcano national park has not yet been reopened ... no date is given for an access.