Publié le par Bernard Duyck
In Etna, between 11 and 18 May 2017, INGV recorded 21 peaks of amplitude of the tremor, pronounced, and of short duration. They correspond to episodes of strombolian activity at the saddle vent of the new south-east crater. The last date of May 18 at 7:30 local.

Source: INGV Catania, via Boris Behncke.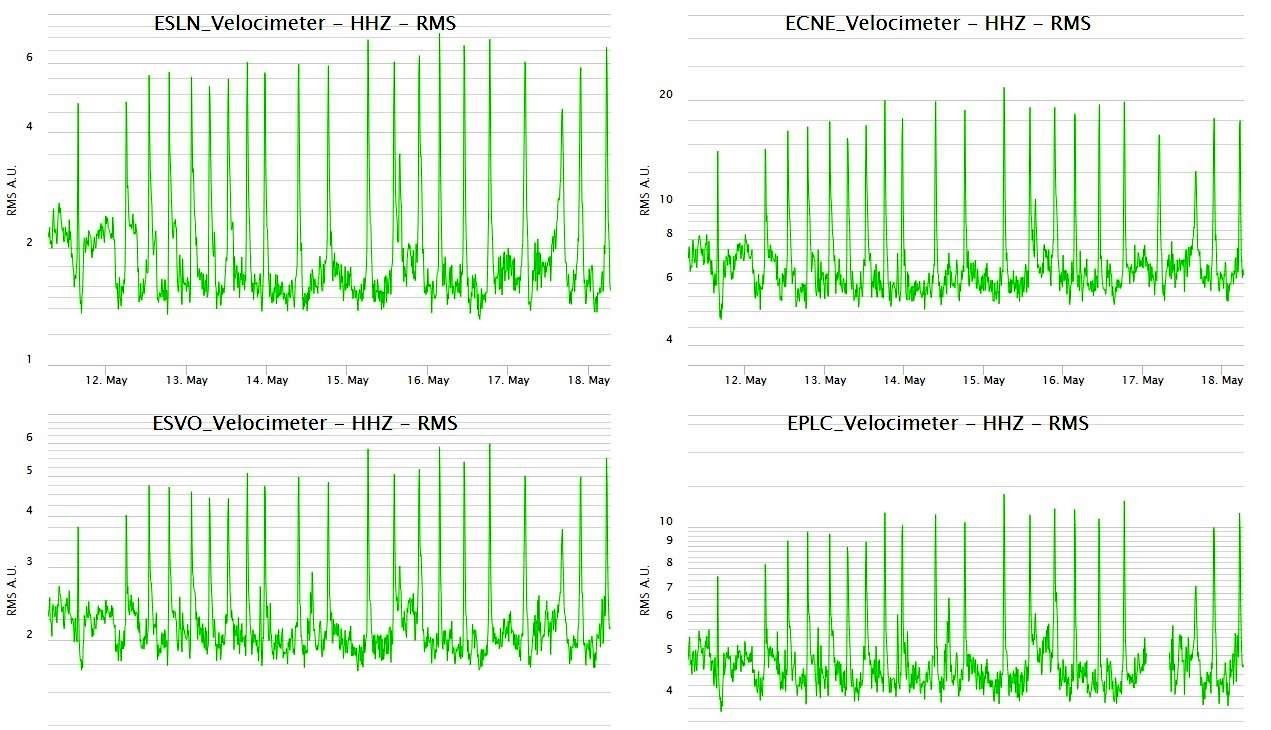 Etna - diagram of the 21 tremor peaks between 11 and 18 May 2017 - Doc. INGV Catania via Boris Behncke.
In Stromboli, in the Aeolian archipelago, activity has been on the rise since a few days.
Marco Fulle of Volcanodiscovery reported eruptions 5 to 10 minutes apart, mostly originating from two northeast vents (on the village of Stromboli side), although the other vents were also active.
Several explosions were of good size, with the ejection of bombs higher than the observation post of the Pizzo, more than 200 meters above the vents.

Sources: Volcanodiscovery and Butterfly Helicopters / Joseph Nasi.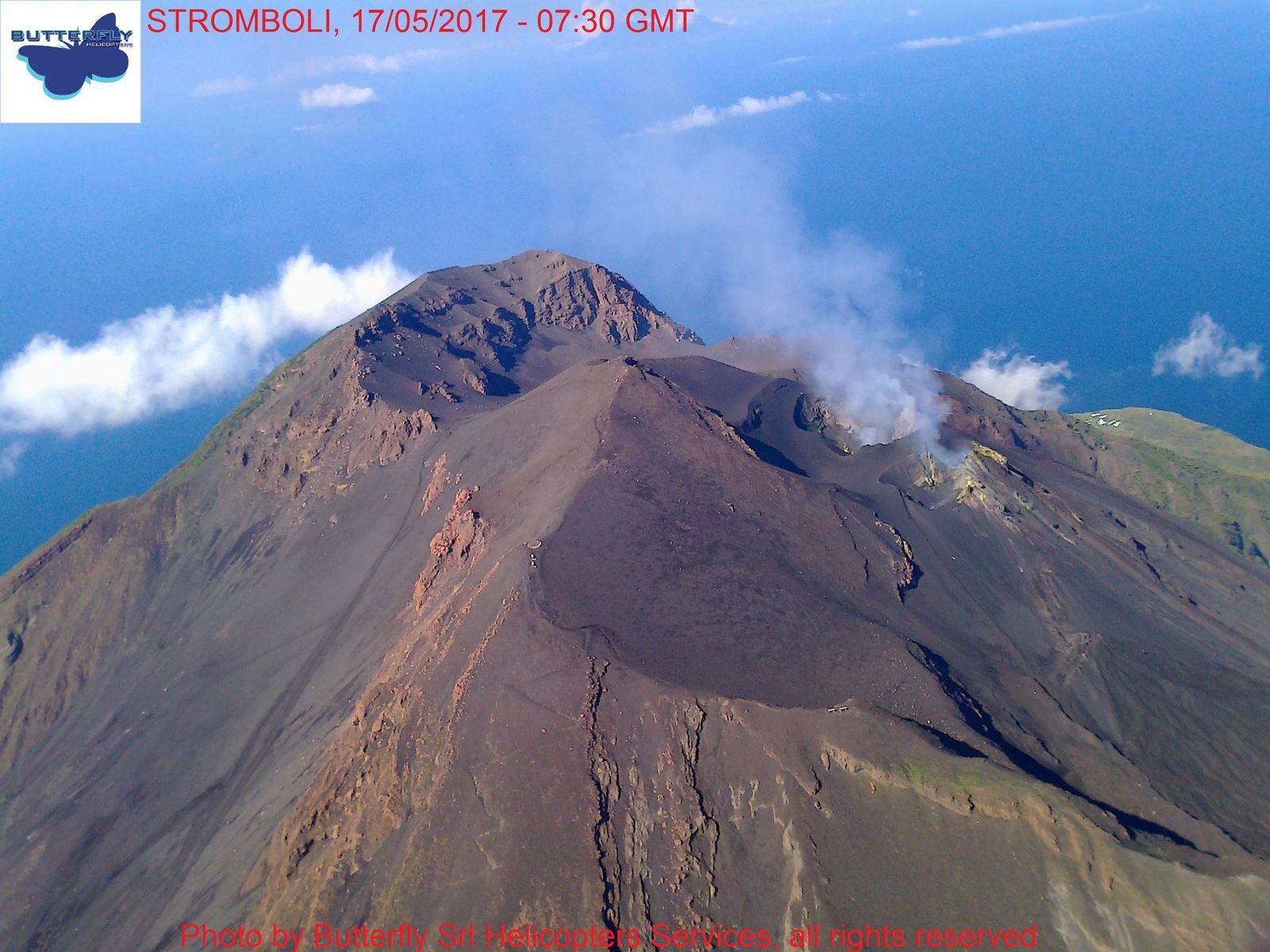 Stromboli - 17.05.2017 / 7:30 GMT - a beautiful view of the peaks by Butterfly helicopters Jos. Nasi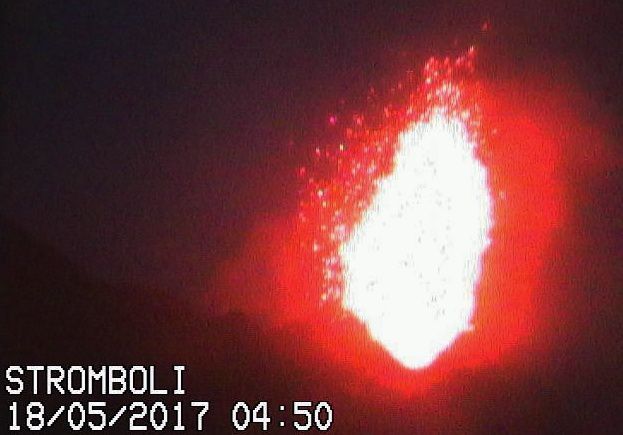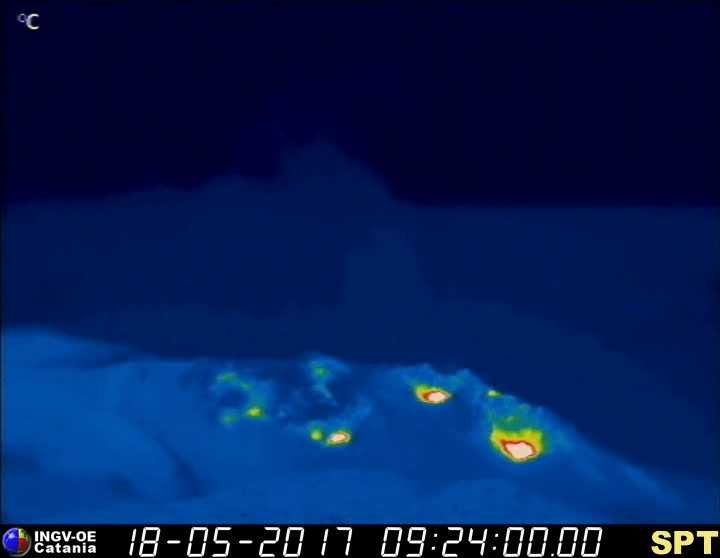 Stromboli - activity of 18.05.2017 / 4:50 top;  bottom, image with the thermal camera indicating the active vents on 18.05.2017 / 9h24
Over the past 24 hours, Cenapred has identified 82 low-intensity exhalations and 19 explosions at the Popocatépetl.
At 3:47 am on May 18, a train of exhalations produced a plume of steam, gas, and a little ash up to 2,000 meters above the crater, then drifting east-northeast.
On various occasions, incandescent fragments have been emitted; The most important episode at 5:02 am propelled these fragments to more than 1,000 meters on the east flank. Around 5:45, this activity tended to decrease to reach previous levels.
The seismicity is characterized by two volcanic tectonic earthquakes, at 0h57 and 7h42, of Magnitude 1,4 and 1,3, as well as by low harmonic tremor for a total of 20 minutes.

Provided by: Cenapred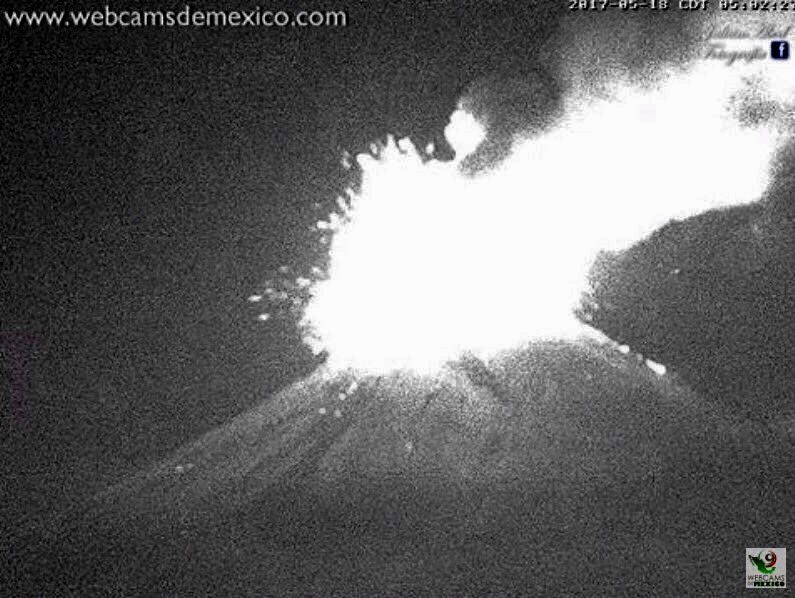 2045/5000 Popocatépetl - 18.05.2017 / 5h02 - the explosion with projections has "burned" the image of the webcam - doc. WebcamsdeMexico
What happened on May 17 at Piton de La Fournaise?

Objectif Volcans published a document questioning yesterday, which I repeat in extenso:
"What a turnaround!
The aerial reconnaissance this morning by the OVPF did not allow to observe "fresh" lavas, in fact reversing that there was an eruption yesterday! I confess that I am a little bit blown by what has just happened!
But then what happened? Because there was indeed a seismic crisis, rapid deformations and a tremor ... The magma has therefore returned to the surface without having the strength to reach it. As I explained to you in my first post yesterday, it happens from time to time. But there was a tremor, a sign that the magma was close enough to the surface to emit this vibration. What surprises me is that the magma is not released because the more it ascends, the less the lithostatic pressure is important ... which allows it to go up more easily! The magma probably had to take advantage of a fractured zone to get in place, interrupting its ascent.
Aline Peltier, Director of the Volcanological Observatory, said that this tremor was induced by degassing in dry fractures (which did not emit lava), fractures produced by the magmatic intrusion in question.
Appraisal: the magma is reassembled, stored in low depth and degassed by the fractures that its intrusion has induced.
This activity is truly atypical and, like all singularities, makes us a little better understand the phenomenon ... "

This article is not yet commented on the OVPF website.