Publié le par Bernard Duyck
In Nishinoshima, eruptive activity does not seem to have evolved.
Despite a strong cloud cover due to the approach of a low pressure regime, the flow of lava is confirmed. The hotspots of the crater and the lava exit on the north side have not moved. On the south-west coast, the lava fan has changed the coast line: the measurements made by connecting the hot spot center, the expansion is estimated to be 90,000 m² since the resumption of activity.

Source: Hatenablog / gravireyossy - link via Shérine France
Following the eruptive activity of Manam, 3,600 people are still waiting to be evacuated if the eruption affects the entire island, most of them belong to the community of Baliau (2.187 people)
Thirty men remained in the most affected village, Dugalava, to monitor the properties and gardens, after the evacuation of 78 compatriots a fortnight ago.
Various administrative slowness delay the release and the arrival of sufficient relief funds to support the evacuees.
Volcanic activity is still in progress, and lava production around the crater is well visible at night, as well as the release of a thick cloud.

Source: Pacifik News - link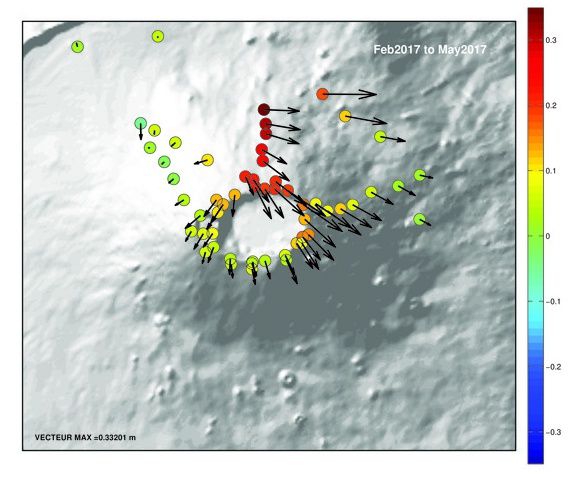 Piton de La Fournaise - Soil displacements associated with magma injection from May 17 to the northern flank. The vectors represent the horizontal displacements (scale of the maximum vector at the bottom left) and the colored circles the vertical displacements (scale given by the color bar). (© OVPF / IPGP)
The activity of the Piton de La Fournaise is decreasing.
According to the OVPF, seismicity has gone from 40 superficial volcano-tectonic earthquakes and 22 deep VT earthquakes, on 18 May to 8 superficial VT earthquakes and 1 deep on 21 May. On the 22nd, no earthquake was recorded, nor any significant distortion.
A field campaign carried out on 22.05 made it possible to make more precisely map of the deformations associated with the magma injection of 17 May to the northern flank. The maximum displacements at the terminal cone have not exceeded 35 cm.
CO2 concentrations in the soil at the remote station of Plains of Kaffirs are stable at a high level. On the other hand, CO2 concentrations in the soil near the Volcanic Gap begin to decrease.
Source: OVPF