Publié le par Bernard Duyck
The explosive-effusive eruption continues in the Sheveluch, in orange aviation alert, with explosions that generate plumes rising to more than 6.000 meters asl, then drives east on 82 km this 24.05.2017

Source: KVERT
Lahar caused by the hydrothermal eruption of 23.05.2017 at the Rincon de La Vieja - photo gracias a Olman Bustos and Oscar Alvarado Mapache del Albergue Ecológico Las Bromelias / via Ovsicori
In Costa Rica, the hydrothermal eruption of May 23 at 10:20 spawned a lahar on the slopes of the Rincon de la Vieja, filmed by Olman Bustos and Oscar Alvarado Mapache of the ecological inn Las Bromelias.

Source: Ovsicori
The morning of May 25 was partly masked by the mists and ashes emitted by the Sakurajima ... a feeling of end of the world, and breathing difficulties for the inhabitants close to the volcano.

Source: JMA webcam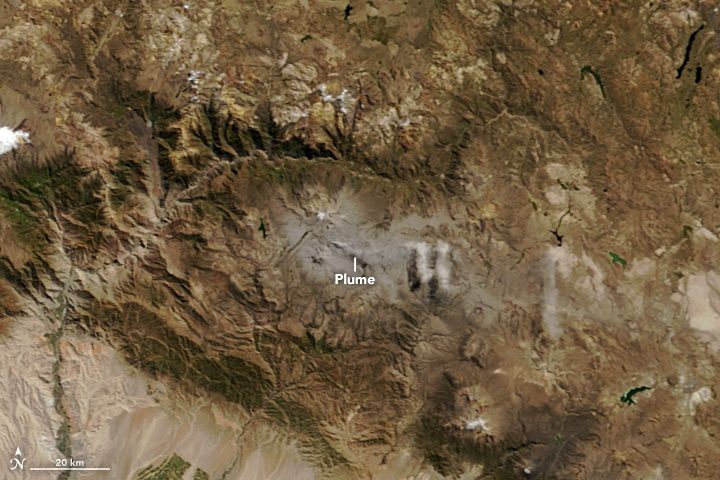 Sabancaya - successive ash plumes - photo 20.05.2017 NASA Terra Modis image by Jeff Schmaltz, LAUNCHES EOSDIS Rapid Response. Caption by Mike Carlowicz.
A recent image of the Nasa illustrates the "eruptive train" of Sabancaya, in Peru. The volcano remains active, with successive ash eruptions, and in alert unchanged, of level Naranja.

Sources; Nasa & OVI-Ingemmet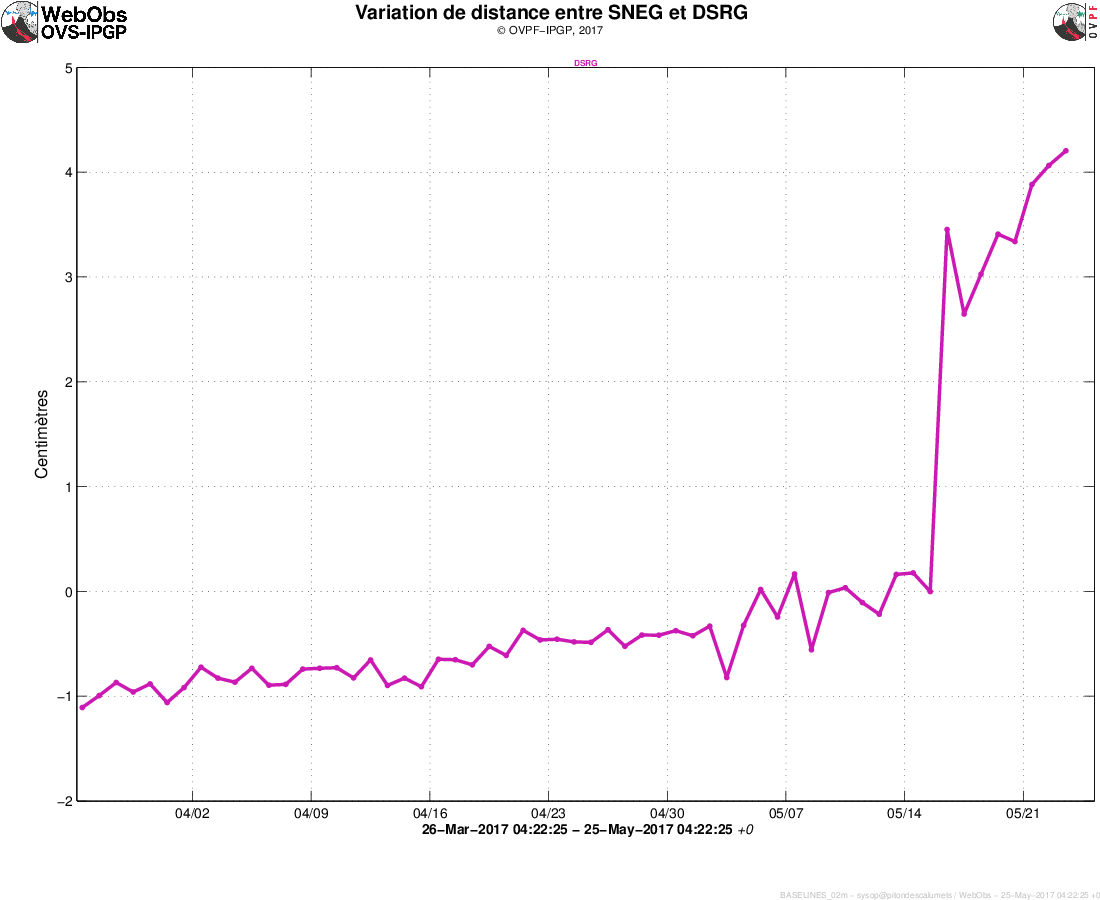 Piton de La Fournaise - Illustration of the top deformation over 2 months. Here is shown a baseline (variation of distance between two GPS receivers) crossing the Dolomieu crater. A rise is synonymous with elongation and therefore swelling of the volcano; Conversely, a decrease is synonymous with contraction and therefore with deflation of the volcano. The possible periods, colored in light pink, correspond to eruptions. (© OVPF / IPGP) 24.05.2017
The last activity bulletin of the OVPF concerning Piton de La Fournaise indicates that the volcano has resumed its inflatory process. Over the past 36 hours, three superficial volcanic tectonic earthquakes, less than 2 km deep, have been recorded below the summit.
The recent measurements carried out by the observatory teams highlight two new areas of fumaroles, located along the path of the magmatic intrusion. It spread to the edge of the Enclosure and its degassing via dry fractures, generated the tremor recorded on May 17th.
The alert level 1 / eruption probable or imminent, remains in effect.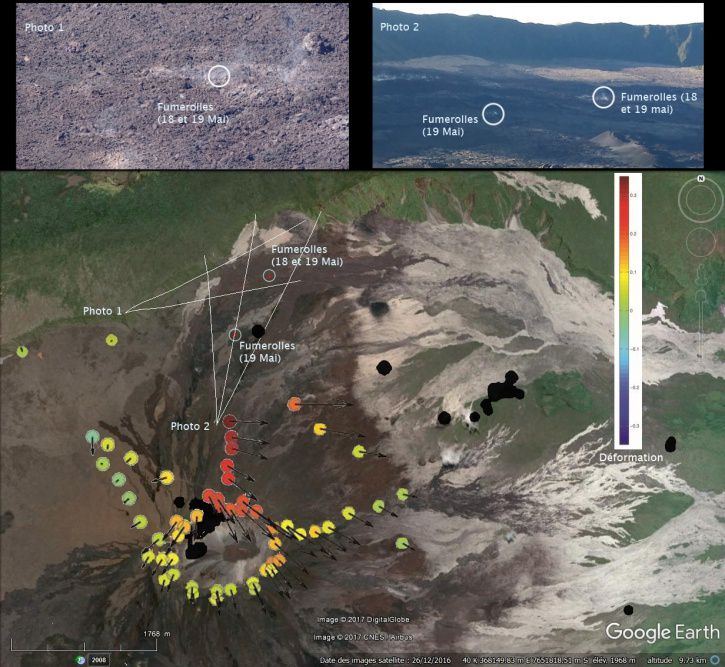 Map of the new areas of fumaroles that appeared at Piton de La Fournaise following the May 17 event (magma injection to the northern flank with the opening of "dry" fractures and degassing). Also shown are (1) the displacements of the soil associated with the magma injection of May 17, 2017. The vectors represent the horizontal displacements (max = 0.35 m) and the colored circles the vertical displacements (scale given by the color bar, Max = 0.35 m); And (2) the location of the seismicity recorded between May 17th and May 23rd (black circles). (© OVPF / IPGP) 23.05.2017