Publié le par Bernard Duyck
In Bogoslof, a Landsat 8 image of June 5 at 10 pm UTC, in true colors in the visible and Infra-red shows a thermal anomaly of the vent located south of the lagoon in horseshoe, emitting flushes of steam white. Hot waters flow from the lagoon and mingle with the cold waters; There is also a plume of sediment.

On 6 June, a brief explosion was detected at 14h UTC / 6h LT. A possible plume was detected by satellite after the seismic and infrasonic data. A persistent rise in surface temperatures has also been observed by satellites over the past 24 hours.

On 7 June, at 14.30 UTC / 6.30 local time, a similar explosion on the previous day, but a little larger, lasted over 2 minutes, before seismicity returned to previous levels. No volcanic cloud has been seen by satellite.
The AVO reported, on 8 June, the appearance of a new dome in the northern part of the lagoon. It reached about 110 meters. A robust plume is visible, and extends, at 10:50 UTC / 14:50 local time on 75 km south towards Unalaska at an altitude of 3,000 m.
Past eruptions stopped with the setting up of a dome, others continued with effusion and explosions.
Given the brevity of events, the aviation code remains orange and the volcanic alert to Watch.

Source: Alaska Volcano Observatory
Etna has been feverish since yesterday, according to the RMS charts put online by Boris Behncke.
On the morning of June 7, there was a strong degassing of steam at the level of the summit craters.

Sources: Boris Behncke & Salvatore Lo Giudice
At the Piton de La Fournaise, inflation continued at both the summit and far-field levels, reflecting the pressure of superficial and deep sources.
At the seismicity level, 25 volcano-tectonic earthquakes concern the top cone; The highest is of magnitude1,19. Ten landslides are reported for the top cone and the enclosure.
CO2 concentrations in the soil, measured at the Kaffir Plain level, remain at a stable and high level.

Source: OVPF - Preliminary activity report of 06.06.2017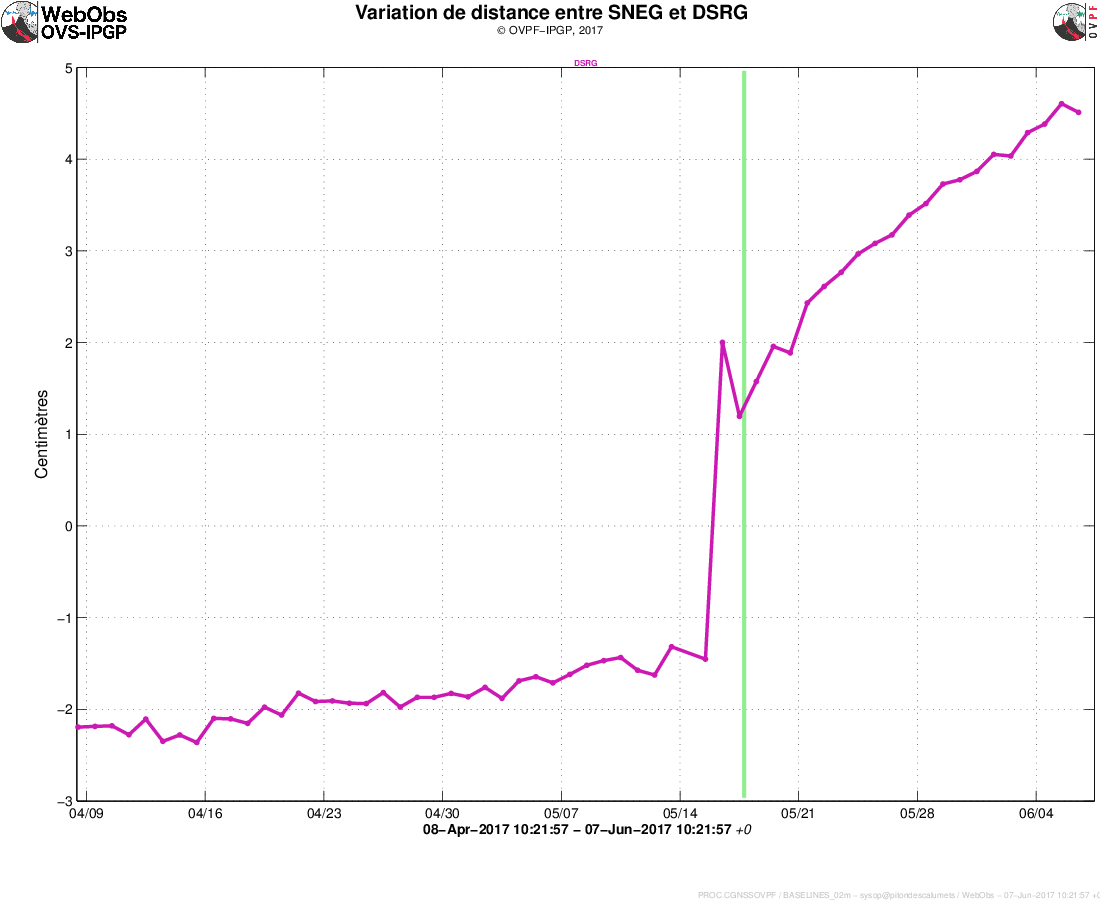 Piton de La Fournaise - Illustration of the top deformation over 2 months. Here is shown a baseline (variation of distance between two GPS receivers) crossing the Dolomieu crater. A rise is synonymous with elongation and therefore swelling of the volcano; Conversely, a decrease is synonymous with contraction and therefore with deflation of the volcano. The possible periods, colored in light pink, correspond to eruptions. - OVPF