Publié le par Bernard Duyck
In Poas, the Ovsicori reports the near disappearance of the crater lake. Small eruptions remain sporadic and constant gas and steam emissions.
On 2 June a small eruption occurred, beginning at 12:00 local time and forming a plume rising 600 meters above the crater. Three main emission points are observed. An odor of sulfur is reported in Canoas de Alajuela.

In Turrialba, passive gas emissions continue, with a plume exceeding 500 meters, and a small ash emission occasionally.

Source: Ovsicori & RSNe: Ovsicori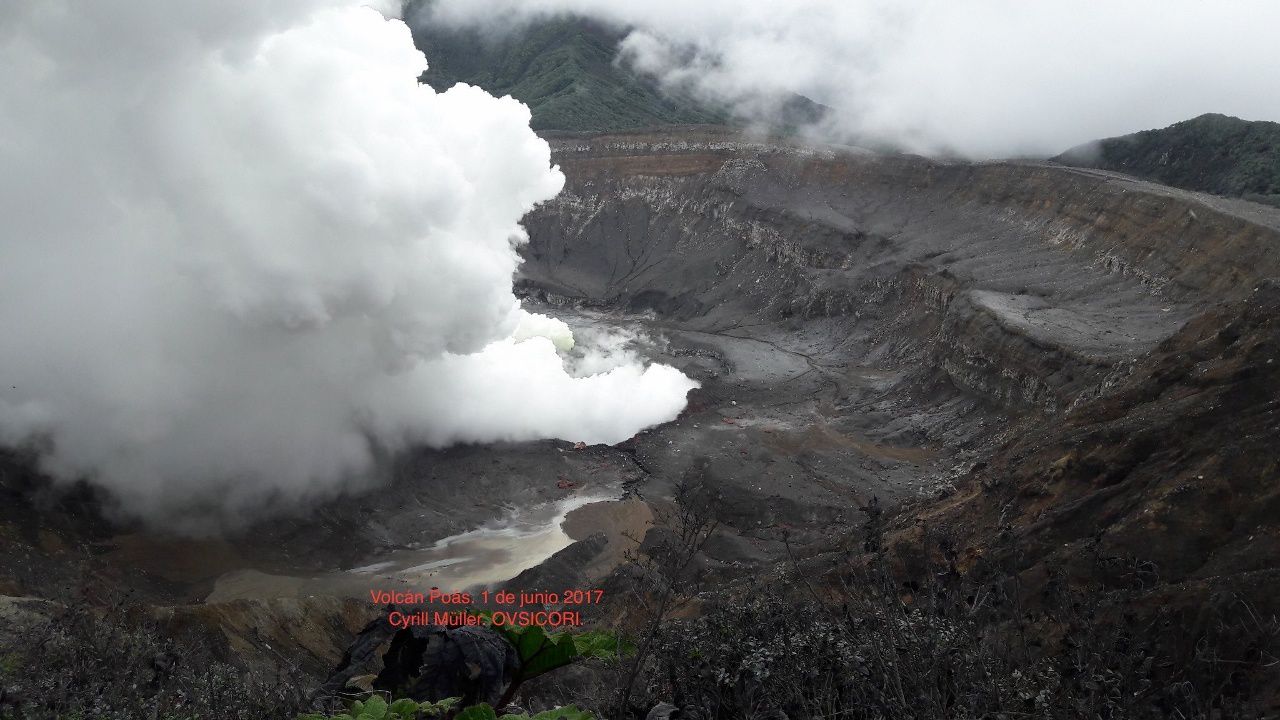 Poas - situation of the crater lake on 01.06.2017 - Photography by Cyril Muller. Ovsicori / via Ovsicori
The eruption of Manam is dramatic for the islanders who have evacuated to the center of Potsdam on Main Island of Papua New Guinea for nearly a month.
Manam's leader, Paul Maburau, reports that the Manang Provincial Disaster Office has provided every family with rice, flour and oil ... but these supplies have since been exhausted and not renewed. The health center has no more medical supplies and problems to treat the evacuees.
P.Maburau got fuel and went to the island by canoe to get food but said it would not be enough. Some evacuees plan to return because of these supply problems.

Source: The National, Radio NZ
In Iceland, the Bardarbunga volcano, located under the Vatnajökull ice cap, is the site of a rising geological activity.
After an earthquake of M3.9 under the caldera last weekend, three relatively strong earthquakes shook it on 1 June: two of M 3,2 at 9:49 and 9:53 local, followed by another of M 3, 6. On 2 June, a swarm of earthquakes below M2 was observed.
The risk of a possible subglacial eruption is linked to a massive flood (Jokülhlaup). It should be noted that the seismic activity has been constant since the eruption of 2014-15 in Holuhraun.

Sources: Iceland Magazine and Icelandic Met Office
The eruptive activity continues at Sabancaya ... to the point that the OVI has studied which are the best observation points so that the tourists can follow its eruptions.
The situation of the future point of view is established taking into account the risks of pyroclastic flows, lahars, lava flows or ballistic falls ... the ideal situations offering a spectacular view are Patapampa, Sallalli, Hornillo, Mucurca and Coporaque, at an altitude of more than 4.500 meters and between 12 and 30 km from the crater.

Source: OVI-Ingemmet