Publié le par Bernard Duyck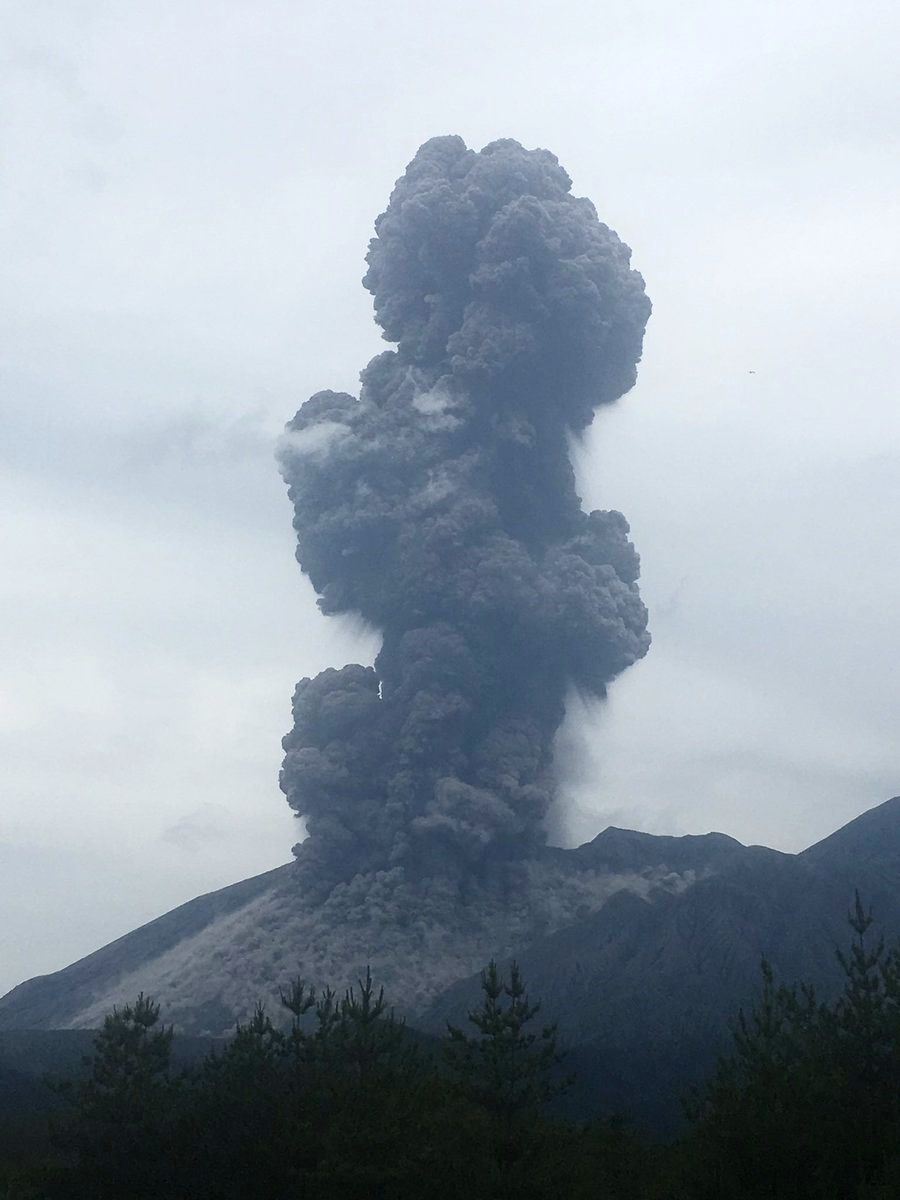 Sakurajima - 06.06.2017 - eruptive plume, with a small lighning at the bottom left - photo James Reynolds / Twitter
The Sakurajima experienced an eruption on 6 June around 7:56 local time. The ash plume climbed 3,200 meters from the Showa crater, nearly 2,000 meters above it.
The last eruption occurred at the end of May 2017; The level 3 / orange alert / not approaching the volcano has been in effect since 5 February 2016.
A video to watch on You Tube

Source: JMA & James Reynolds / EarthUncutTV
The Bulusan generated a small phreatic eruption on 5 June at 22:29 local; The episode lasted 12 minutes after the seismographic recordings, and follows three volcano-tectonic earthquakes in the last 24 hours.
Traces of ash, smell of sulfur and rumblings were reported to Brgys, Monbon and Cognon on Irosin.
Then, moderate emissions in the form of a steam plume surmounted the active vents of 50 meters.
The level of alert remains at 1 / abnormal, and a prohibited area of ​​4 km radius is reminded to the public, given the dangerousness and the suddenness of the phreatic eruptions.

Provided by: Phivolcs
At the complex Nevados de Chillan, an explosion on June 5 at 10:50 local time produced a plume loaded with ash, and very vertical, approaching 1.000 m high.
OVDAS - Sernageomin indicates that this explosive activity is generated by a process of degassing of an underlying magmatic body and its interaction with the hydrothermal system.
Civil Protection maintains an exclusion zone of 3 km radius around active craters and continues to restrict access to the area.

Source: Gobernación de Ñuble / Twitter & the discusion.cl
The fifth Fuego's eruption in 2017 was short, as the observatory announces its end around 5:30 am on June 6th, with the remains of two lava flows towards the Santa Teresa and Cenizas barrancas, of 2-3 km in length.
Moderate explosions are observed with columns of ash up to 4,500 m. Asl., scattering over 15 km to the west and north-east.

Sources: Insivumeh & Conred
In Poas, an eruption, on June 6 at 8:58 am local, was accompanied by a plume with presence of ashes, that rose to 1,000 meters above the crater. The photo was taken by Dr. M.de Moor (Ovsicori) during a gas sampling session.
In a comparative photo of June 5th, with a legend of Dr. M.Mora (RSN), we see for the first time the pyroclastic cone that formed at the site of the old dome, and a small plume rich in sulfur.
Source: Ovsicori & RSN