Publié le par Bernard Duyck
An international team of scientists and 3D designers made a facial reconstruction from a human skull found in Herculaneum, following the eruption of Vesuvius in the year 79.
The inhabitants of this Roman city were touched by a pyroclastic surge; at a temperature of 500° C, their human tissues were vaporized and the skulls broke as the brain mass boiled and exploded under the effect of high temperature. The bones and teeth also broke. When the temperature dropped, the ash hardened the skeletons, and preserved them for centuries in a so-called "cadaveric spasm" position.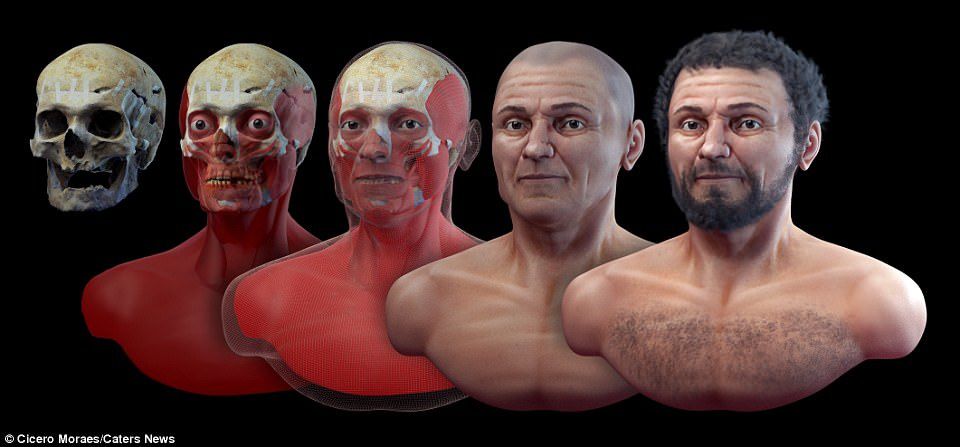 First reconstruction of the skull of a victim of the eruption of Vesuvius, found at Herculaneum. - Doc. Cicero Moraes / Cater News / Daily Mail on line
The skull analyzed was chosen from among 350 specimens, and reconstituted by comparison with the skin and teeth of currently living European, corresponding in age. The appearance is that of a man in southern Europe, aged fifty, an age unusual for the time, which suggests that he belonged to a healthy, rich and educated individual .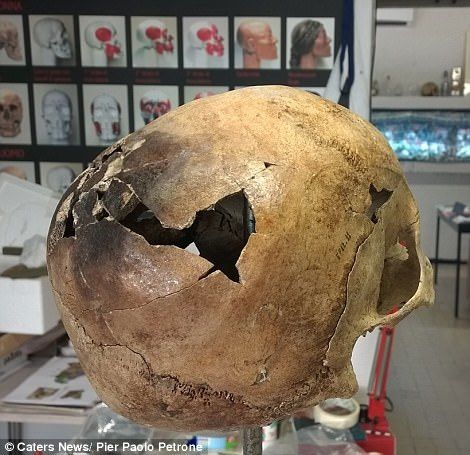 The experts used one of the best preserved skulls, although it exploded in several parts and is very fragile - Doc. Pier Paolo Petrone / Cater News / Daily Mail on line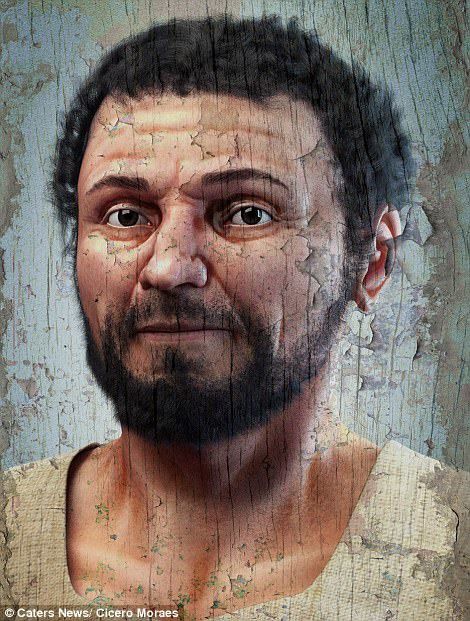 Mr. Moraes added details of the Herculaneum man's face to create the finished face. The unveiling of the human face of Herculaneum marks the beginning of a collaboration between Italian and Brazilian scientists aiming to show how the latest technology can boost the archaeological and cultural heritage of a country - Doc. Cecilio Moraes / Cater News / Daily Mail on line
"This summer we are organizing field courses in Italy for students at the Massachusetts Institute of Technology who will learn how to use the data collected with a 3D camera and a 3D scanner to reconstruct a person's face. Many, this will be the first time they will use this technique in the field of cultural heritage.
By revealing a snapshot of life as it ends, we can learn more about the deceased, "Quaranta said, adding that the program offering this practical experience will be open to students worldwide over the years to come up.

Source: Daily Mail on line / Science & tech / Scientists piece together the exploded skull of a 50-year-old man, who died in 500 ° C heat from the Mount Vesuvius eruption 2,000 years ago, to reveal his face for the first time - link