Publié le par Bernard Duyck
The volcano Bogoslof remains in a state of sustained unrest, and its activity remains rather unpredictable, often preceded by few precursors.
The explosive activity can be detected in real time, but a delay of about ten minutes remains necessary to characterize the magnitude of the episode and the altitude of the volcanic cloud. In the case of low level activity, including explosive activity, existing sources do not always allow detection.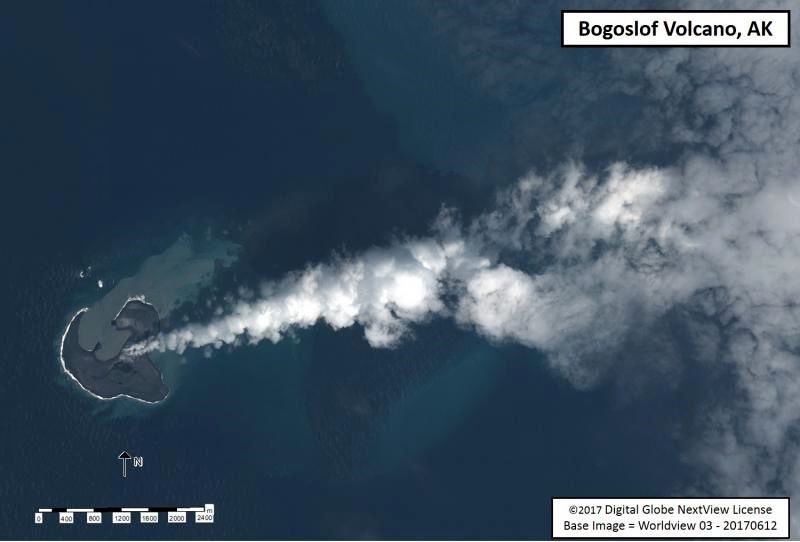 Bogoslof - last satellite image of 12.06.2017 / 11h13 UTC - by Kim Angeli / AVO - Digital globe ( Vigorous steaming is observed from a region to the south of the most active vent areas in the lagoon. Lava extrusion produced a circular dome that first rose above the water on June 5 and grew to a diameter of ~160 m (525 ft) before being destroyed by an explosion early in the day on June 10. Large blocks of the destroyed dome can be seen littering the surface of the island near the lagoon.)
The interest of the Bogoslof eruptions is that they occur under the sea level, before appearing on the surface and producing plumes in the atmosphere, comments the geophysicist John Lyons. The latter has just installed two hydrophones below sea level near the island; they should allow a better detection, even at low level of activity, and a better understanding and study of the eruption.
New volcanic lightning sensors, part of the World Wide Lightning Location Network, have been installed, allowing better detection of emitted ash (linked to lightning of static electricity) and better warnings for aviation and living communities downwind, says volcanologist Alexa Van Eaton.
Source: Alaska Public media
The JMA / Japan Meteorological Agency reports that the volcanic activity at Nishinoshima resembles that of the eruptions of 2014-2015.
The surface of the island continues to expand at a remarkable rate, and the study of the gases emanating from the volcano suggests a constant supply of magma, and an eruption which may last for some time. Sulfur dioxide emissions are around 500 tonnes / day.
Provided by: The Mainichi - 19.06.2017
The activity continues in Sinabung on June 20, 2017, illustrated by a photo of Endro Lewa, where the volcano seems to expel a plume in the form of "clenched and tight fist".