Publié le par Bernard Duyck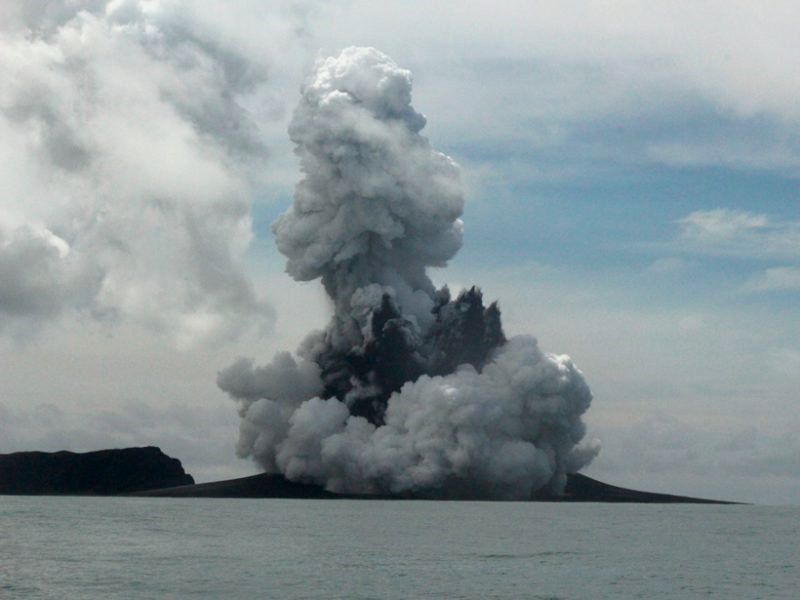 A new volcanic cone appeared on 15.01.2015 between Hunga Tonga and Hunga Ha'apai, following a surtsey-like eruption and base surges. It ended up creating a new island - Credit: New Zealand High Commission, Nuku'alofa, Tonga
After the December 2014 eruption, initially underwater, between two islands of the volcanic Tonga arc in northeastern New Zealand, a new island formed, connecting to Hunga Ha'apai.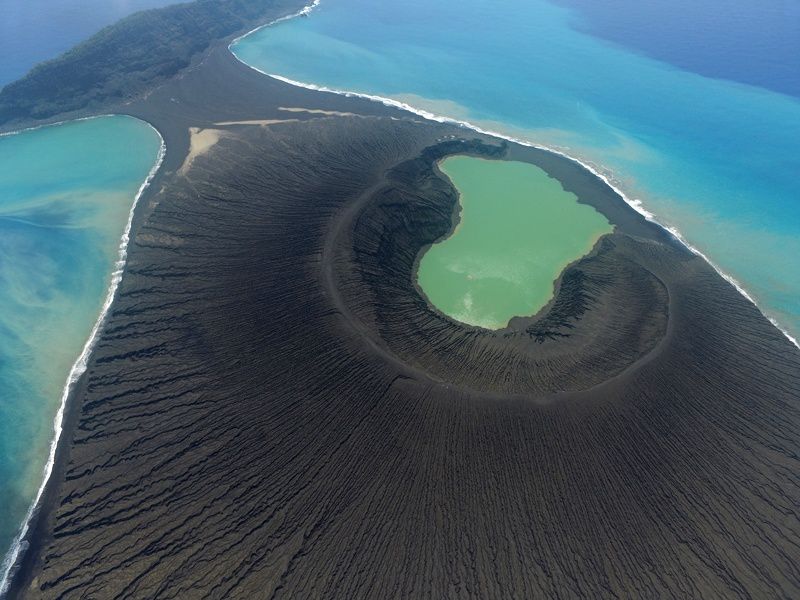 Slanting view showing the new cone (diameter 550 meters) and its crater on 06.11.2015. Hunga Tonga Island is located at the top of the picture - Credit Brendan Hall / EOS
All these surface structures betray the presence of the largely submerged Hunga volcano. It formed in response to the subduction of the Pacific tectonic plate under the Indo-Australian plate.
Older searches show plunging lava flows and pyroclastic deposits on the two former Hunga islands; they would represent the edge of a large volcano surrounding a caldera-like structure (Bryan & al., 1972). This volcano may have undergone catastrophic collapse or prolonged erosion, hiding it from sight.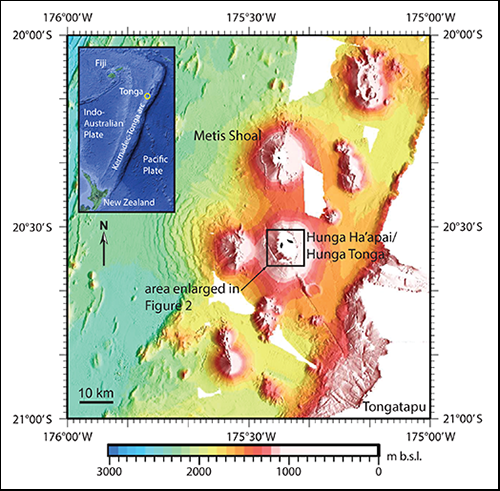 Bathymetry of Hunga Ha'apai / Hunga Tonga and their neighbor, the Metis Shoal. These volcanic islands form part of the Tonga archipelago, located in the Kermadec-Tonga volcanic arc - credit: Shane Cronin.
Shortly after the 2014 eruption, a collection of samples was made to chemically characterize the new volcanic material emitted and compare it to deposits of the neighboring volcano. On the ancient island of Hunga Ha'apai, welded ignimbritic units, rich in pumice and deposits of non-welded pyroclastic flows attest to a highly explosive past.
In a pyroclastic flow deposit, charcoal allowed dating between 1040 and 1180, corresponding to the age and chemistry of ash fallout on Tongatapu, distant 65 km to the southwest. Another correspondence was discovered with an unknown tropical eruption dating back to 1108.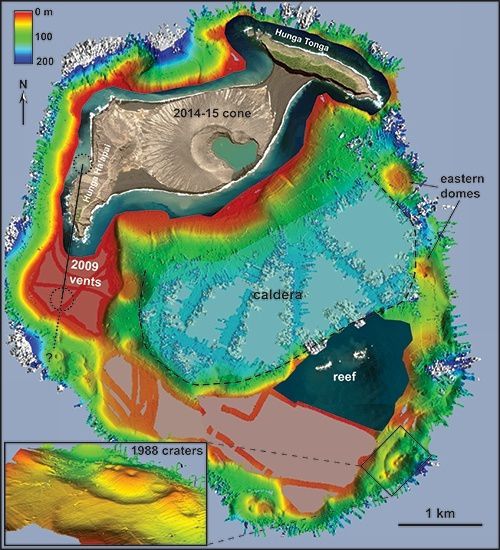 Bathymetry carried out in November 2015 of the Hunga volcano. The black dots highlight an befoer undocumented caldera, bearing traces of past eruptions - credit: Simon Baker
The sea floor was also mapped with a resolution of one meter by the WASSP multibeam sounder. It reveals a large depression in the south, corresponding to the caldera postulated by Bryan & al., of 4 km. on 2, and 150 meters deep, filled in its northern and southern parts with young volcanic deposits. A large area (in red on the map) is associated with the 2009 eruptions, and a southeast cone chain associated with eruptions in 1988 (in box). The caldera may be associated with the unknown eruption that occurred a thousand years ago.

Source: Cronin, SJ, M. Brenna, IEM Smith, S. Barker, M. Tost, M. Ford, S. Tonga'onevai, T. Kula and R. Vaiomounga (New volcanic island unveils explosive past, Eos, 98, link . Published on 26 June 2017.