Publié le par Bernard Duyck
At Piton de La Fournaise, the intensity of the tremor, indicative of surface eruptive intensity, has increased in the last 48 hours. The intensity reached this 29.07 sixty percent of the value observed at the beginning of the eruption. A slight inflation continues, and the flows carried out by satellite methods are of minimum 2 m³ / s.

Source: OVPF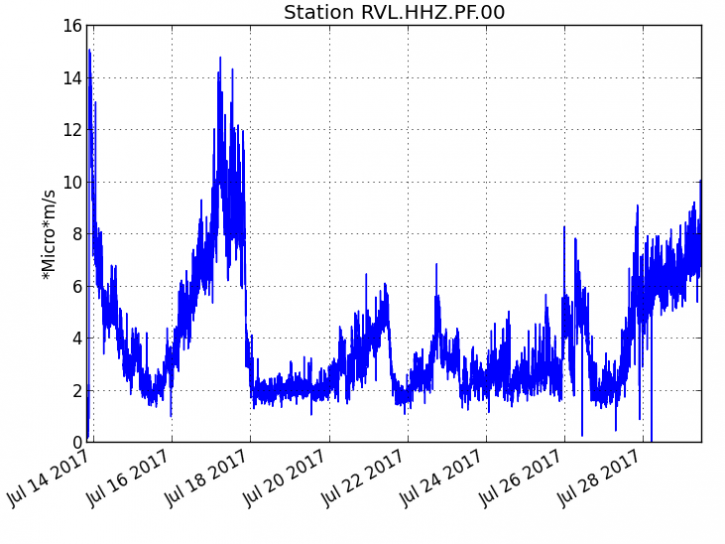 Piton de La Fournaise: Evolution of the RSAM (volcanic tremor and eruption intensity indicator) between 00:00 (20h UTC) on July 14th and 15h30 (11h30 UTC) on July 29th on the seismic station of RVL, located on The southern flank of the volcano. (© OVPF / IPGP)
In Pacaya, Guatemala, the Conred records the internal tremor associated with degassing and the rise of magma. As external signs, only a small plume of white color 25 to 50 meters above the crater is observed, with a dispersion towards the north.

Source: Conred
In Iceland, following an increase in seismicity and the glacial outburst flood affecting the Múlakvísl River, the color code of the Katla volcano, sheltered under the Myrdalsjökull, has been increased to yellow.
Conductivity was measured at a peak of 580μS / cm between 6 and 7 hours on 29.07. It started to drop in the evening, to about 250 μS / cm at 20h., and is still falling.
The river has a dark color and a strong smell of sulfur, and the population is invited to stay away from this pollution.
The Jokulhlaup is caused by an increase in geothermal energy, with partial melting of the glacier generating an accumulation of water at the base of the break-up.
Civil Protection remains cautious, as the situation is reminiscent of July 2011, with risks for the bridge supporting the circular Road No. 1, which crosses the river, and its possible closure.
However, the Katla is not showing signs of imminent eruption, and in this period of summer instability, the increase in seismicity seems to be associated only with the flood. The IMO decided by precautions to keep the yellow code until after the weekend.

Sources: IMO, mbl and Veðurstofa Íslands
In Kilauea, the 61 g lava flow of Pu'u O'o continues its entry into the ocean at Kamokuna. The surface flows continue on the upper part of the lava field above the Pali; Minor breakouts continue on the costal plain and are located about 2 km from the evacuation route. The crevasses that mark the lava delta parallel to the coastline suggest a possible collapse.

Source: HVO & Paradise helicopters / Extreme exposure.