Publié le par Bernard Duyck
Piton de La Fournaise: Shooting of the eruptive site on July 15, 2017 at 2:00 pm, local time. (© OVPF / IPGP)
At Piton de La Fournaise, the eruption begun on July 14 at 00:50 local time continues. The volcanic tremor (indicator of surface eruptive intensity) decreased by a factor 7 compared to the beginning of the eruption and has been maintained at a constant level since 10 am local time.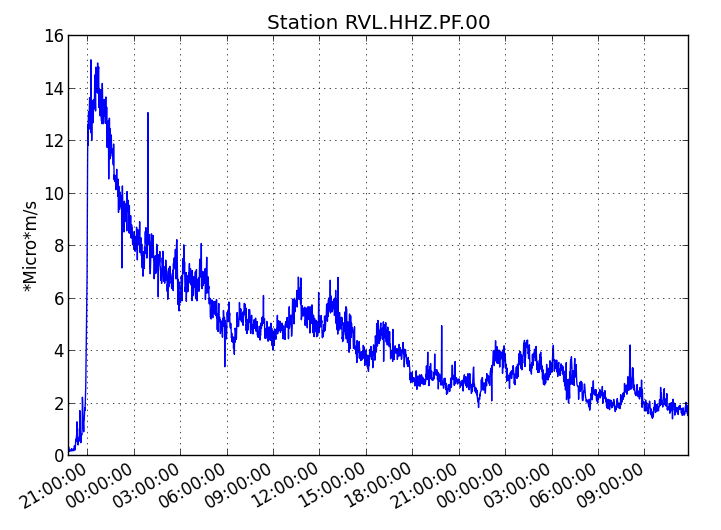 Piton de La Fournaise: Evolution of the RSAM (volcanic tremor and eruption intensity indicator) between 00:00 (20h UTC) and 16h00 (12h UTC) on 15th July on the RVL seismic station, located on the south flank Of the volcano. (© OVPF / IPGP)
No significant deformation was recorded during the day on the terminal cone. No seismicity was recorded during the day under the Piton de la Fournaise building.
The decrease of the eruptive tremor is reflected on the ground by a reduction of the flows and the distribution of the activity on the eruptive crack. Compared to the 7 lava fountains observed on July 14th, there are only 3 lava fountains that are active on the most downstream part of the eruptive crack. These lava fountains begin to form two small volcanic cones, the lava flows of which merge into a single channel. The height of the lava fountains does not exceed 30 meters.
Following a survey conducted around 2 pm with the assistance of the Air Force Section, the lava front could be located and was about 2.2 km east-southeast of the eruptive site.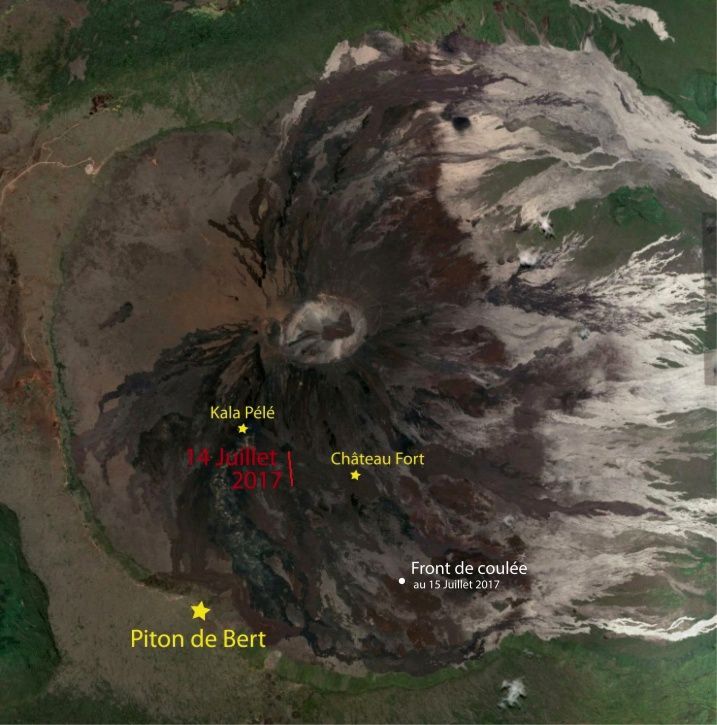 Piton de La Fournaise :  Location of the eruptive fissure which opened July 14, 00h50 local time and of the front of the casting (white dot) July 15, 14h local time (background image: GoogleEarth). (© OVPF / IPGP)
Piton de la Fournaise - The Fracture - Ced Northman
Estimates carried out using satellite methods via the HOTVOLC platform (OPGC - Clermont Ferrand) show a minimum flow rate of about 2 m3 / s.
It should be noted that this evolution towards a decrease in flows and a focus of eruptive activity at the most downstream point of the eruptive fissure is a usual process observed during the eruptions of the Piton de la Fournaise.

Source: OVPF - Activity Bulletin of 15.07.2017
In Turrialba, various eruptions, passive (non-explosive) occurred on July 15th, respectively, from 5 am to 9 am; from 10:15 to 10:32; an interruption of the visibility did not allow observation from 11am; then from 17h37 to 17h43.
The ash plumes reached an average height of 300 meters before dispersing to a large western area. The seismicity has remained moderate, with mainly a volcanic tremor of variable amplitude.
In Poas, on July 15, there is a strong degassing of the main emission points and active fumaroles of the active crater. The plume of water vapor and gas disperses mostly in a westerly direction.
The seismicity remained low, characterized by a low amplitude tremor and short-lived earthquakes related to the fluid circulation process

Source: Red Sismologica Nacional of Costa Rica & Ovsicori
In Sinabung, daily activity is maintained. There will be a beautiful explosion on 15 July at 10:20 local time

Source: photos of Firdaus Surbakti via Beidar Sinabung