Publié le par Bernard Duyck
An explosive eruption of the Sabancaya produced on July 24 at 8:25 am a plume of ashes up to 4,500 meters above the crater and then spread over 40 km in a south-southeast direction towards Huanca and Lluta.
On July 25, at 6:47, another explosion generated a plume of 4,200 meters
For the week of 17 to 23 July, the IGP reports an average of 24 explosions per day, higher than the previous week. The trend is towards deflation, and the flow of SO2 reaches a max. of 2,692 tonnes / day on 23.07.

Source: IG Peru
During the last 24 hours, the Poas seismicity is marked by volcanic tremor of very small amplitude and variable duration, and some VT earthquakes associated with the rupture of rocks or a collapse in the volcano.
The emission of white-blue plume (magmatic gases and aerosols) is continuous and persistent at Boca Roja; The Boca Azufreda,of lower temperature, emits water vapor, gases, and abundant yellow particles of native sulfur. The panache rises to the 300 meters above the bottom of the crater, and moves towards the southwest, affecting the National Park, Altura, Finca Inés, Cabuyal, Naranjo, San Ramon, Atenas, Esquipulas, Palmares, Cirrí, Grecia, Tacares, Ánimas, Alajuela, Guácima, San Pedro de Poás, Altura, Finca Inés, etc.
In Turrialba, seismicity is marked by volcanic tremor of moderate amplitude and variable duration, and low frequency earthquakes; This activity is related to the fluid movements in the ducts and cracks.
A passive emission of a blue-tinted plume of water vapor, gases and aerosols, rises to 200 meters in height affecting the areas of the National Park, San josé, Heredia and Alajuela.This July 24, the quantities of sulfur dioxide and (PM2.5), mainly emitted by Turrialba, did not exceed the maximum permissible average values

Source: Ovsicori
At Copahue, on the Argento-Chilean border, the volcano, in alerta amarilla, emits low plumes of water vapor and gas, sporadically loaded with a little ashes.
At Piton de La Fournaise, the intensity of the tremor remains relatively constant, but the tendency to deflation seems to stabilize or even reverse. According to the OVPF, this parameter will have to be followed over the next few days.

Source: OVPF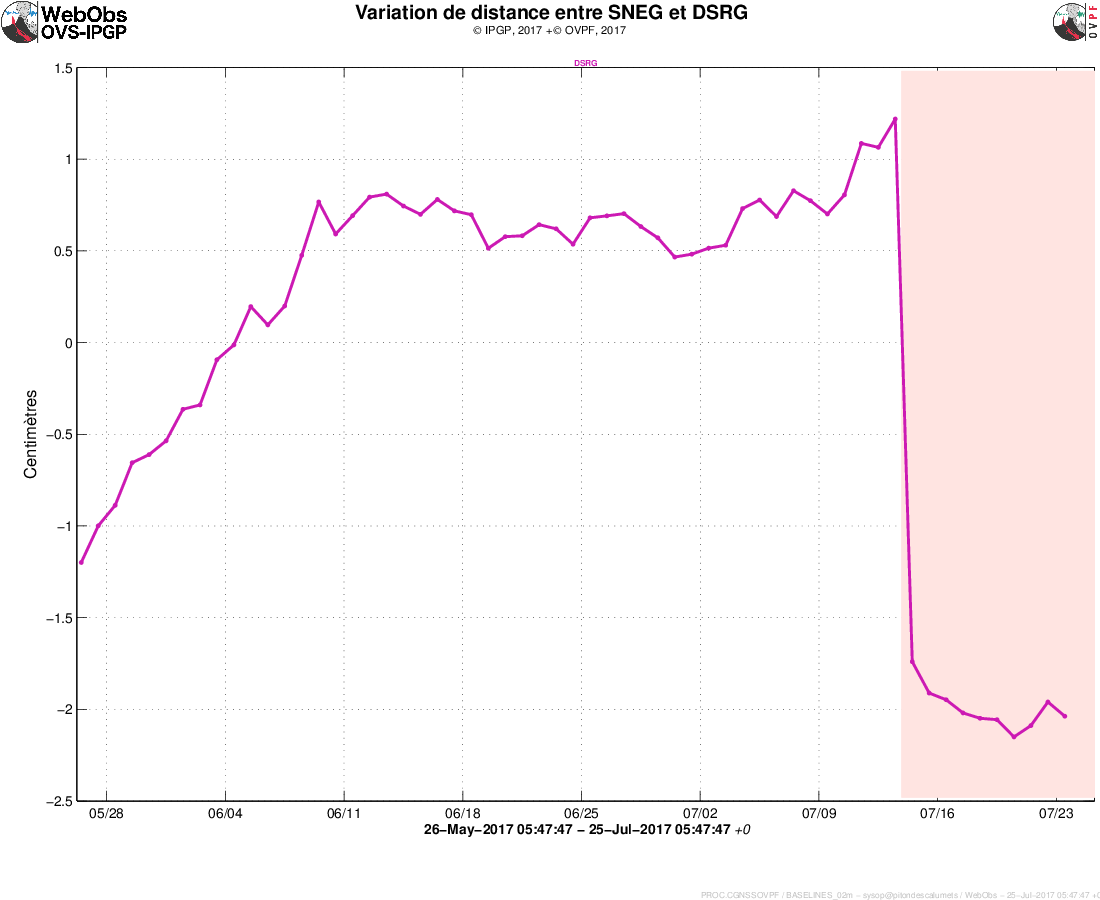 Piton de La Fournaise - 25.07.2017 - Illustration of the top deformation over 2 months. Here is shown a baseline (variation of distance between two GPS receivers) crossing the Dolomieu crater. A rise is synonymous with elongation and therefore swelling of the volcano; Conversely, a decrease is synonymous with contraction and therefore with deflation of the volcano. The possible periods, colored in light pink, correspond to eruptions. - © OVPF / IPGP