Publié le par Bernard Duyck
The Piton des Neiges, which is the main structure of Reunion Island and its oldest part, is a vast volcanic cone with a diameter of 50 km, with slopes of 5 to 10 °.
Its summit zone is deeply eroded and cut by three enormous circuses, arranged in cloverleaf, the circuses of Mafate, Cilaos and Salazie, which enclose the highest point of the island, the Piton des Neiges.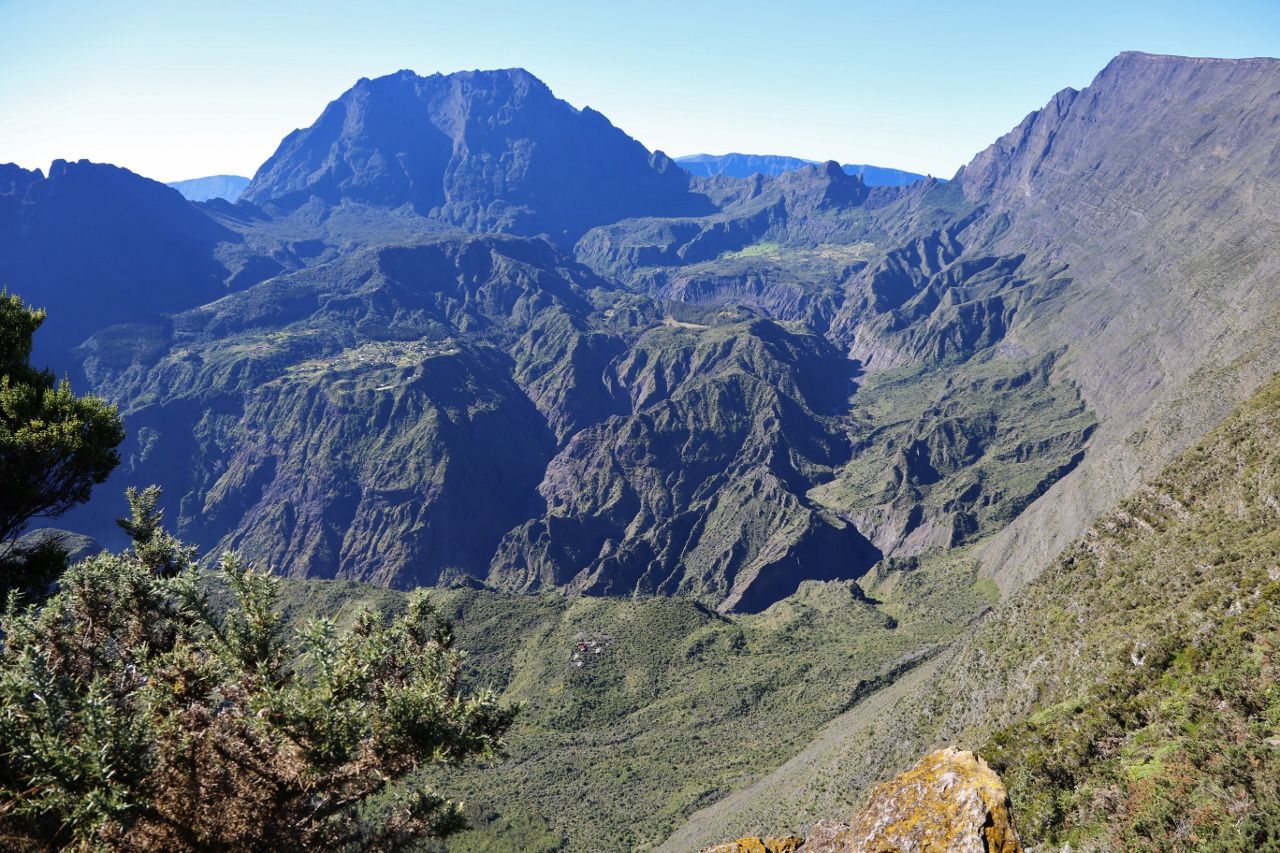 Piton des Neiges - circus of Mafate, seen from Maïdo; On the left, the Gros Morne - on the right, the Grand Bénard - picture © Bernard Duyck / june 2017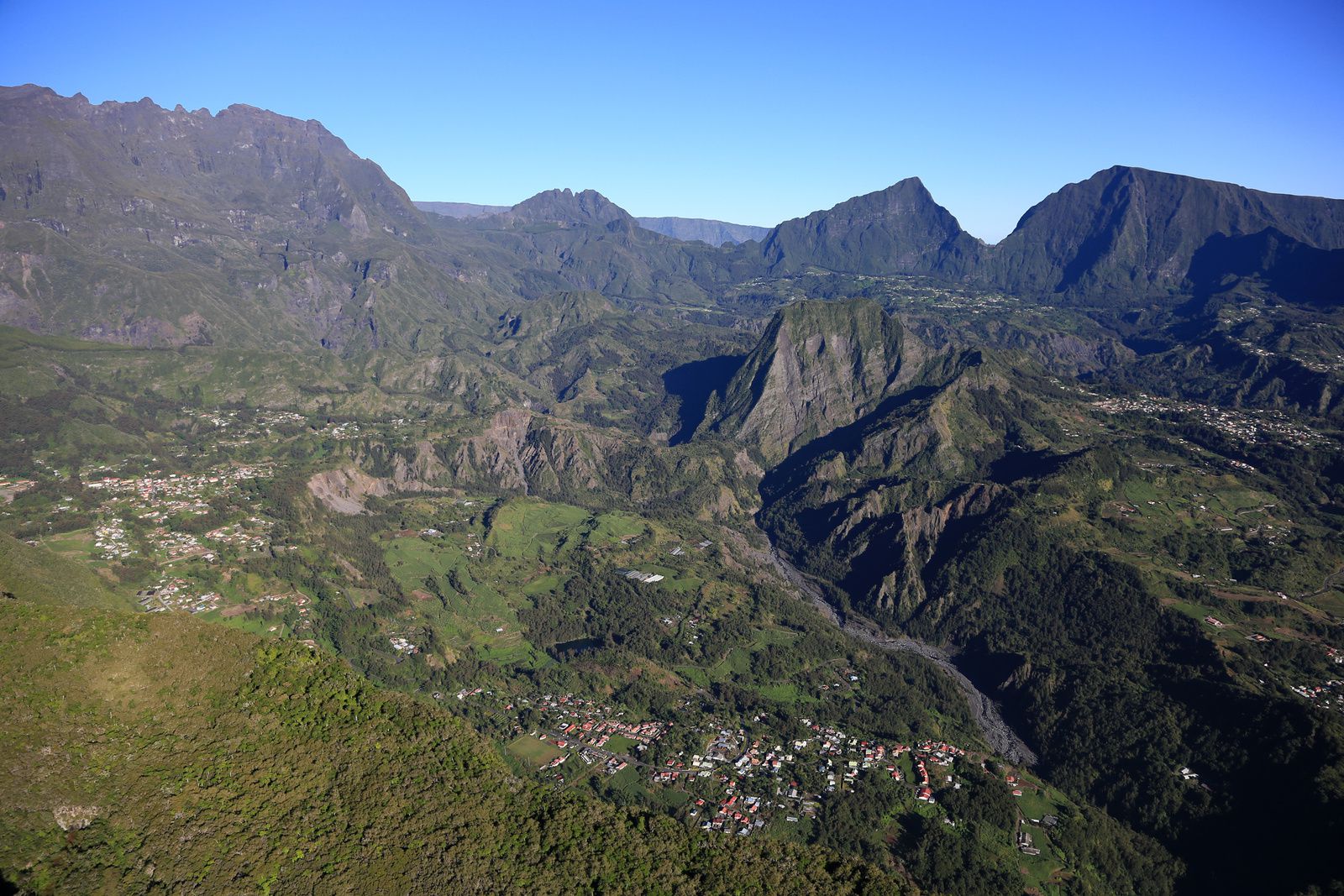 Piton des Neiges - circus of Salazie, seen from Belvedere de Bélouve; In the center, the Piton d'Enchaing - picture © Bernard Duyck / june 2017
Cuts of more than 1,000 meters high in stacks of ash levels and lava flows are intersected by innumerable dykes.
The underwater history of Piton des Neiges is not known; It must have started, some 6 to 10 million years ago, on a fossil ridge that stopped working 60 Ma ago.
The volcano did not come out of the water until there were more than 2 Ma. This great shield, formed by a stack of basaltic flows, collapsed 430,000 years ago with the formation of a Caldera of 30 km. of diameter.

One hundred thousand years later, a volcanic apparatus with stronger slopes is installed on the preceding one: this phase corresponds to the emission of trachytic lavas and to the appearance of more explosive phenomena, with pyroclastic and ignimbrite flows covering the whole of volcano.
190,000 years ago, with the magmatic reservoir partially emptied, we are witnessing a collapse generating a new elliptical caldera of 15 km. Long ... which will be filled by the product of new eruptions.

70,000 years ago, a new collapse of the caldera associated with erosion, guided by tectonics, is at the base of circus digging. The last trachytic ardent clouds are dated of 20,000 years.
A more peaceful activity closes the volcanic history of the Piton des Neiges with the construction of the top strombolian cone.

(Excerpt from Au coeur de la Fournaise / Roland Benard and Maurice Krafft - ed.J.C.Nourault)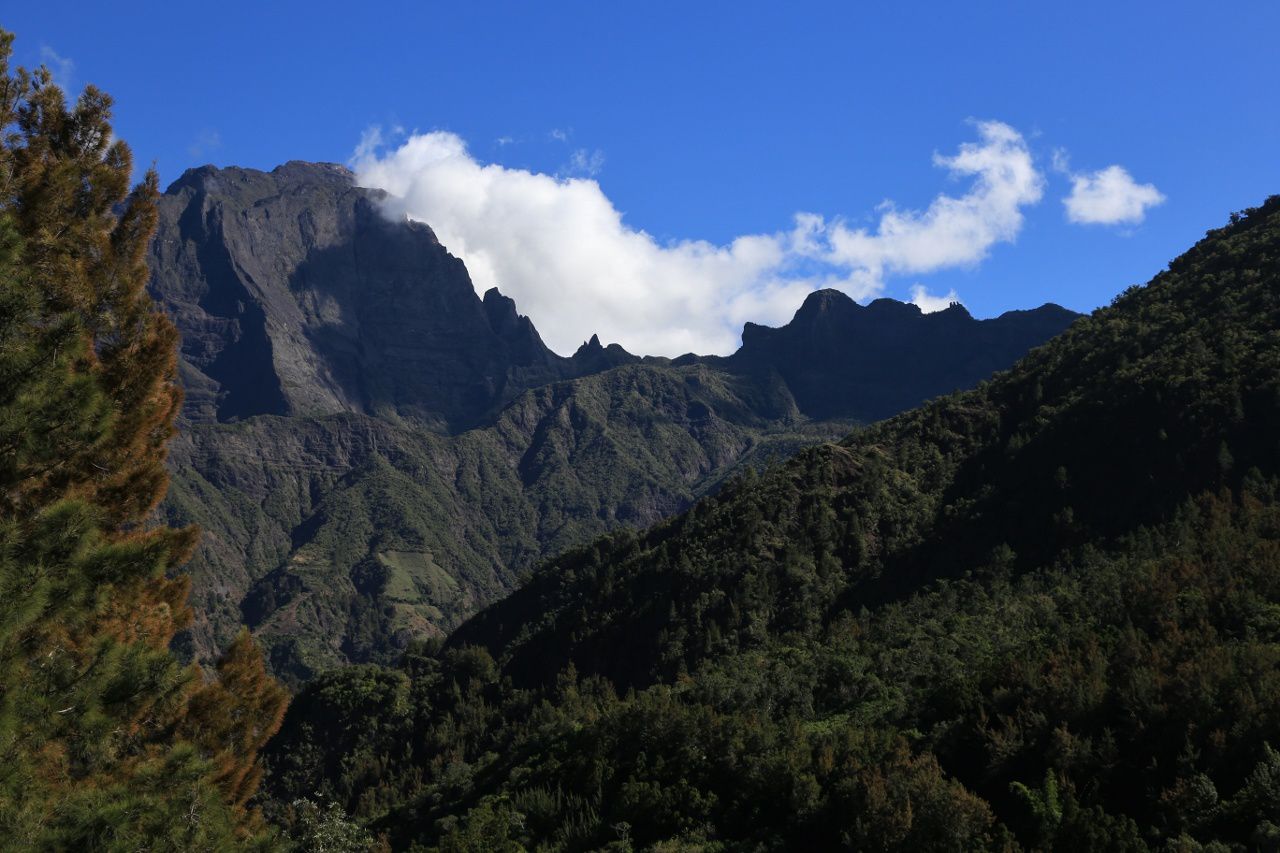 Piton des Neiges - circus of Cilaos, lined with pitons and ramparts - photo © Bernard Duyck / june 2017
The toponymy of circuses is linked to the history of La Reunion and the black period of slavery.
Mafate comes from the name of a marron slave who had chosen to live there; It means in Malagasy dialect "the one who kills". The qualifier "marron " given to the slaves in flight would come from the Spanish "cimarrón" meaning savage.
Salazie would also come from the name of a marron slave.
Cilaos comes from the Malagasy "tsilaosa, the country that one does not leave".

To follow: the lava flows and planèzes of Piton des Neiges.