Publié le par Bernard Duyck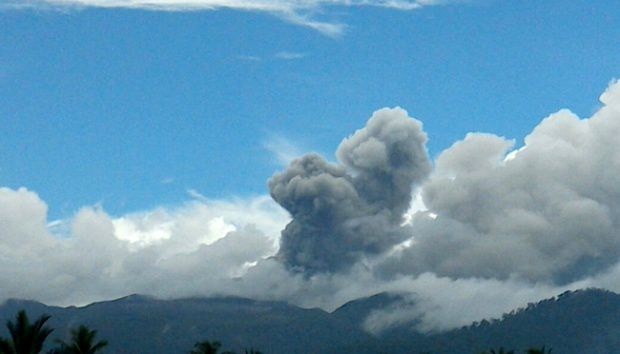 Dukono - 22.03.2017. - photo archive Mount Dukono Observation Outpost, North Halmahera / Budhy Nurgianto
The Dukono Observation Center closed the access paths at the top of the Malupang Warirang crater, following the increase in volcano activity for two weeks.
Thick plumes rose to 400-500 meters; On the other hand, seismicity comprises several tectonic earthquakes.
Despite a level of alert remaining at II, it is recommended not to approach the summit within 2 km.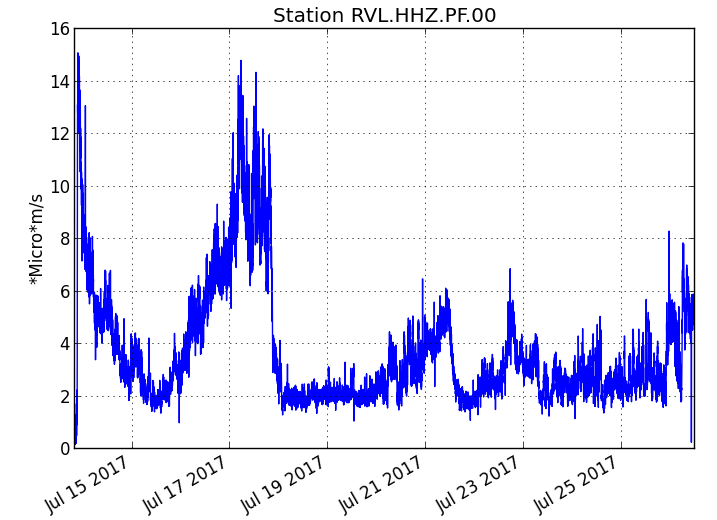 Piton de La Fournaise - Evolution of the RSAM (volcanic tremor and eruption intensity indicator) between 00:00 (20h UTC) on July 14th and 16h00 (12h00 UTC) on 26th July on the seismic station of RVL, located on The southern flank of the volcano. (© OVPF / IPGP)
At Piton de La Fournaise, the intensity of the tremor has risen slightly since the 25th at the beginning of the day, although it is necessary to take account of noise caused by bad weather conditions.
A slight recovery in inflation is recorded both at the level of the summit zone and the far field, reflecting the pressurization respectively of a superficial and deep source.
A volcano-tectonic earthquake is reported under the summit craters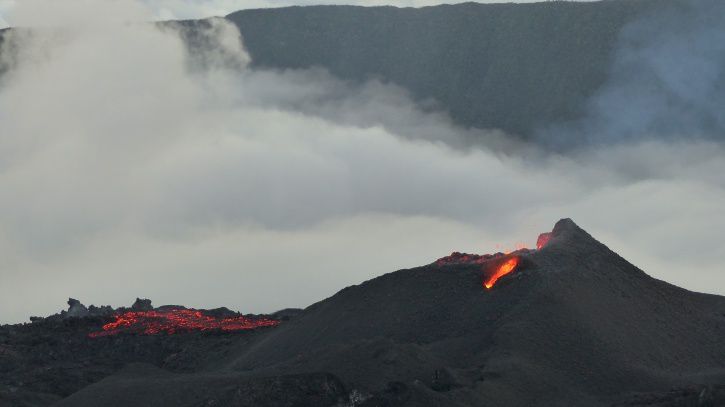 Piton de La Fournaise - Shooting of the eruptive site on 25 July 2017, 17h30 (local time) (© Cité du Volcan / Arthur Vaitilingom)
A team from the "City of the volcano" observed yesterday in the field the continued growth of the cone; At 17:30 local, two mouths were visible, a main breached on south-east side, and a secondary one on the north wall of the cone. A main channel is clearly visible downstream of the cone and has overflows; The lava also flows through tunnels, with vertical growth of the lava field.

Source: OVPF
An important seismic swarm marks the Reykjanes Peninsula in Iceland, in an area northeast of Fagradalsfjall since the morning of July 26, and continues this 27.
Several earthquakes of magnitude between 3 and 4 were recorded, as well as more than 100 smaller earthquakes. The depth of the hypocentres lies between 4.9 and 10.4 km.
The strongest earthquakes were felt at Blue Lagoon and up to Reykjavik.
The Pleistocene volcano Fagradalsfjall is going through a phase of uncertainty with this medium-sized tectonic swarm. No signs of eruption are reported, the last eruption being dated to the last ice age in Iceland.

At 10.15 pm on 26 July, an earthquake of M 4.5 was recorded at Myrdalsjökull, followed at 22.18 by another of M 3.2, which was felt in the vicinity. They are common in summer, during glacial melting.
These seismic swarms are not connected.

Sources: Icelandic Met Office and Icelandmonitor