Publié le par Bernard Duyck
The Sinabung entered eruption twice on Thursday 20 July, and seven times on Friday 21 July, according to the BNPB.
Residents and visitors are advised not to do any activity within 3 km of the summit and 4 km in the NE area, 6 km in the SE-E sector and 7 km in the S-SE sector. People living near the drainage are warned of a potential danger following a natural dam created on the Laborus River that could yield and cause lahars.
Sources: Tempo & Endro Lewa
At Piton de La Fournaise, the intensity of the volcanic tremor (indicator of surface eruptive intensity) has been relatively constant for 24 hours and is close to that observed between 18 and 20 July.
An overflight conducted by the OVPF revealed the morphological changes and mapped the flows. Observations of the eruptive cone downstream of the eruptive fissure at 7:30 this morning attest to the presence of three active mouths at the main cone, all three open towards the east. A fourth mouth located on the north wall of the main cone emits only sporadic projections.
This morning two arms of lava flow were active: the first one in direction of "Château Fort" in open channel, the second towards the southwest in tube.
The flow extends in its maximum length over 2,800 meters and in its maximum width over 600 meters. The flow front has not progressed since the last seven days.

Source: OVPF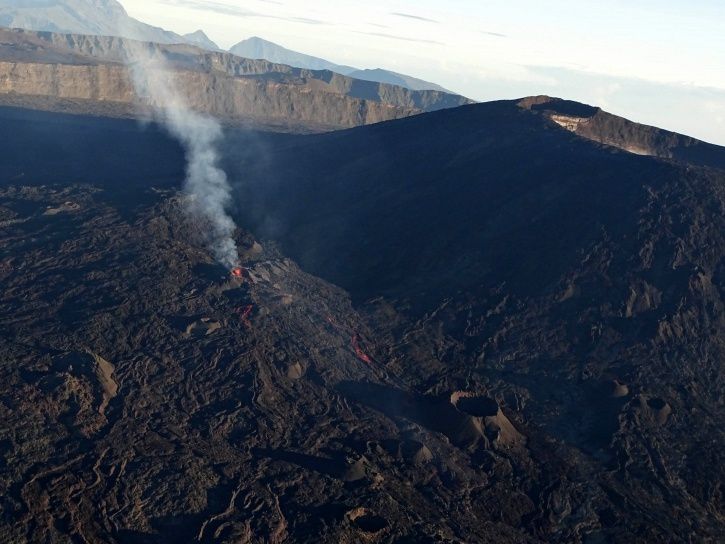 Piton de La Fournaise - Shooting on the eruptive site on 22 July 2017, 7:30 am (local time). - photo (© OVPF / IPGP)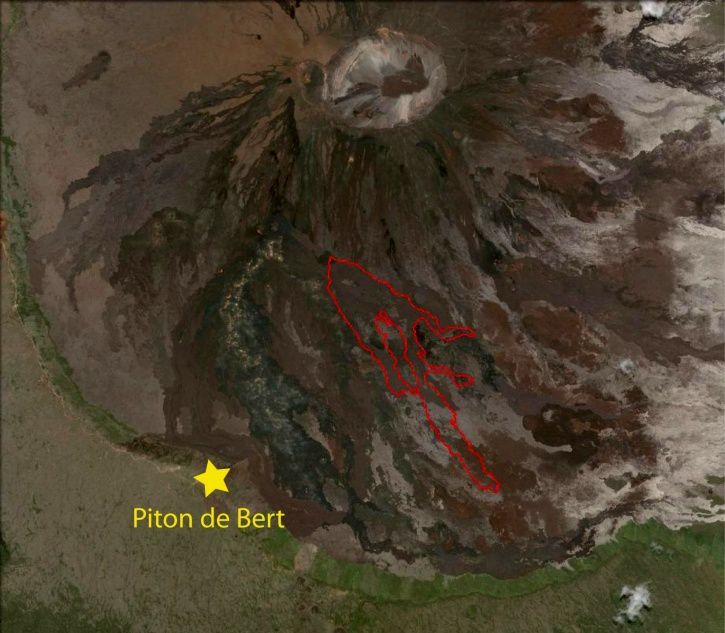 Piton de La Fournaise - Mapping of the lava flow at 22 July 2017, 7.30 am (Background map: GoogleEarth). - doc. (© OVPF / IPGP)
The activity is maintained on Nishinoshima, with this 21 July, repeated explosions at intervals of a few minutes. Materials are ejected and fall on the upper slopes of the cone.

Source: Hyuga Navy / Twitter, via Shérine France.
The fires that last week ravaged the slopes of Mount Vesuvius are under control, however geologists fear that the worst is to come.
Eighteen square kilometers were affected, including forested areas, exposing volcanic rocks. These areas, composed of alternating layers of lava and ash, may lose their ash component under heavy rain and create sludge flows that can cut roads intersecting drainage. Debris flows following fires are documented: fire destroys vegetation, but damages the soil and leaves many debris, rocks and dead trees...
To be continued

Source: Forbes Science - article by David Bressan - Fires at Mount Vesuvius are under control, but there is risk of mudflows now.- link