Publié le par Bernard Duyck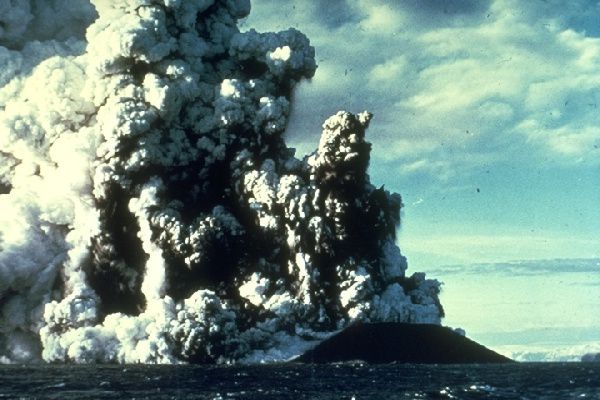 Surstsey - eruption of 21.11.1963, qualified since from "Surtseyenne" - photo geology.ohio-state.edu
More than fifty years after coming out the Icelandic waters, the volcano-island Surtsey, which has become a laboratory island, still teaches us.
Since 1964, a year after the eruption, research has been carried out on an annual basis.
This year, during the expedition of the Icelandic Institute of Natural History, a new species of insect was found; The species belongs to the family Chloropidae, small flies of the order Diptera. She was able to reach Iceland by the south winds.
A new species of willow, Salix artica, a tiny shrub adapted to life in arctic or subarctic environments, was also observed, coming from the main island. Thus all the willow species found in Iceland are now also present on Surtsey.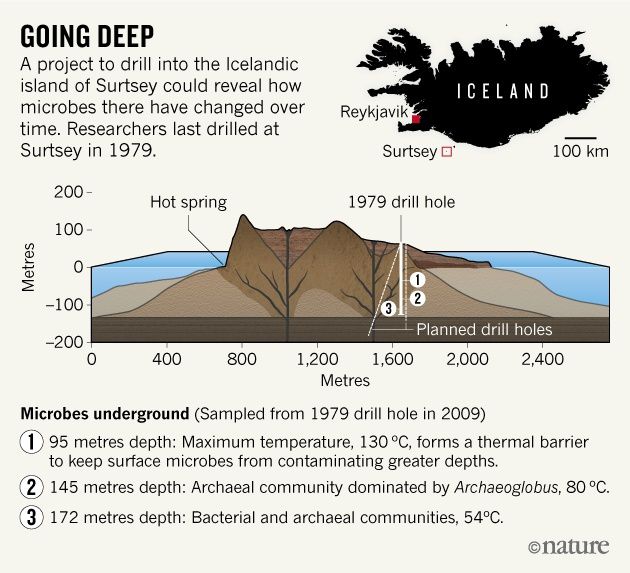 Two wells will be drilled in August on Surtsey ( white dots)... each one likely to teach us more about the formation of the island - doc Nature
In August of this year, a major drilling project will start on Surtsey, in order to better understand the formation and development of a volcanic island, through an oblique drilling. It will also allow us to see the microbial evolution since the last drilling dating from 1979, while drilling this time parallel to the latter.

One hopes to find the secret of its extraordinary durability ... Surtsey is unique because during its formation, the mixture of high temperature, volcanic materials and sea water created hydrothermal minerals that strengthen the rock.
We return to hoping to find the formula of the strongest concrete in the world, the ancient Roman concrete. Although its formula has been lost in the meanderings of history, it is known to contain volcanic ash and sea water.

Will Surtsey provide the missing link to the durable and resistant concrete formula?
To be continued.
Sources :
- Nature news - Iceland drilling project aims to unearth how islands form - Nature 547, 387388 doi:10.1038/nature.2017.22340 - link
- Iceland Review - New Insect Species Discovered on Surtsey – link
- Popular mechanics – Scientists hopr this volcanic island holds the answer to stronger concrete – link