Publié le par Bernard Duyck
Since July 10, 2017, the seismic activity, on the verge of the summit area of ​​Piton de la Fournaise, has resumed significantly. Thus 155 superficial volcano-tectonic earthquakes (<2 km deep) were recorded under the summit zone during the last 7 days. The majority of these earthquakes are located below the southern edge of the Dolomieu crater between 500 and 1000 m above sea level.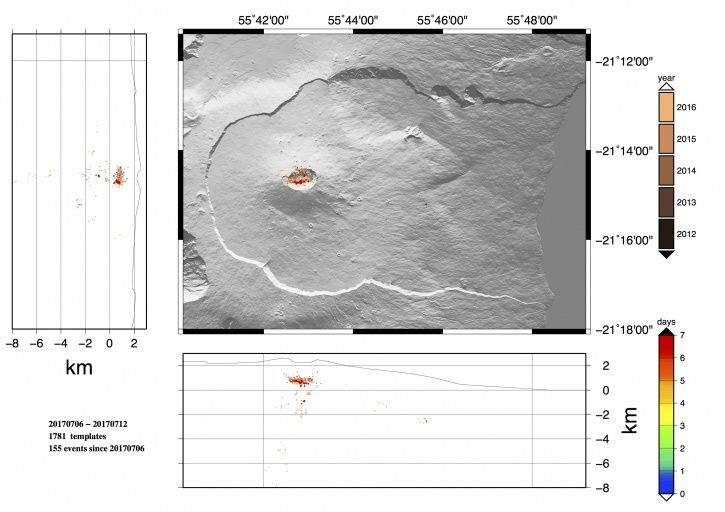 Piton de La Fournaise - 13.07.2017 - Location of earthquakes over 7 days (colored bars). Only locatable earthquakes have been shown on the map. The observatory records seismic events not shown on this map because they can not be located because of their low magnitude. (© OVPF / IPGP)
Parallel to the resumption of the seismicity, the deformations recorded on the permanent GPS stations of the OVPF show a resumption of inflation (swelling) of the building.
CO2 concentrations in the soil at the Volcanic Gîte have been declining in recent weeks.
All these parameters show recharge, pressurization and embrittlement of the surface reservoir, located beneath the summit craters at about 2 km depth. (OVPF)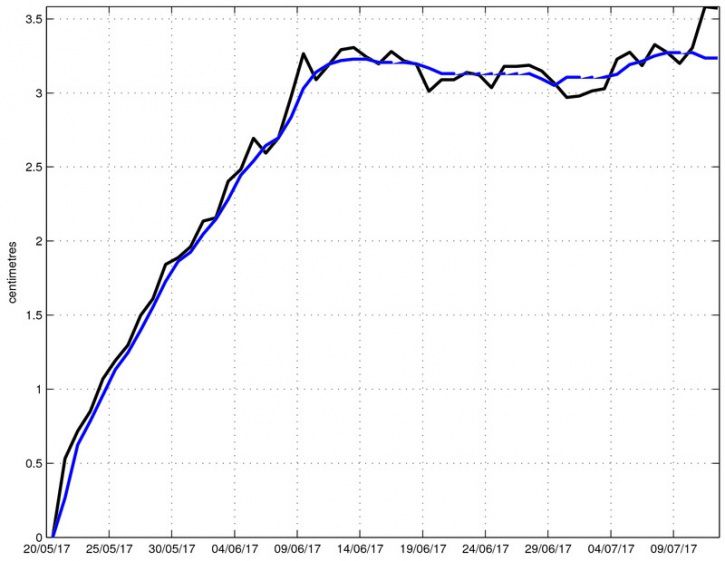 Piton de La Fournaise - 13.07.2017 - Illustration of the deformation since May 20, 2017 (following the last injection of magma towards the surface). Here is shown a baseline (distance between two GPS receivers) crossing the Dolomieu crater from north to south (in black the raw data, in blue the smoothed data over a week). A rise is synonymous with elongation and therefore swelling of the volcano; Conversely a decrease is synonymous with contraction and thus of deflation of the volcano. (© OVPF / IPGP)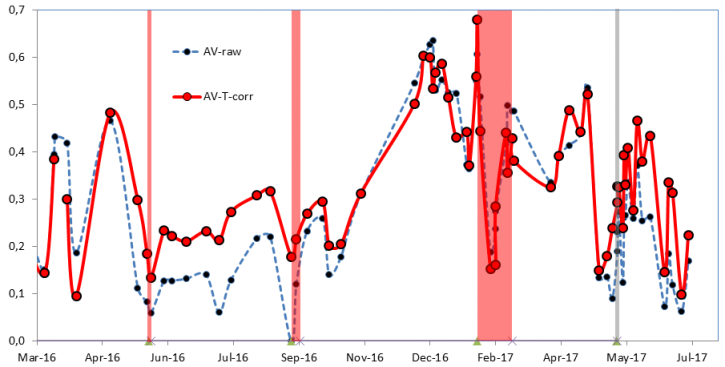 Piton de La Fournaise - 13.07.2017 - Concentration of CO2 in the soil at the level of the volcano deposit between March 2016 and July 2017 (eruptions of 26-27 May, 11-18 September 2016 and 31 January-27 February 2017 Are represented in red, and the magma injection of May 17, 2017 is represented by a gray bar). In blue the raw data, in red the corrected data of the environmental parameters. Values ​​are normalized to the maximum value. (© OVPF / IPGP)
On July 13, at 10:10 pm, the seismicity increased markedly, and since 22:30, a seismic crisis accompanied by a rapid deformation are recorded ... the magma rises towards the surface. The prefect triggers alert 1: "Probable or imminent eruption" of the ORSEC Volcan plan.

At 0:50 local on July 14, one (or some) eruptive crack(s) open on the southern flank of Piton de La Fournaise. The volcano makes its fireworks for the French National Day. The prefecture raised the alert to level 2-2.
The eruptive crack emits two distinct lava flows.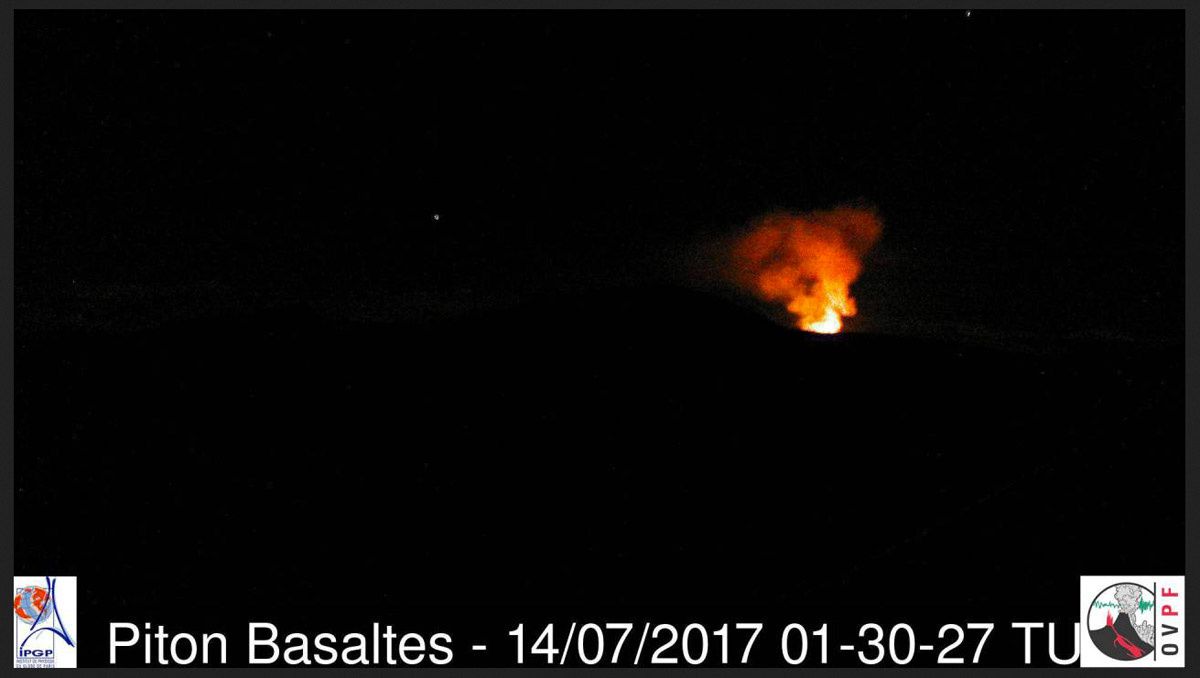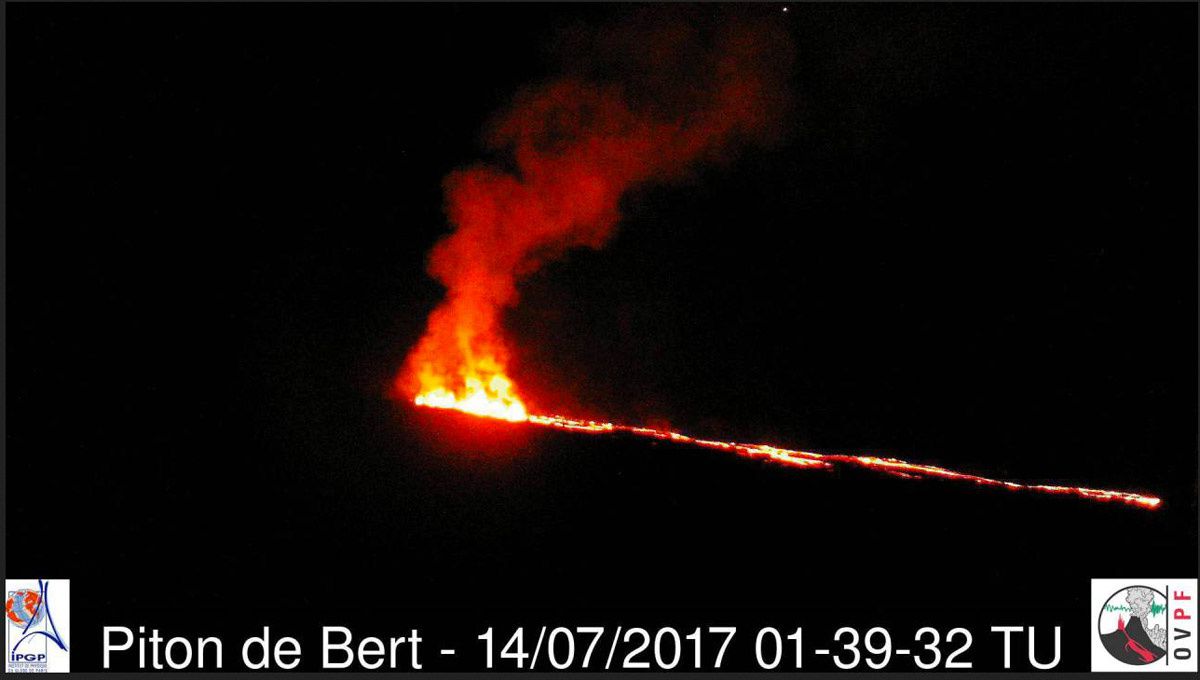 Piton de La Fournaise - 14.07.2017 - 01h30 and 01h39 of the Piton Basaltes and Bert Piton cameras - OVPF
Piton de La Fournaise ce 14.07.2017 - "7 fontaines de lave et un cône est en formation d'où deux coulées s'échappent." - vidéo Clicanoo.re JIR