Publié le par Bernard Duyck
Over the past 24 hours, Cenapred has identified 696 low-to-medium intensity exhalations with the emission of gas and water vapor in the Popocatépetl.
Twenty-two explosions marked the volcano, accompanied by plumes moderately loaded with ashes, then dispersing to the north and northwest
The level of volcanic alert remains in Amarillo phase 2.

Source: Cenapred and Webcams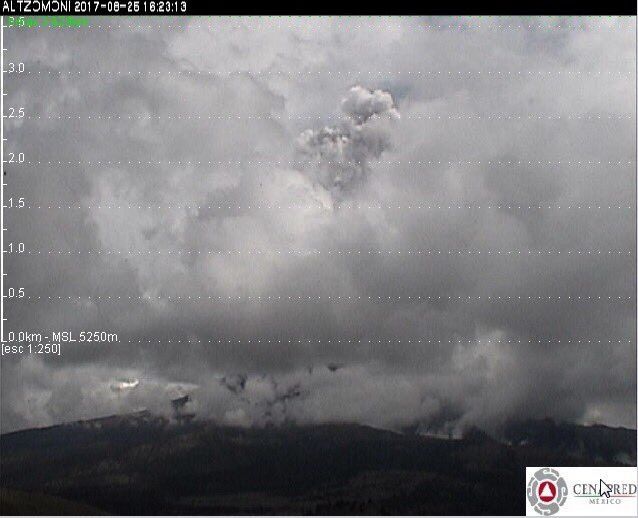 Popocatépetl - the explosion of 25.08.2017 / 16h23, accompanied by a plume of 3,000 m. - photo Cenapred via Luis Felipe Puente SEGOB
The Reventador always has a high and continuous internal activity.
At the end of June, a lava flow took place on the east-northeast flank.
In recent days, we can see on the thermal images of the webcam, the existence of two flows, on the south-south-west and south-east slopes, of several hundreds of meters long.
The IGEPN refers to nocturnal explosions, incandescence at the crater and falling of incandescent blocks on the flanks up to 800 meters below the crater.

Source: IGEPN
At Piton de La Fournaise, the eruption that began on July 14 at 00:50 local time continues. The volcanic tremor remains at a stable and weak level.
Some volcano-tectonic earthquakes of low magnitude were recorded under the southeast region of the Enclos during yesterday.
No distortion is noticeable over the last few days.
The upward trend observed in CO2 emissions measurements by the soil (the volcano gîte station) is continuing.
Source: OVPF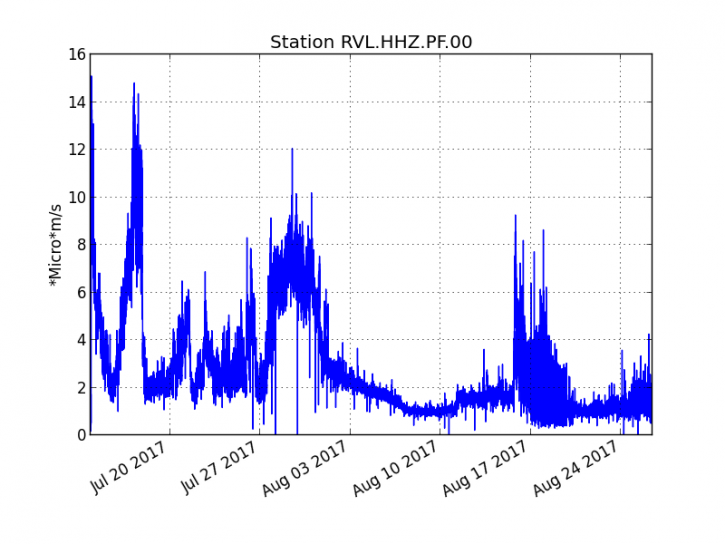 Piton de La Fournaise - Evolution of the RSAM (volcanic tremor and eruption intensity indicator) between 00:00 (20h UTC) on 14th July and 15h00 (11h00 UTC) on August 26th on the seismic station of RVL, located on The southern flank of the volcano. (OVPF / IPGP)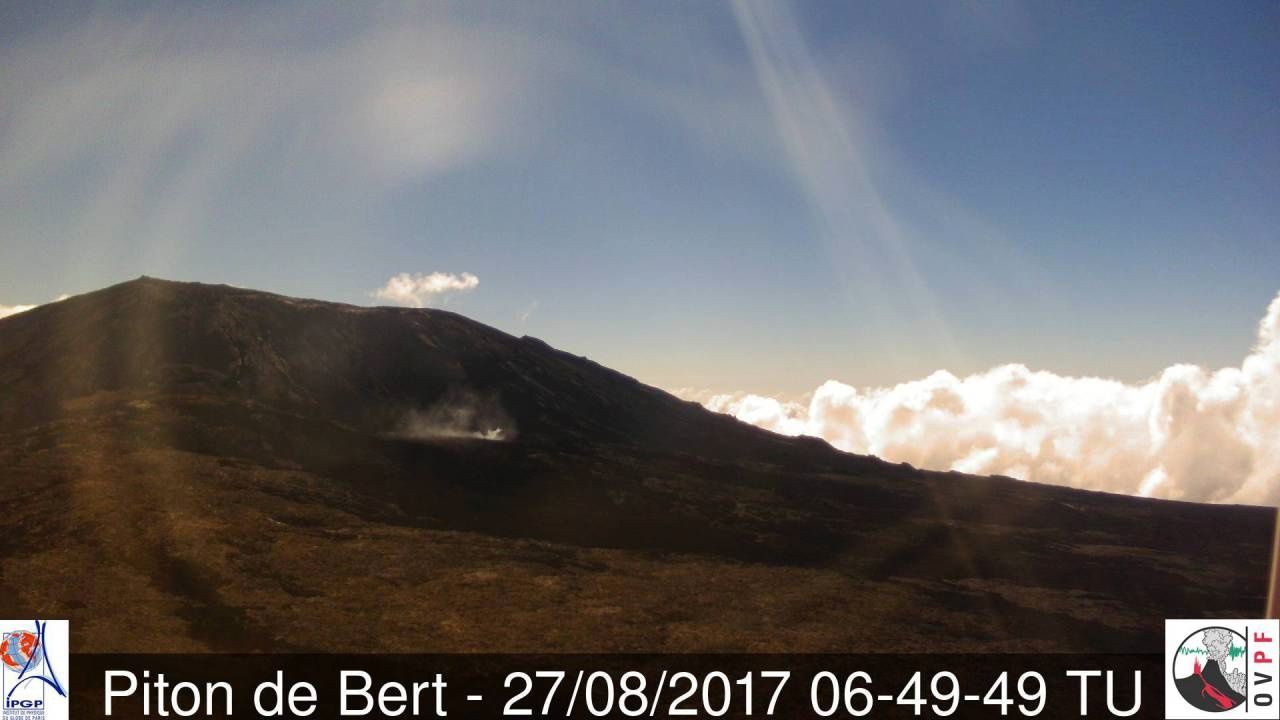 Piton de La Fournaise - 27.08.2017 / 06h49 TU - degassing at the eruptive site - OVPF Piton camera of Bert
Also worth mentioning, a brief eruption, for 4 minutes at Bogoslof, this 27 August from 0:29 UTC.
It was accompanied by a plume of ash rising to 7,300 meters, according to the satellite data.
Source: AVO
At the Nevados de Chillan complex, a new eruptive phase was observed on 26 August. The volcano is on alert Amarillo.
Sources: Volcanes de Chile & Sernageomin