Publié le par Bernard Duyck
News of the eruption of the Gunung Dukono, in the Moluccas :
A New Zealand expedition led by Matthew Davison and Dan Ward / Extreme Pursuit, has observed the intense activity of the volcano in recent eruptions since 1933 (GVP), with a break in the 90s. August, they report a plume of ash rising to 3,000 meters and bombs of lava emitted by the crater. They also report lahars

Source: Extreme Pursuit, via Jeannie Curtis.
At the Nevados de Chillan complex, ash emissions on 3 and 4 August reflect the interaction of a magma body with the superficial hydrothermal system, confirmed by the seismicity recorded. They were accompanied by high-temperature projections during the night of 4 to 5 August.
The Sernageomin maintains the level of volcanic alert in Amarilla, in force since December 31, 2015, with a no-go zone of 3 km around the top of active craters.

Sources: Sernageomi and Onemi
After three good weeks of eruption of the Piton of La Fournaise, the volcanic tremor (indicator of surface eruptive intensity) continues its gradual decline.
In the field, the activity essentially continues in lava tunnels with some visible surface resurgences on a small spatial extension.
Nevertheless, in the late afternoon of August 5, a more substantial opening in the lava tunnel occurred. It was particularly visible from the OVPF and IRT webcams and on the Clicanoo video. It came to feed a lava flow over several hundred meters for several hours.
Gas emissions remain high.
No earthquakes have been recorded in the past 24 hours.
The trend towards a slight recovery in inflation observed over the past few days on deformation sensors, in particular GPS, is confirmed.
Estimations carried out using satellite methods via the HOTVOLC platform (OPGC - Clermont Ferrand) report minimum flows between <1 and 2 m3 / s.

Sources: OVPF & Clicanoo.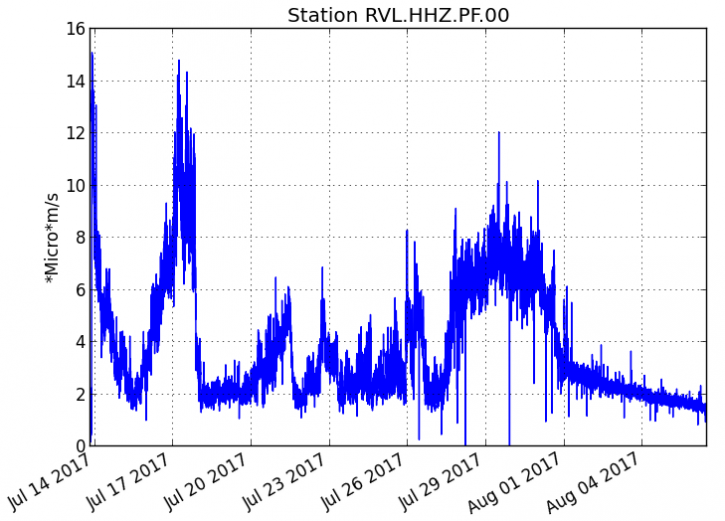 Piton de La Fournaise - Evolution of the RSAM (volcanic tremor and eruption intensity indicator) between 00:00 (20h UTC) on 14th July and 15h00 (11h00 UTC) on August 6th on the seismic station of RVL, located on The southern flank of the volcano. (© OVPF / IPGP)
Video 05.08.2017 - François Martel-Asselin / Clicanoo.
News from Nyiragongo is scarce, so a video by Jeffrey Johnson of Boise State University is not only aesthetic but interesting.
This team brings together specialists from different universities and institutes, including two Belgians, from the Royal Museum of Central Africa, Benoit Smets and François Kervyn.
These volcanologists are regulars of Nyiragongo, where they installed under the aegis of the RMCA, the first experimental system of stereo-photogrammetric monitoring of the lava lake in September 2011. It allows the acquisition at regular intervals of and to quantify the volumes of lava emitted during its successive overflows. In combination with the gas and temperature measurements, the aim is to define the parameters reflecting the variations in volcanic activity.

Sources: You Tube / Jeff Johnson & MRAC
Nyiragongo 2017 - Video Jeff Johnson