Publié le par Bernard Duyck
At Piton de La Fournaise, the eruption that began on 14 July continues. The volcanic tremor increased rapidly in early night on August 15th. Then, since the beginning of the day (the 16.08 / 00h local), it oscillates with a periodicity of approximately 4 minutes.
The slight inflation of the entire terminal cone of the volcano observed so far (<1 cm since the beginning of the eruption) appears to be decreasing.
Despite unfavorable weather conditions, the camera in place at Piton de Bert allowed to associate these changes in the level of the volcanic tremor with changes in surface activity: fountains of lava, ephemeral, could be observed both at the level of the eruptive cone than from the eastern end of the casting essentially at the beginning of the night.
The presence of clouds, unfortunately, did not make it possible to carry out the estimates on the flow by the use of satellites.

Sources: OVPF & Clicanoo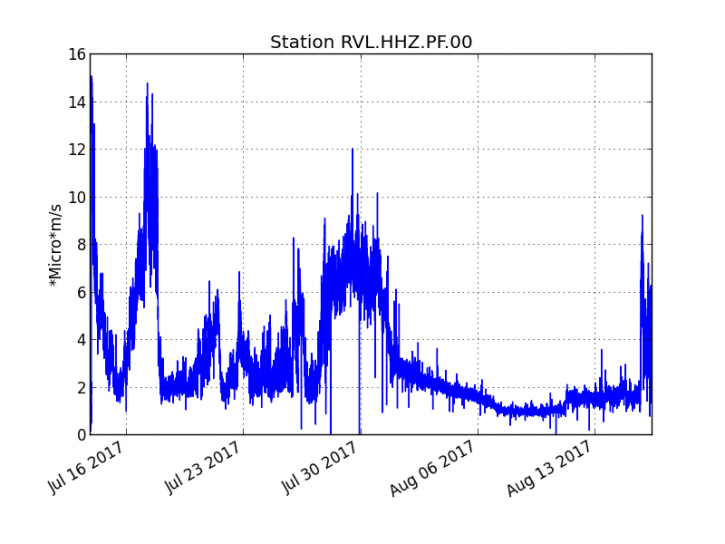 Piton de La Fournaise - Evolution of the RSAM (volcanic tremor and eruption intensity indicator) between 00h00 (20h UTC) on 14th July and 15h00 (11h00 UTC) on August 16th on the seismic station of RVL, located on The southern flank of the volcano. (OVPF / IPGP)
The activity of the Pacaya is characterized by strombolian explosions, the expulsion of volcanic materials and a plume of ash at 75 meters in height.
The majority of the material expelled is within the crater, although some bombs reach 75-100 meters of distance, and descend mainly on the western flank
The seismicity reflects the strombolian explosions, and the ascent of the magma and the degassing.
This activity is likely to increase according to Insivumeh.

Sources: Insivumeh and Conred
In Costa Rica, on August 15 and 16, Ovsicori reported moderate convective activity near the center of the Rincon La Vieja hyperacid lake. The convection cells transport molten sulfur rich in dark materials to the surface of the lake, such as pyrite (FeS2).
The waters of the lake have a milky turquoise hue that indicates the existence of vigorous fumaroles at the bottom of the lake. The level of the lake is relatively low, given the recent phreatomagmatic eruptions of May and June 2017, and its partial evaporation due to the heat from the hydrothermal system heated by the underlying magma.

At Poas, degassing is done by three mouths: mouth A / red mouth emits water vapor, aerosols and magmatic gases at high temperature (at least 500 ° C), vents B and C emit water vapor, gases and aerosols at a temperature close to 100 ° C.
The plume rises 300 meters above the bottom of the crater, before dispersing at low altitude to the WSW. Since August 8, no ash emission has been observed, and incandescence at the bottom of the crater has diminished. In the last 24 hours, however, a smell of sulfur is noted in Alajuela and Heredia.
In Turrialba, passive emissions of blue, gas, steam and aerosol blue plume continue; The plume rises between 100 and 300 meters above the crater, before its dispersion at low altitude towards the WNW.
Small amounts of ash are added this morning, interviews on the bad pictures of the webcam.

Source: Ovsicori-UNA