Publié le par Bernard Duyck
Discovery of 91 new volcanoes in Antarctica :

A team of geologists from the University of Edinburgh / UK inventoried the sub-glacial volcanoes of the western Antarctic ice sheet, which covers a rift system.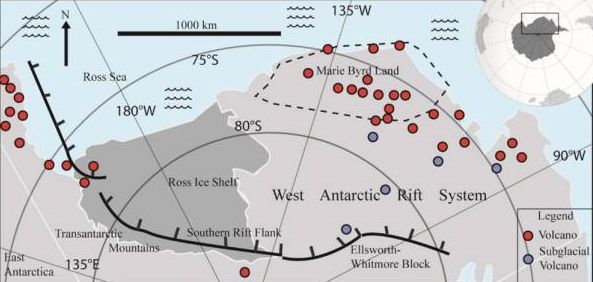 2017.08 - situation of west Antarctic rift system elements and confirmed volcanoes (confirmed red volcanoes) confirmed volcanoes (after LeMasurier et al., 1990 Smellie & Edwards 2016).
Using aeromagnetic data, aerodynamic data, satellite imagery, new radar data on the ice sheet, and data on already known volcanoes, the results of this inventory of subglacial volcanism in the Antarctic has allowed to identify 138 volcanoes, including 91 previously unidentified, concentrated and oriented on the central axis of the western Antarctic rift system over more than 3,000 km.
At an altitude of between 100 and 3,850 meters, covered with glaciers, the volcanoes have a density of a building for 7,800 ± 400 km².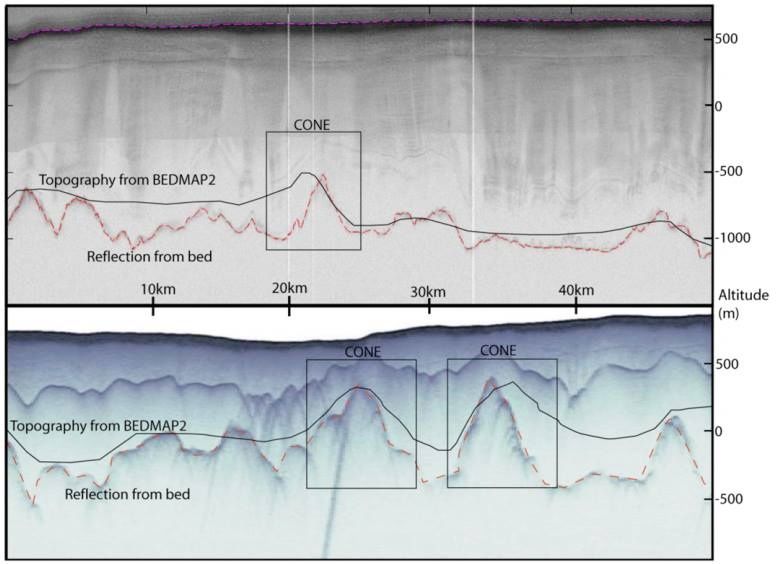 Typical echograms of topography BEDMAP2 - location of cones - doc. A new volcanic province_ an inventory of ...
The presence of this volcanic field crossing one of the deepest marine basins will make it possible to understand their major influence on the past behavior and the future stability of the ice cap.
This finding worried researchers, who have found a probability of increasing volcanic activity in regions of the globe losing their glacial coverage, such as Alaska and Iceland, fear that a reduction in pressure above Antarctic volcanoes do facilitate their eruption, and that the latter accelerates the flow of ice towards the oceans.

Source: A new volcanic province: an inventory of subglacial volcanoes in West Antarctica - M. Van Wyk De Vries, R.Bingham & A.Hein - School of GeoSciences, University of Edinburgh, Drummond Street, Edinburgh EH8 9XP, UK - link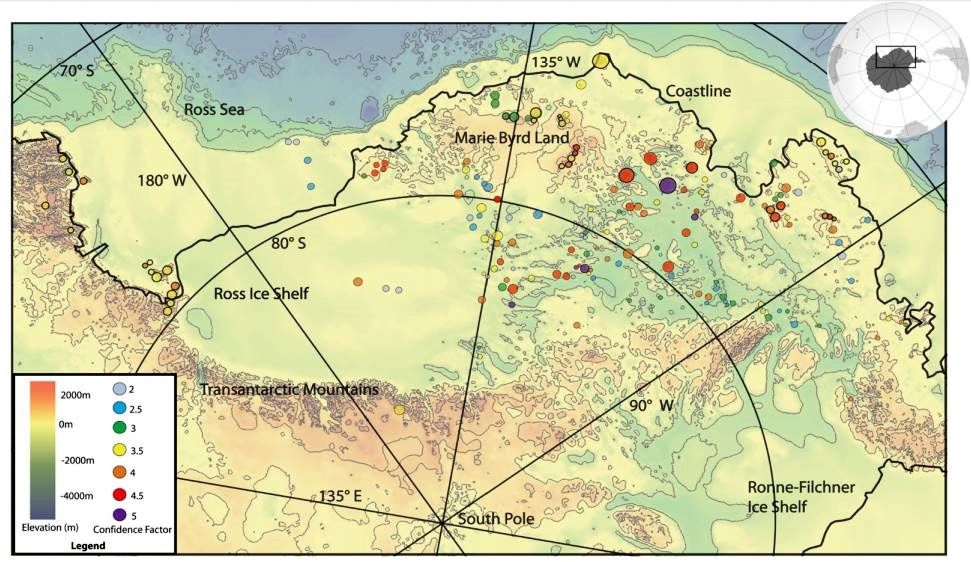 2017.08 Location map of conical edifices (circles) identified from Bedmap2 (greyscale background) across the West Antarctic Rift System. Doc. A new volcanic province: an inventory of subglacial volcanoes in West Antarctica
Discovery of a new tectonic microplate :

The study of plate movements and their evolution between them by scientists from Rice University revealed a 57 th tectonic plate: the Malpelo microplate.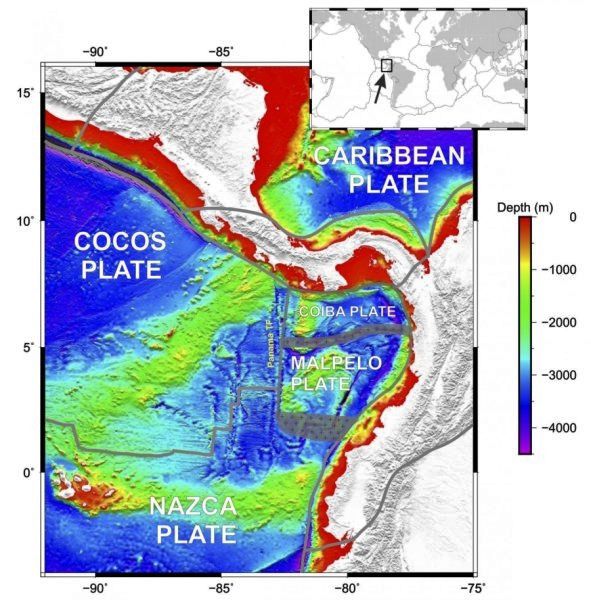 Misfit plates in the Pacific led Rice University scientists to the discovery of the Malpelo Plate between the Galapagos Islands and the South American coast. - Photo by Tuo Zhang/Rice University
Just to the west of the Galapagos Islands, the Pacific plate alongside the Cocos and Nazca plates. The plates rotate around each other like gears. By summing the angular velocities of the three plates, the result should be zero ... but it is 15 mm per year. Scientists assume that a plate therefore lacks the equation. To find the limits, they have drawn in a catalog of multi-beam soundings. Anomalies in the data suggest the presence of a new plate east of the Panama Transformation Fault, a region originally attributed to the Nazca plate.

Source: The Malpelo Plate Hypothesis and Implications for Non-closure of the Cocos-Nazca-Pacific Plate Motion Circuit. Tuo Zhang, Richard G. Gordon, Jay K. Mishra, Chengzu Wang. Geophysical Research Letters, 2017; - link