Publié le par Bernard Duyck
Well integrated into local toponymy, circuses, pitons, islets, ravines, ramparts ... all these names nevertheless appeal to visitors.

Three large contiguous and almost completely closed circuses break the north-west of the island, centered on its volcano, the Piton des Neiges.
The circuses of Mafate, Cilaos and Salazie form cups about ten kilometers in diameter and more than 1,000 meters deep.
They were formed by collapse accompanying the dismantling of the great primordial volcano. They continue to undergo changes, following landslides, and by gullying.
These caldeiras possess abrupt edges, called ramparts, surrounding the circuses, or constituting intercaldeiras crests.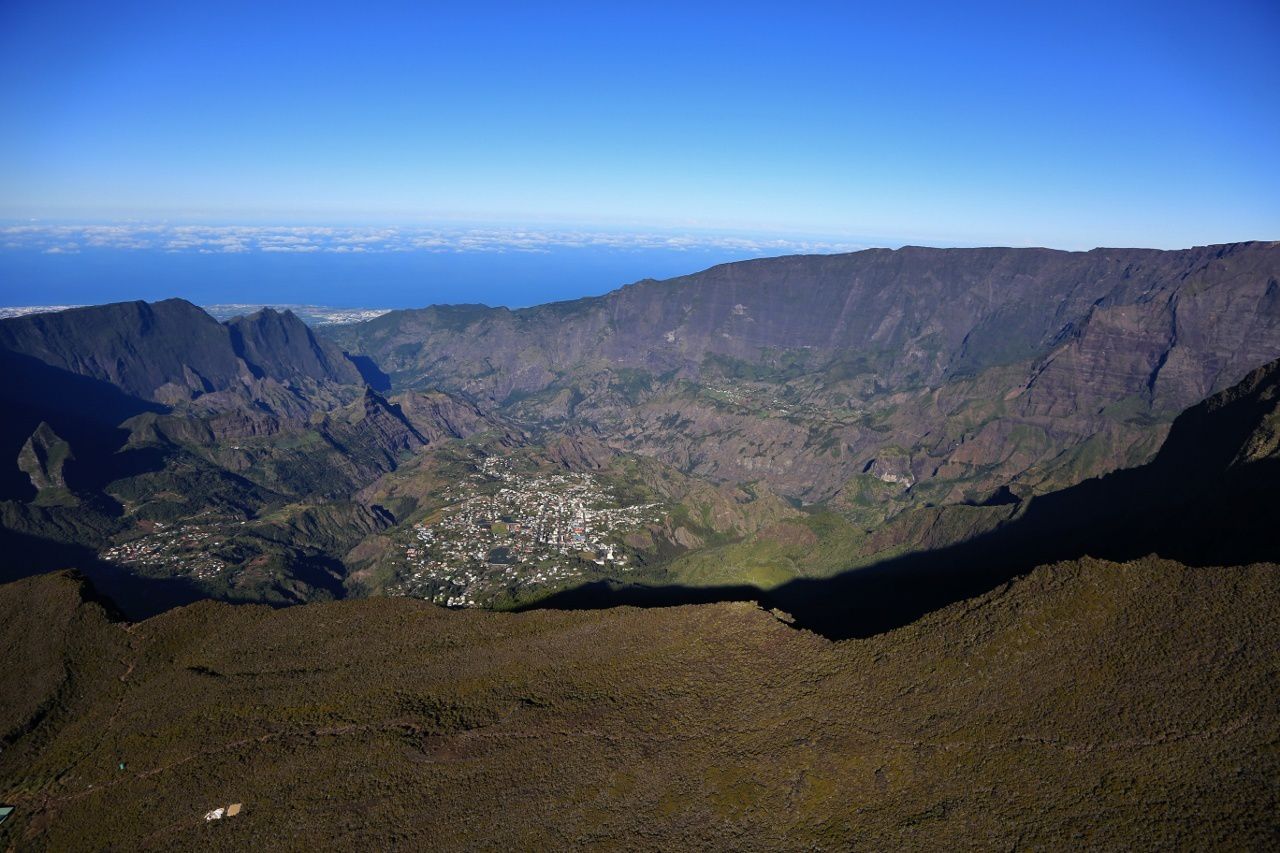 Reunion - a circus surrounded by its ramparts - fly over the island in a ULM / Planetair974 - photo © Bernard Duyck / june 2017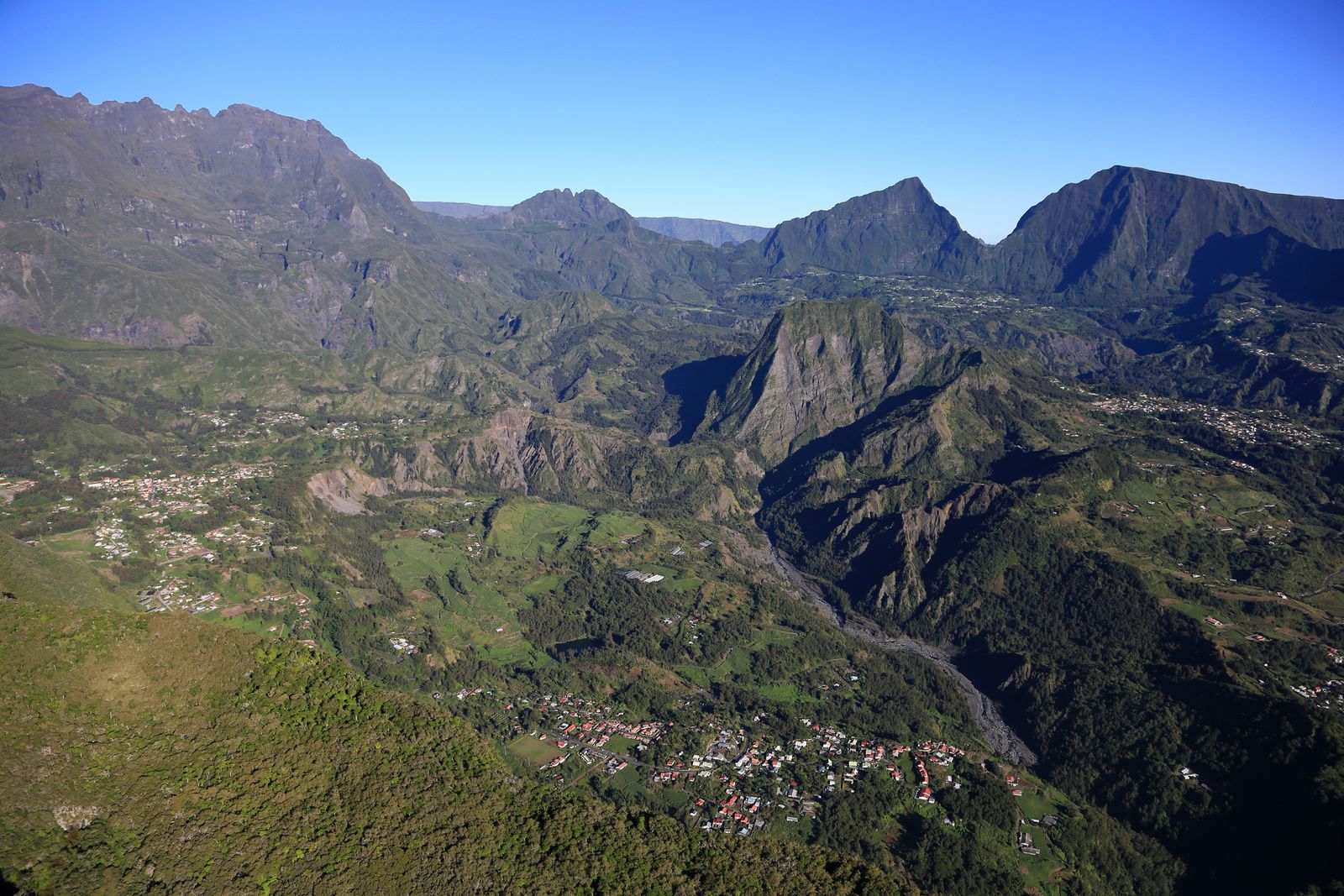 Reunion - circus of Salazie, with in the center, the Piton d'Enchaing - flight over the island in ULM / Planetair974 - photo © Bernard Duyck / june 2017
The term "piton" designates not only the two large juxtaposed volcanoes that built the island, Piton des Neiges - 3,070 meters - and Piton de La Fournaise - 2,632 meters - but also applies to smaller cone volcanic cones parasites formed on the flanks of the buildings or on the high interior plains (Plain of the Cafres, Plain of the Palmistes), eruptive cones built at the bottom of the circuses, and by extension to simple peaks isolated by erosion along the dividing lines of the waters.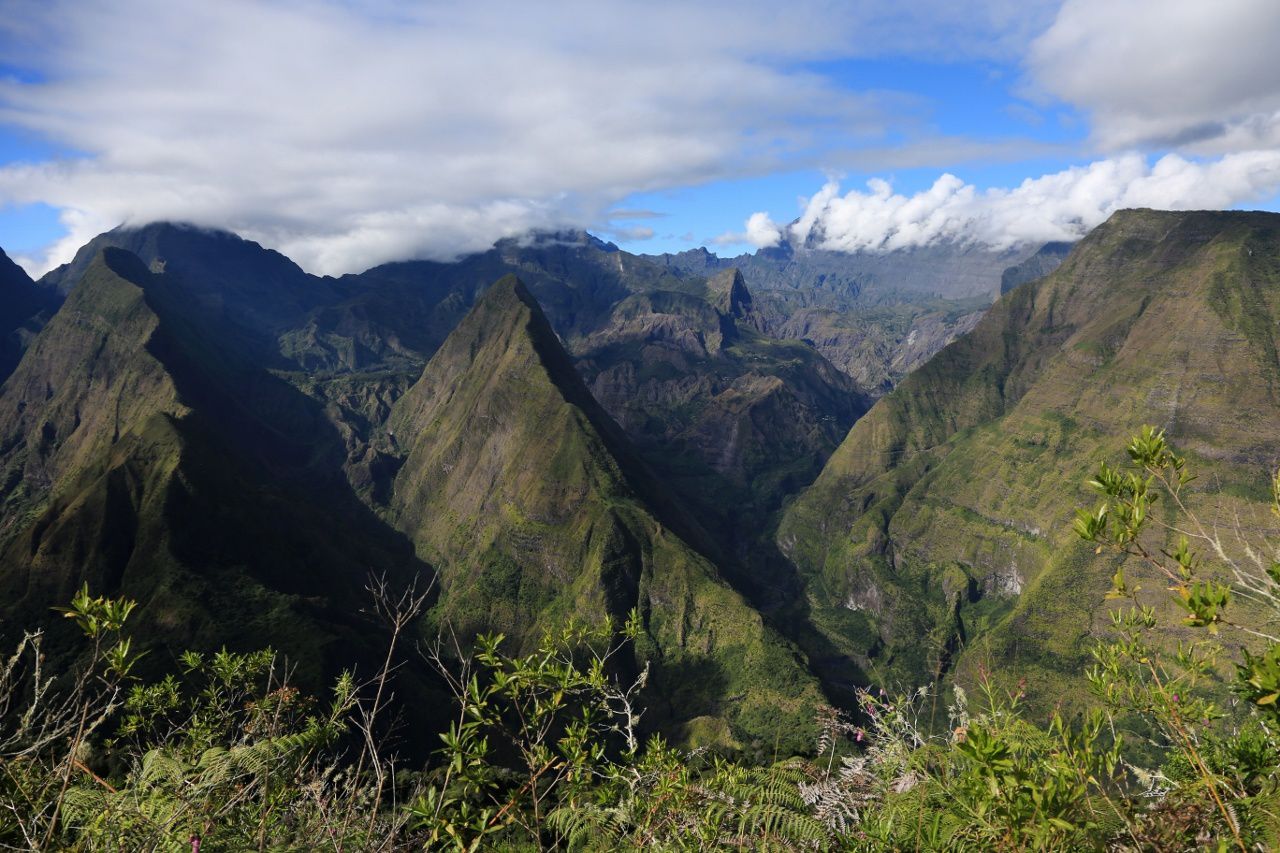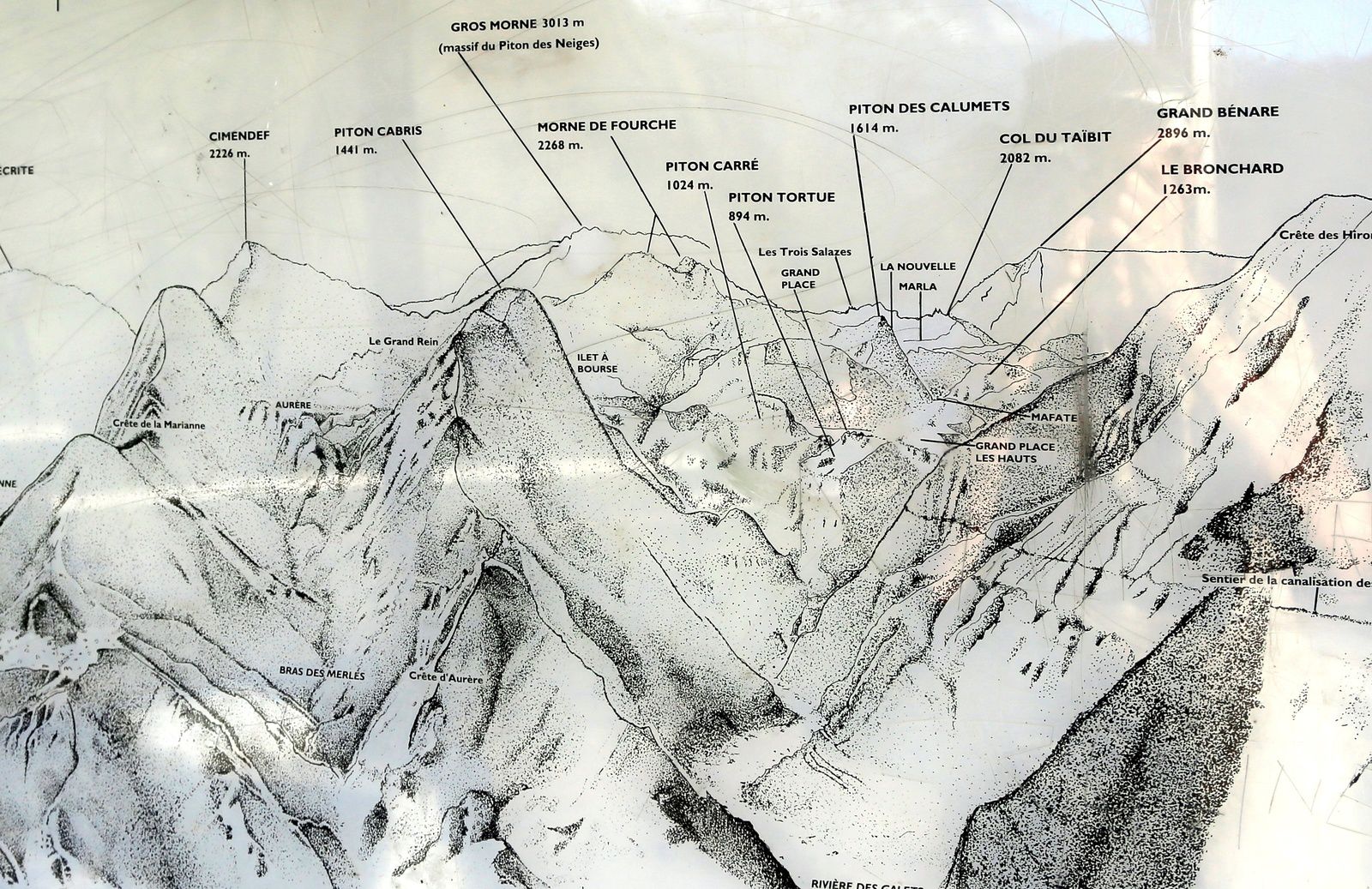 Circus of Mafate from Dos D'âne - islets and pitons according to the detail of the orientation table - a click to enlarge - photo © Bernard Duyck / june 2017
The islets are interfluves sometimes individualized on all sides, with a flat top or accute summit, occupying the bottom of the great circuses; they come from compartments collapsed at the site of the original volcano.
They occupied by villages and their cultures.
Intracaldeiras hills, with steep sides, and sometimes reduced as ridges, come from the gulliing of the bottom of the circuses.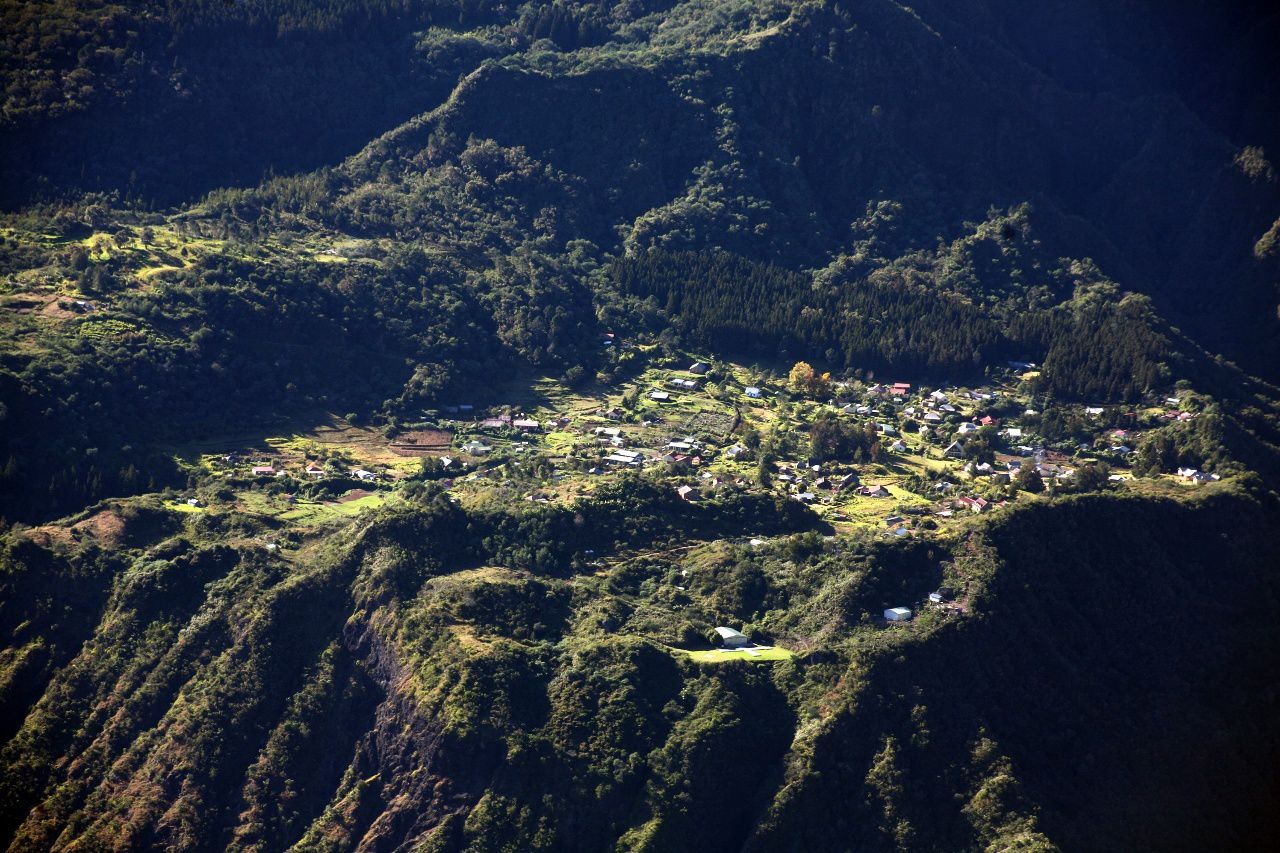 Cirque de Mafate - La Nouvelle islet, seen from Maïdo's point of view - photo © Bernard Duyck / June 2017
The strong and long erosion of the reliefs results in ravines (gullies) that cut the sides of the volcanoes radially; They are rectilinear except downstream, where they are more sinuous.
They can branch upstream, where they open like a fan, like the Trou de Fer ( the Iron Hole), an abyss nearly 300 meters deep, and where plunge streams, such as the Bras de Caverne, forming high waterfalls . Very inaccessible, it was only explored by men in rope at the end of the 20th century, and is visible only by the air, or from a point of view reached after a few hours of walking in the forest.
Their profile has a steep slope, sometimes greater than 1,000 meters, and transverse, narrow and deep hollows.
Sources:
- BRGM: Geological knowledge of Reunion Island - the genesis of landscapes, the result of a long geological history.
- a good place to fly over the island of Reunion Island: Planetair974 - link