Publié le par Bernard Duyck
Going south, you go to the Piton de la Fournaise massif.
A relief in plateau, slightly sloped towards the west from 1.500 meters, little attacked by erosion: the plain of the Cafres. It takes its name from the black slaves, the Kaffirs (les Cafres, in french), who fled and formerly refugees to this region.
It results essentially from the accumulation of basalt flows, it is a planeze, dotted with numerous volcanic cones belonging to the domain of Piton de La Fournaise, depending on their age and the nature of the lavas.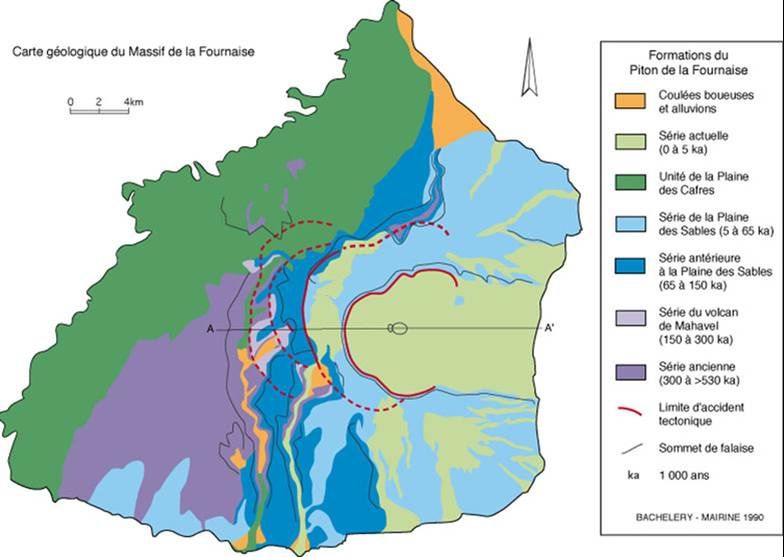 Geological map of the Piton massif of La Fournaise - the unit of La Plaine des Cafres in bronze green - doc. OVPF
These eccentric volcanoes are large and the volume of projections indicates a highly explosive gas-containing magma. The increased explosiveness originates from the deep origin of the magma, from a lesser degassing before its arrival on the surface, and from the crossing of ground water during the ascent.
The risk of activity in the area is not zero today. Andrea Di Muro, of the OVPF, recalled that all the peaks of the Plaine des Cafres are strombolian volcanic buildings. The observatory also monitors this active area ... "In each eruption associated with deep magma upwelling, we establish an eruptive scenario systematically considering the Plaine as potential gateway of magma," he says in "Testimonies, The volcanoes of the shadow "(2010).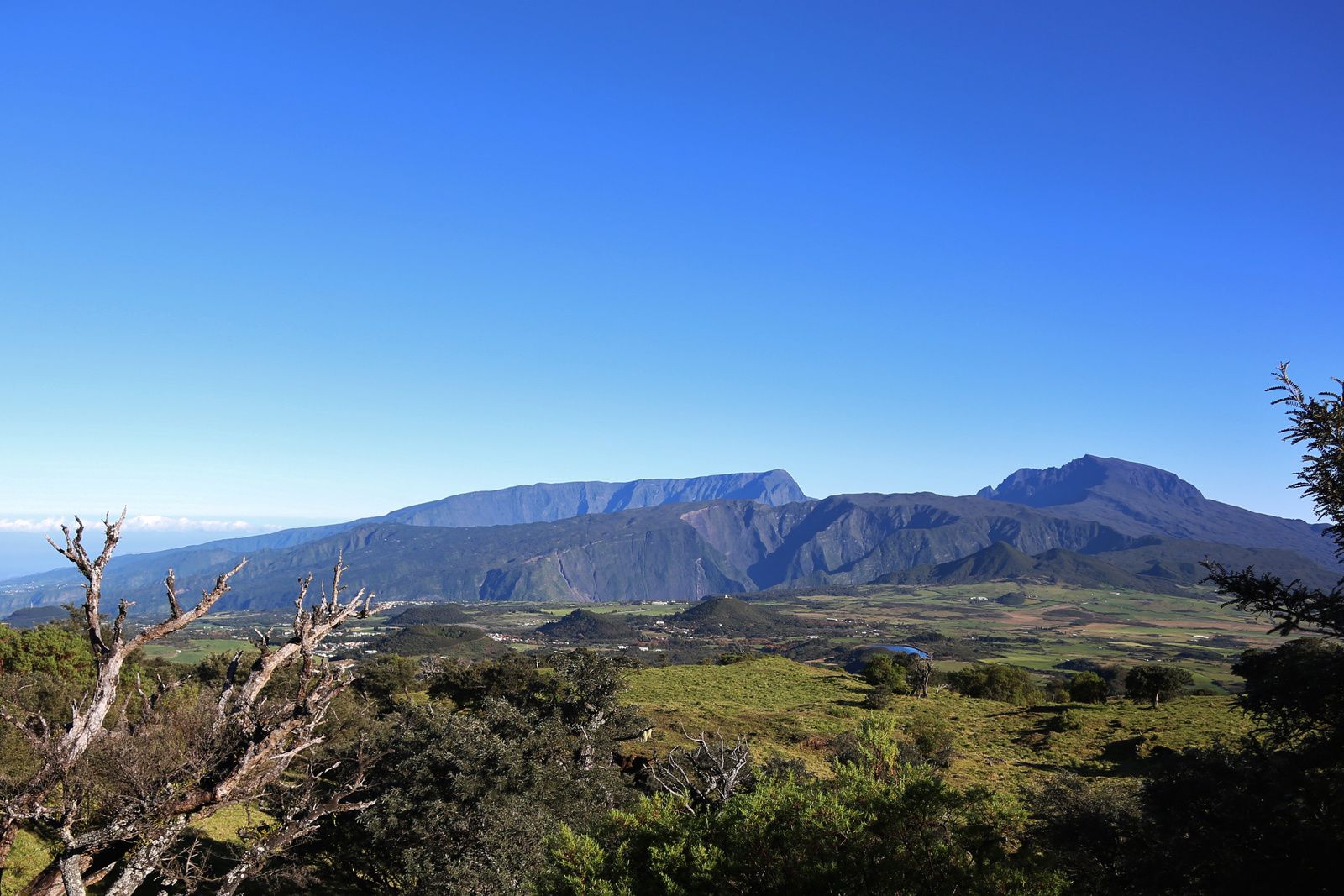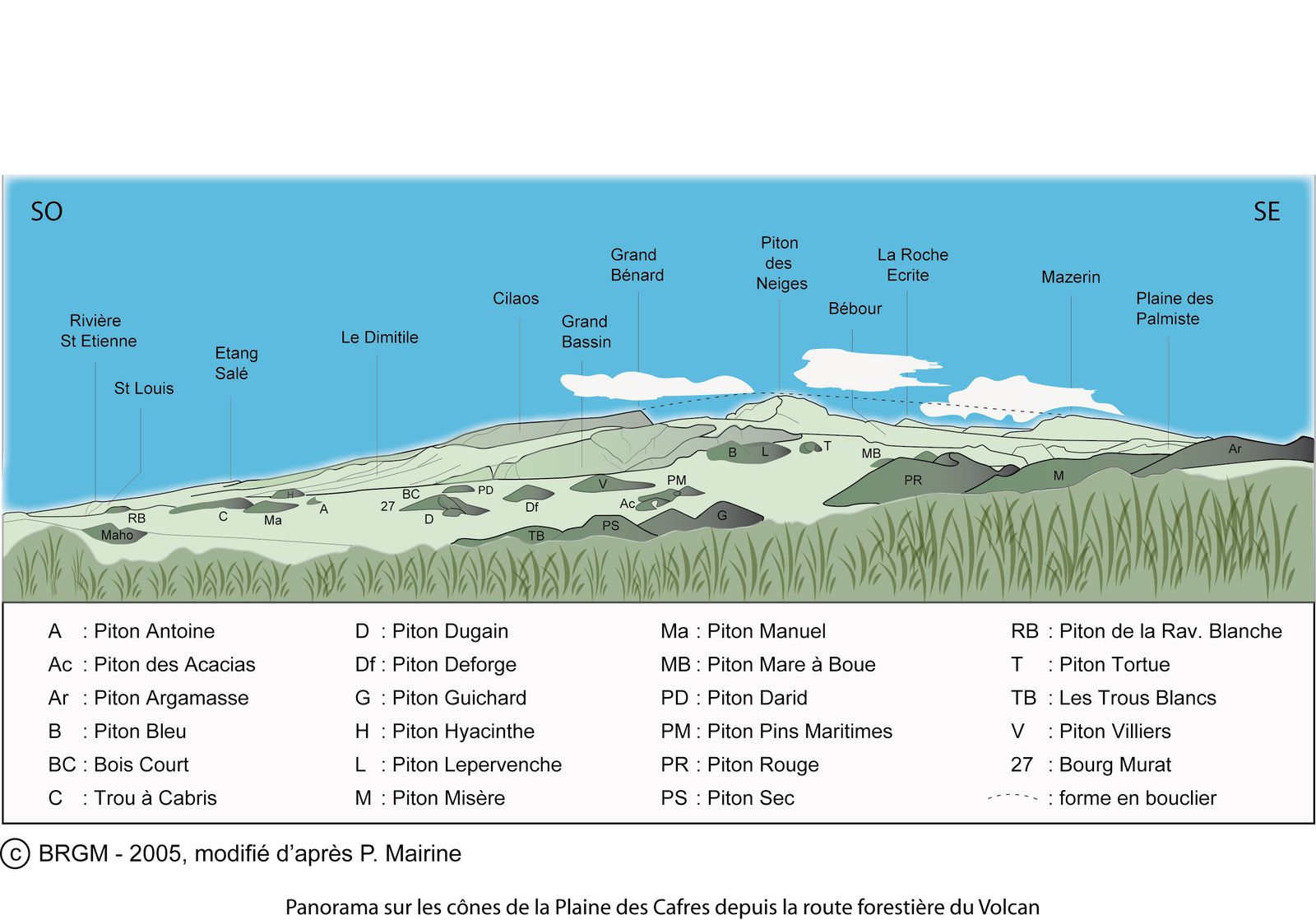 La Plaine des Cafres - panorama of the peaks / volcanic cones from the forest road of the volcano; On the left, the Grand Bénare; On the right Piton des Neiges, with "at its foot", the Blue Piton - photo © Bernard Duyck / June 2017 / situation of the cones doc. BRGM 2005 after Mairine
An interesting testimony of the volcanic activity in the plain of the Cafres is given to us by a tunnel of lava discovered a short time ago: the Blue Tunnel .
Located in a private farming property, it was formed by an eruption of the Blue Piton, dated from 22,000 years ago.
In this fragile environment, visits are made in small groups and under the guidance and explanations of caving guides / references in source.

Editor's note: a click on the photos open them in full screen.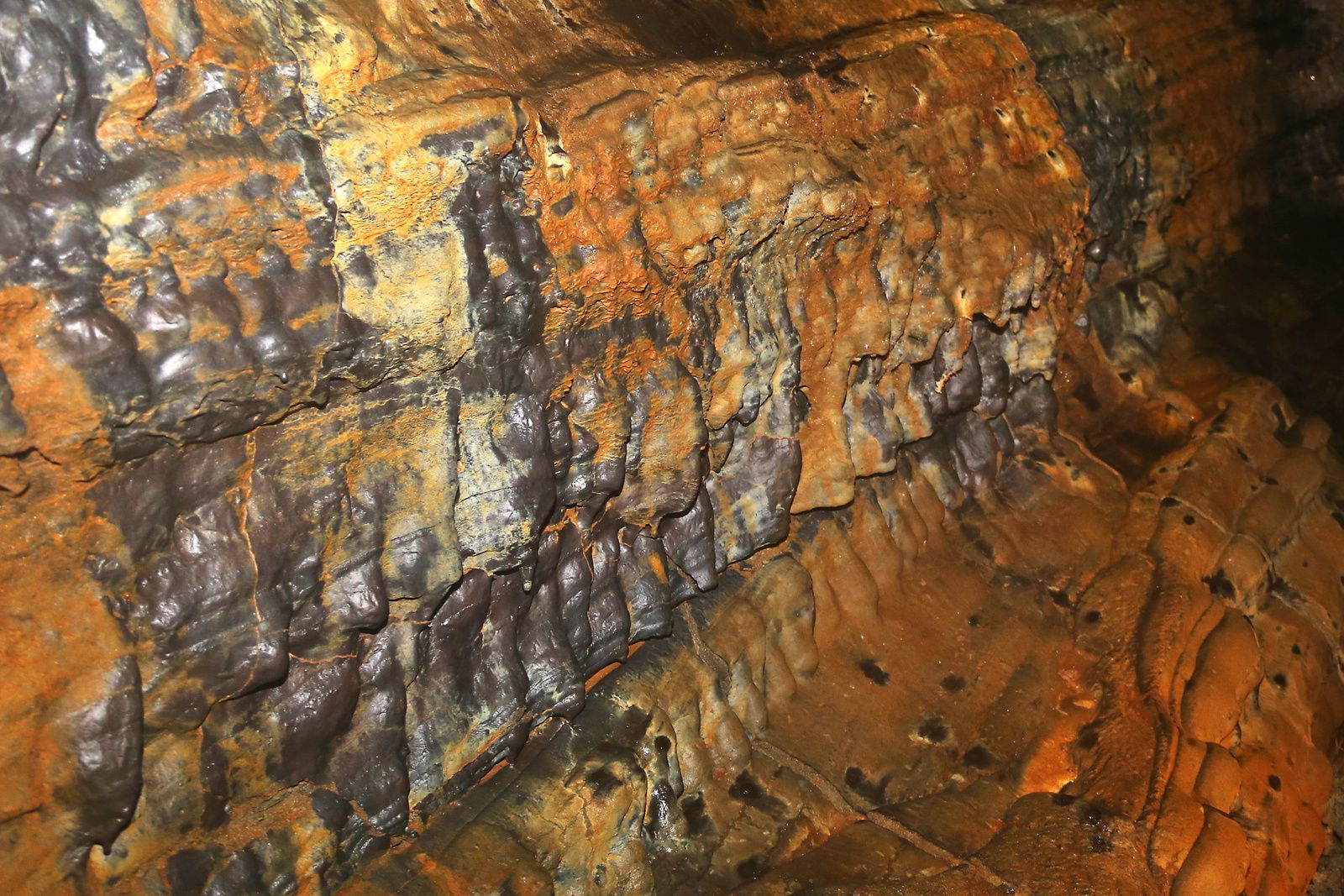 Tunnel Bleu - details on the different levels of lava on the walls - photo © Bernard Duyck / juin 2017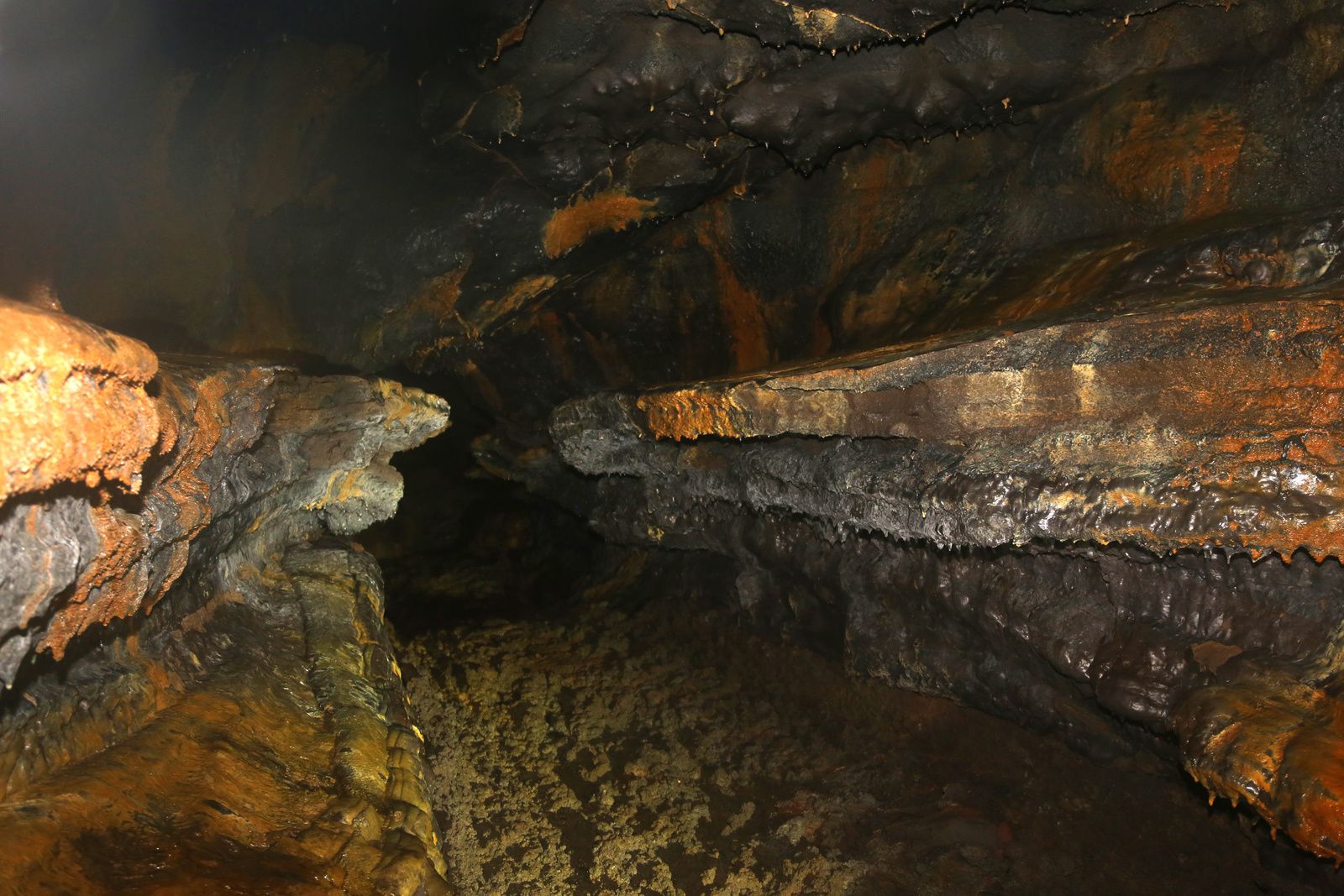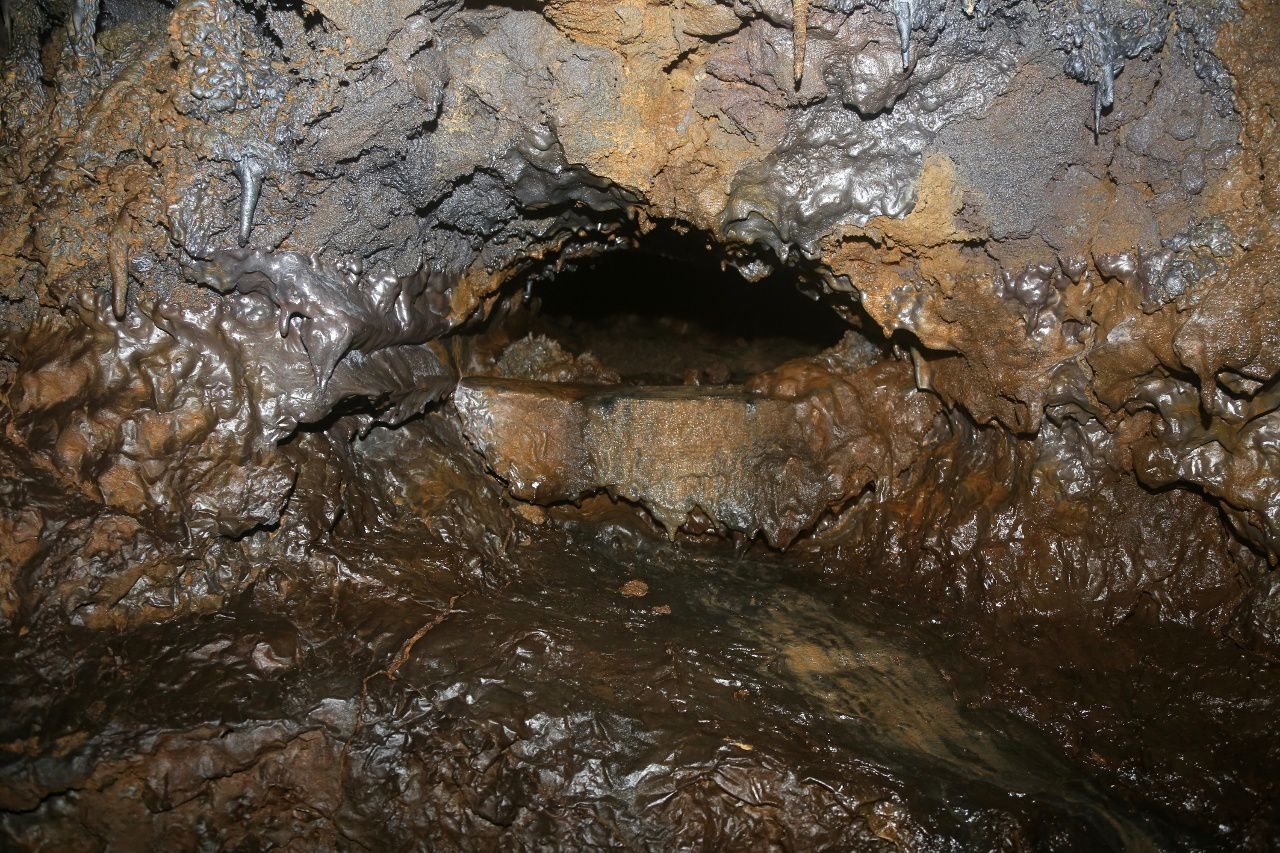 Tunnel Bleu - a tunnel in formation in a tunnel (upper level of the bench, about 1.7 m.) - and a perpendicular secondary tunnel - photos © Bernard Duyck / june 2017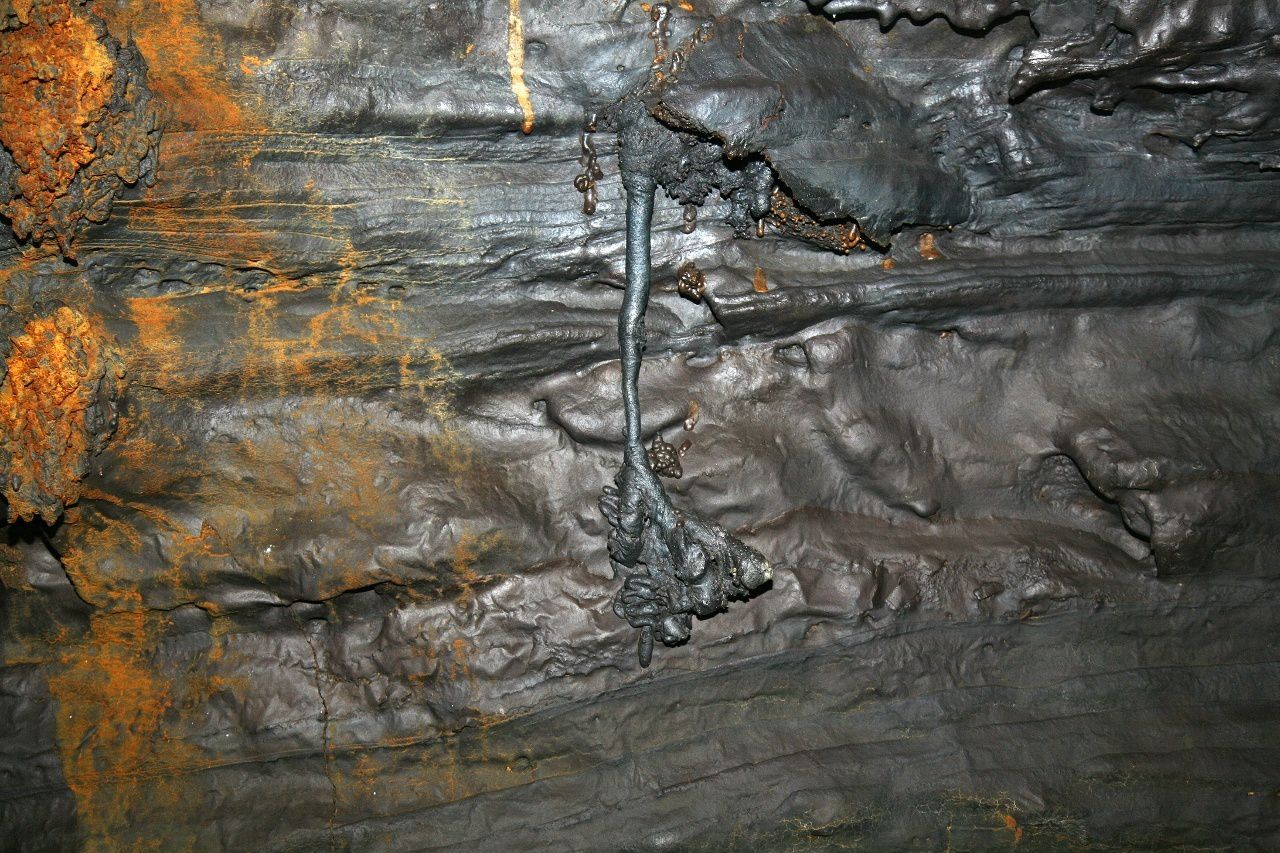 Tunnel Blue - stalagtite of lava that has glued to the wall, and left, a helictite (or eccentric) - is it the color of the wall that would best describe this tunnel? - photo © Bernard Duyck / June 2017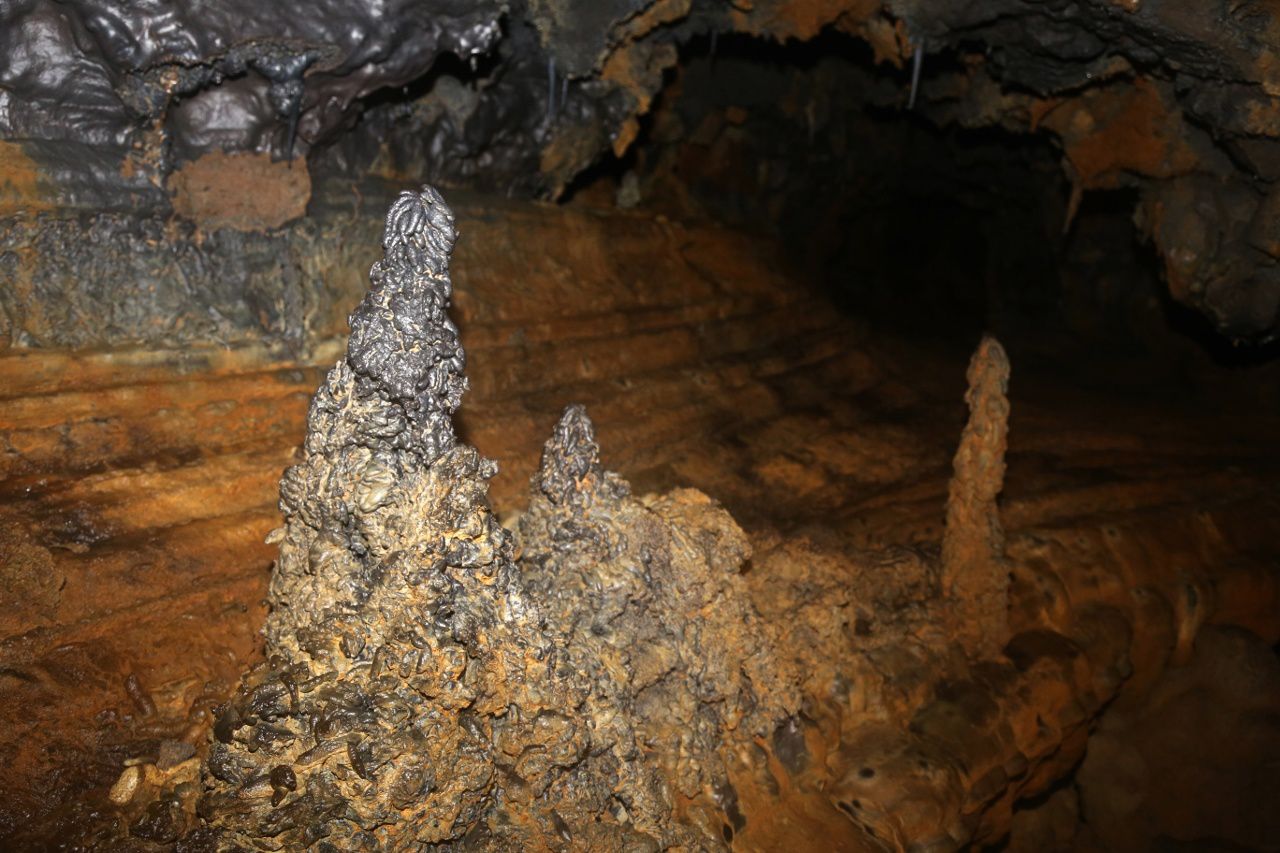 Tunnel Bleu - Stalagmites, consisting of the collage of thousands of drops of basalt falling from the ceiling, welding each other ... always "fresh" despite their great age - photo © Bernard Duyck / June 2017
Sources:
- BRGM - Geological itinerary: the road to the volcano, discovery of ancient La Fournaise - link
- Cybergeo - Review of the typology of eruptions of Piton de La Fournaise, volcanic processes and associated risks - by N.Villeneuve and P.Bachèlery / 2006.
- BRGM - Geological knowledge of Reunion Island - link
- Rando Volcan - The tour was guided by Vincent Cheville, caving instructor, Rando Volcan (https://rando-volcan.com/)
In the presence of Rudy Laurent, instructor in Kokapatrando (http://www.kokapatrando-reunion.com/en/)