Publié le par Bernard Duyck
An explosive eruption took place at Bogoslof on 30.08.2017 at 04h05 AKDT / 12h05 UTC and continued until 05h55 AKDT / 13h55 UTC. The volcanic cloud reached about 6,000 meters and dissipated to the south of the Behring Sea and the northern Pacific.

Source: AVO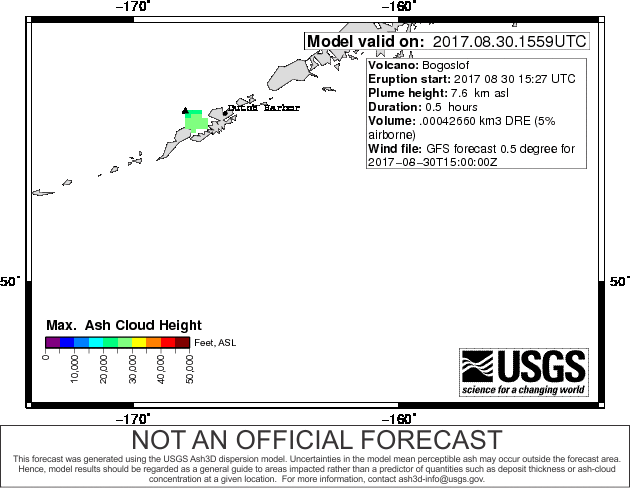 Bogoslof - predictive model of volcanic cloud height in case of eruption - ASH3D: Ash Cloud Height Forecast for Hypothetical Eruption
On 30 August, the Vanuatu Geohazards depertment recorded "drastic changes" in the activity of Ambrym volcanoes, raising the alert level to 3.
This increase in activity can lead to a minor eruption, or decrease to a lower level of instability. As a result, it is recommended to stay at least two kilometers from the Benbow crater and three kilometers from the Marum crater including the Maben-Mbwelesu, Niri-Mbwelesu and Mbwelesu craters, to avoid projectiles, gases, ash and other geothermal hazards .
Hazard zones A & B (see map) are closed

Source: Vanuatu Geohazards Dpt./ Vanuatu volcano alert bulletin n ° 8 - Ambrym activity
In an interview with the newspaper La Nacion, Dr. Raul Mora Amador said that on August 27 he discovered several cracks joining the three mouths that he could observe at the bottom of the crater of Poas. One of the cracks extends over 150 meters and a depth of 10 to 15 meters; There are other smaller ones.

Three cavities / mouths are visible: the main, located in place of the old dome, emits ashes, rocks and water vapor. The second, located in place of the Laguna Caliente, constantly emits sulfur. The third, of recent emergence, leaves only steam ... but according to the volcanologist, depending on its location, it should become another focus of sulfur expulsion.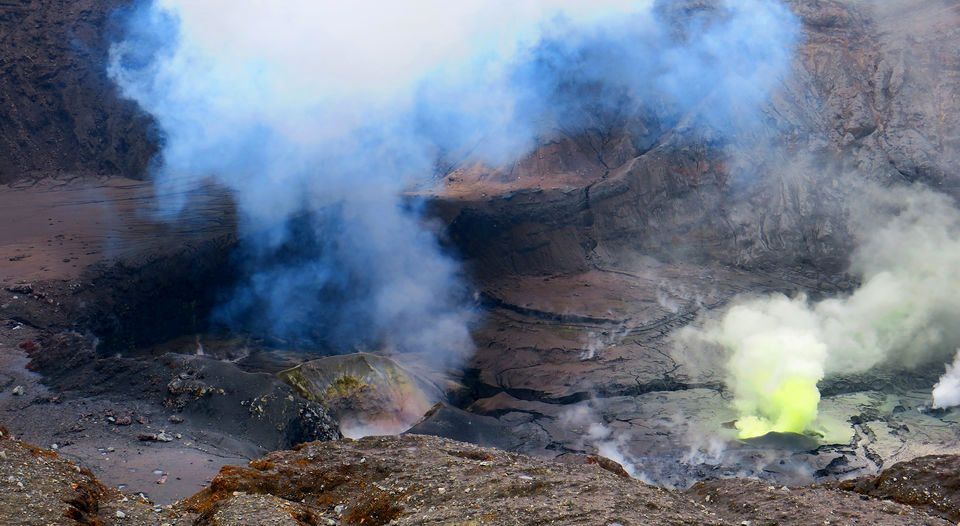 Poas - morphological changes in the crater: fissures connect the three mouths - In los últimos cuatro meses and volcán Poás ha registrado diversos cambios como the apertura of very aberturas. (RAÚL MORA PARA LN)
He points out also an enormous amount of stones accumulated to the east of the crater, where are the viewpoint, the visitor center and the trail to laguna Botos.
Areas of vegetation have entirely burned, evidence of pyroclastic flows. He describes trees and branches broken by rocks, as if cut by knives, others crushed by a surge of high speed. The fact that the eastern zone is the most affected indicates that the main duct is slightly inclined in this direction.

He predicts a continuation of the activity with expulsions for a long time; The previous period of activity occurred between 1953 and 1955, followed by a period of occasional eruptions. It recalls that laguna Caliente was formed until 1967.

Provided by: La Nacion - Vulcanólogo descubre nuevas grietas en cráter del Poás - link
Last minute: eruption with plumes of ashes at Complexe Nevados de Chillan
Source: Sernageomin via Volcanes de Chile