Publié le par Bernard Duyck
In the Fuego, moderate, vulcanian-type explosions are maintained at a rate of 4 to 6 per hour. They generate a plume of ashes up to 4,800m asl, traveling 12 km to the north and northwest. The explosions are audible at more than 20 km., accompanied by shock waves and locomotive noises.
Falling of ash is reported on Panimache, Morelia and El Porvenir.
The heavy rains on the volcano caused on 29 August a high temperature lahar in the barrio Santa Teresa and the Rio Mineral. This lahar carries fine volcanic materials, blocks of a diameter of 2 meters, trunks and branches, which clash noisily; It is 10 meters wide and 1.5 meters high.
Given the accumulation of volcanic materials following Fuego activity in recent months, and the incessant rains, other drainages may be affected by lahars.

Sources: Insivumeh and Conred
An alert to the lahars and mudslides was issued by the SEGOB for the barrancas and rivers around the volcano Colima.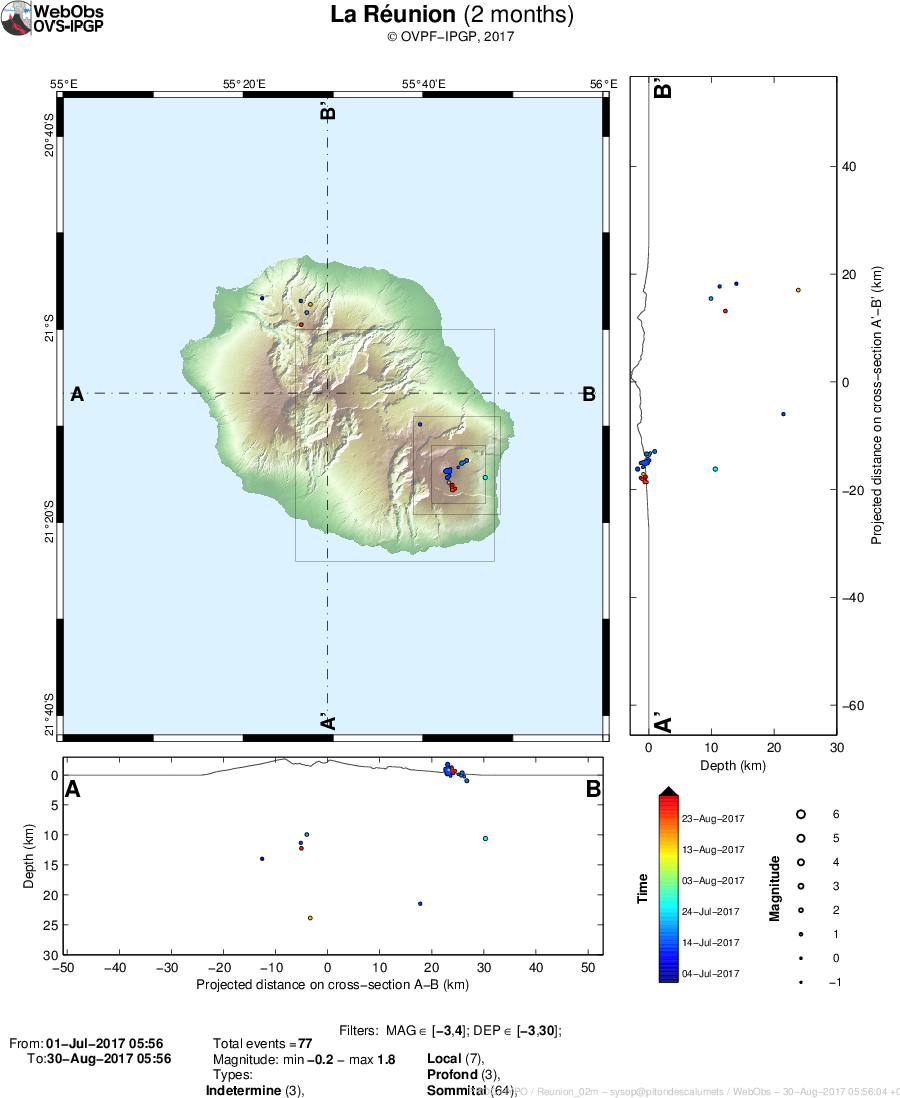 Piton de La Fournaise - 29.08.2017 - Location of earthquakes over 2 months. Only locatable earthquakes have been shown on the map. The observatory records seismic events not represented on this map because they can not be located due to their too low magnitude.
The evolution of the situation at Piton de La Fournaise remains uncertain.
After the eruption stops on August 28th at 3am local time, eleven earthquakes have been recorded during the last 36 hours under the southeastern region of the Enclos Fouqué.
At the same time, the concentrations of CO2 in the soil at the level of the Volcano Gîte remain high, at values ​​equivalent to those recorded on July 14th.

Source: OVPF
In Poas, persistent emissions of plumes of gas, water vapor and fine particles continue.
The fumaroles in the bottom of the desiccated crater, mouths A and C, emit high-temperature plumes (≥300 ° C), rich in magmatic, bluish (SO2, H2S) and halogen (HCl, HF, Hbr) That the azufreda mouth (B) continues to emit native sulfur (≤110 ° C).
The plume rises 500 meters above the bottom of the crater, before drifting northwest and west without rising.
A moderate incandescence marks the Boca roja (A) during the night.

Source: Ovsicori.