Publié le par Bernard Duyck
Semeru stratovolcano, which has been practically in activity uninterrupted since 1967 (GVP), has mainly weak to moderate phases of explosive activity, not to mention effusive phases, strombolian and vulcanian explosions, pyroclastic flows and lahars, lava domes.
The VRP / Volcanic Radiative Power, taken over by the Mirova site, shows peaks above 1.5.10 / 7 W in June and August 2017 (16 MW on 9.08 - 15 MW on 11.08).
A video of Javaecotravel posted on August 10 shows close-knocked explosions, successive puffs characterized by a "locomotive noise".

Sources:
- Javaecotravel / You tube / via Shérine France
- Global volcanism Program - Semeru
- Mirova - Semeru - link

ONEMI reports a swarm of 42 volcanic tectonic earthquakes, related to rock fracturing, on 11 August between 3:06 and 4 am at Tupungatito.
It began with a local M 4.1 event / hypocenter at a depth of 10.3 km., to 8.6 km west of the main crater, followed by e.a. events of M loc. 2.7, 2.7 and 2.9 in the same sector and others of less importance.
The Sernageomin maintains the technical alert at the moment at green.
The Tupungatito is located in the Andes at the Chilio-Argentina border, and consists of a dozen andesitic and basalto-andesitic craters, a pyroclastic cone and the Nevado Sin Nombre caldera, occupied by glaciers.
During the 19th and 20th centuries, the Tupungatito produced frequent explosive eruptions. Its last manifestation dates from 28 to 30 November 1987, of IEV 2 according to the GVP.

Sources:
- Onemi; SERNAGEOMIN
- Global Volcanism Program - Tupungatito
A video posted on August 12 by the kiwis of Extreme Pursuit team details the current eruption at Dukono / Halmahera, with a few bonus views of the Kelimutu / Flores lakes.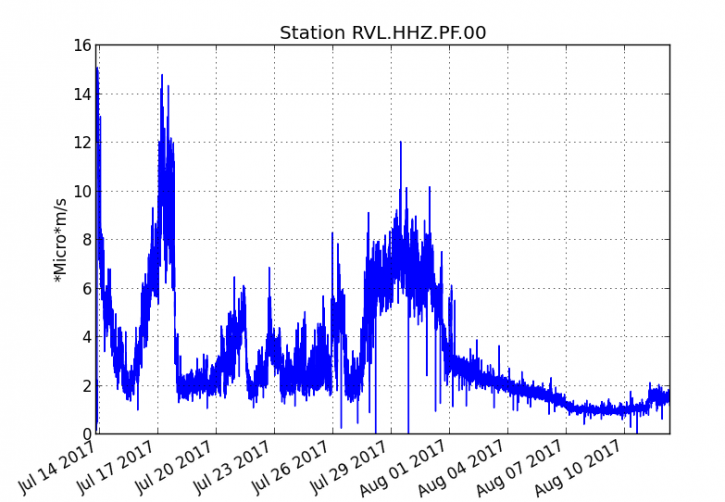 Piton de La Fournaise - Evolution of the RSAM (volcanic and erosion intensity indicator) between 12:00 am (8:00 pm UTC) on July 14 and 14:30 (10:30 UTC) on August 12 at the RVL seismic station, located on the southern flank of the volcano - Doc. OVPF.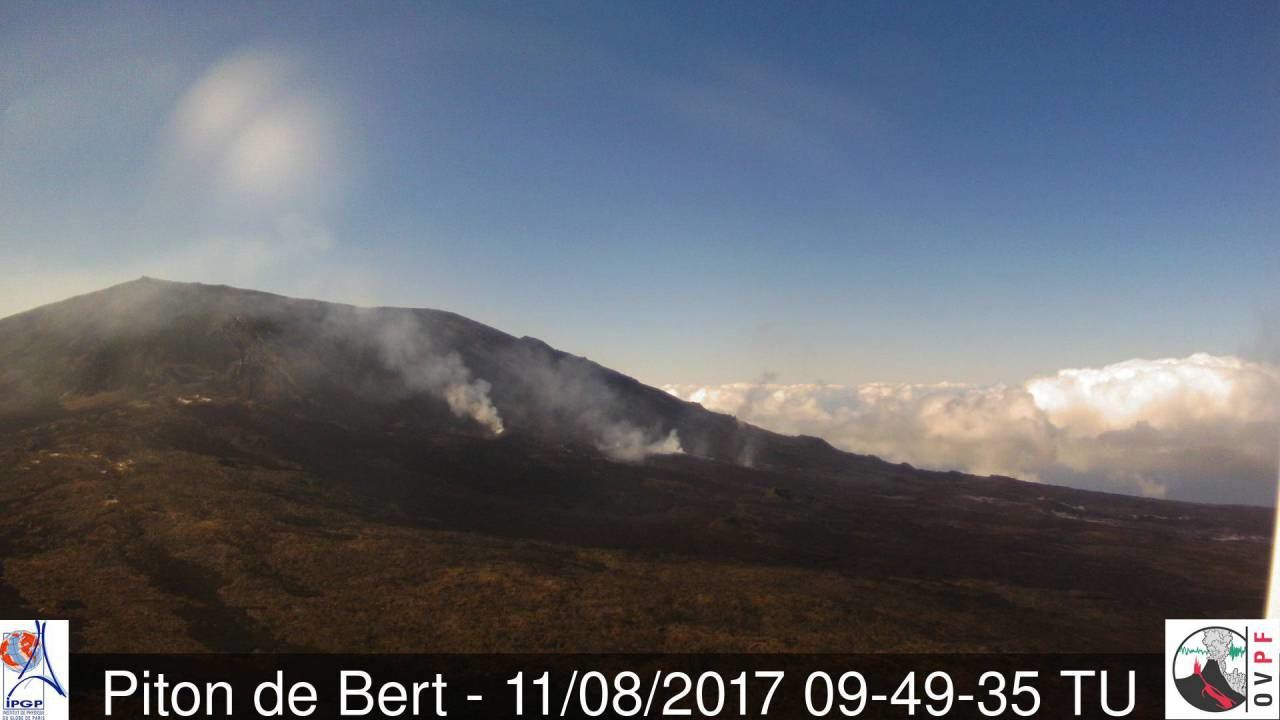 The eruptive site at the Piton de La Fournaise seen from the Camera du Piton de Bert on 11.08.2017 / 9h49 UT (before bad weather) - OVPF
Stop or again to La Fournaise ?
It seems that the volcano has not said its last word ... The volcanic tremor (indicator of surface eruptive intensity) has known for about two days a slight increase, and a slight inflation (swelling) of the whole of the terminal cone of the volcano is always observed (<1 cm since the beginning of the eruption).
The bad weather conditions of the night and the beginning of the day did not make it possible to carry out this 12 August reconnaissance on the ground, or aerial, nor to estimate the flow through the use of satellites. This morning the fog was not rising on the volcano.

Source: OVPF