Publié le par Bernard Duyck
The 8th eruption of the year at the Fuego is maintained since August 20th at 00:40, with the same energy.
The explosions generate a plume of ash reaching 6,000 meters asl, which moves over about twenty kilometers to the west and southwest. Ash falls affect the areas of Panimache I, Morella, Santa Sofia, El Porvenir, Yepocapa and Sangre de Christo.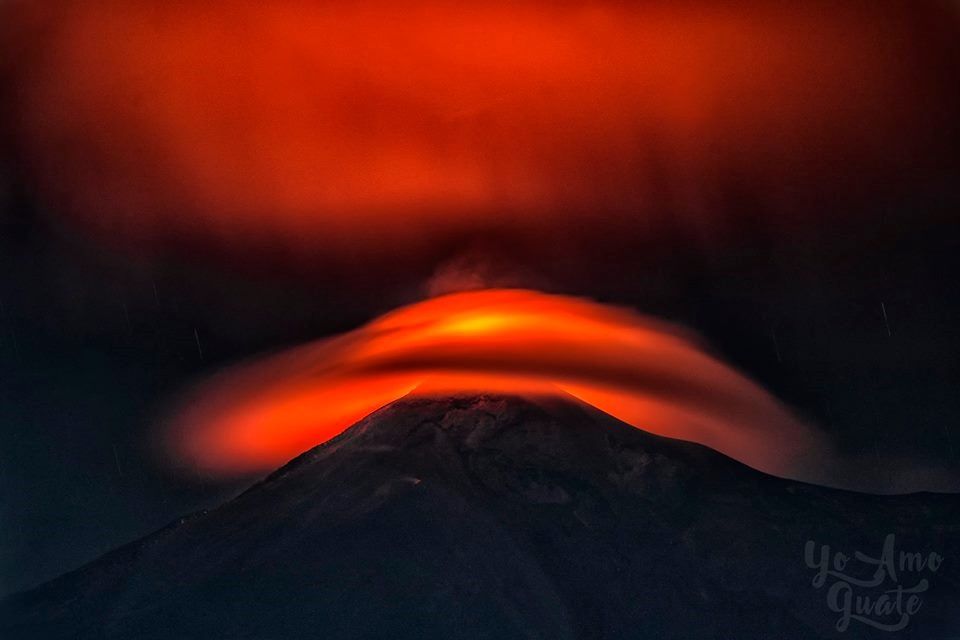 Fuego - 20.08.2017 - The eruption is magnified by its illumination of the lenticular cloud hatting the volcano - Photo Cesar Santizo
The crater is animated by two lava fountains, about 300 m high, which feed lava flows; They reach 1,400 meters towards Barranca Cenizas and 1,200 meters towards Barranca Santa Teresa (Insivumeh report of the 20.08 / 20h local).

The seismicity consists of recordings of explosions, tremor of magmatic ascension and venting puffs.

Source: Insivumeh
The eruption of the Piton de La Fournaise seems to be running out of steam, with a tremor that has stabilized at a low level.
Only a slightly bluish degassing marks the eruptive site; The lava progresses into lava tunnels, and the flows have surrounded the Timize peak, formed in the enclosure by the eruption of January 31, 2017.

Sources: OVPF & Clicanoo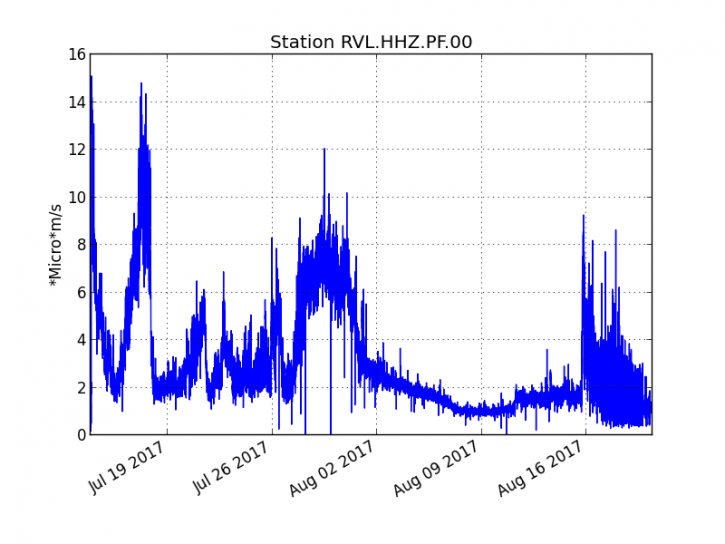 Piton de La Fournaise - Evolution of the RSAM (volcanic and erosion intensity indicator) between 00:00 (20h UTC) on 14th July and 15h00 (11h00 UTC) on August 20th on the seismic station of RVL, located on The southern flank of the volcano. (OVPF / IPGP)
A few images of this eruption that started last July 14, and whose activity has been declining for a fortnight, despite a brief recovery on Tuesday. Is the eruption slowing down for good? Friday in any case, at the level of the eruptive cone, the projections were very rare, but a very dense plume of various gases of which water vapor was spreading in the bottom of the enclosure. A plume visible from the top of the ramps of the plain of Sands. Lava is always emitted if we judge by the flows that pour out a few hundred meters downstream of the cone now fed by a tunnel of lava of small diameter whose interior was visible yesterday. In video, a few moments captured in the afternoon of Friday, August 18 (images: F.Martel-Asselin.)