Publié le par Bernard Duyck
During the last week of July, the Sabancaya saw its explosive activity increase with an average of 40 explosions per day, accompanied by ash plumes of up to 5,000 meters above the crater and then dispersing in the NW - SE direction.
The seismicity is marked by the maintenance of LP earthquakes, associated with the movements of fluids, and the tremor related to the ash emissions. Hybrid earthquakes denoting the rise of magma are decreasing.
The flow of sulfur dioxide recorded on 28 July was 2,530 tonnes per day. Mirova detected during this week 9 thermal anomalies that range between 1 and 16 MW.
The alert level remains orange.

Source: IGPeru / OVI-Ingemmet
At Piton de La Fournaise, the intensity of the volcanic tremor (indicator of surface eruptive intensity) remains at a level equivalent to 50% of the value observed at the beginning of the eruption on 30 and 31 July.
No earthquakes have been recorded in the past 48 hours.
The trend observed on deformation sensors, in particular GPS, seems to stabilize or reverse (to deflation).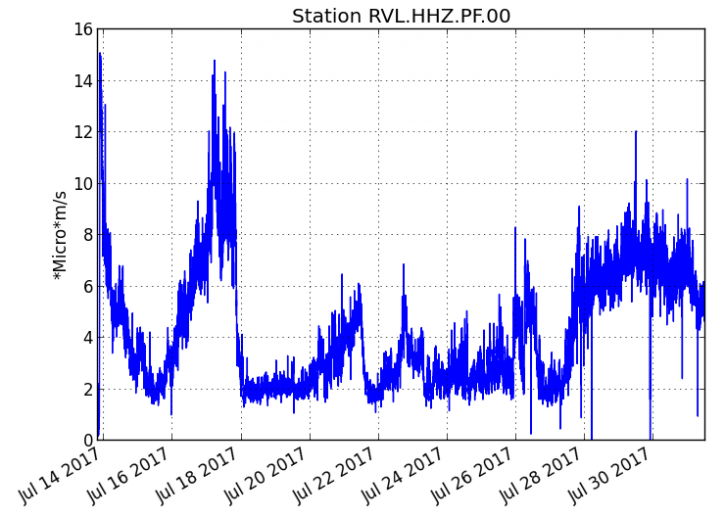 Piton de La Fournaise - Evolution of the RSAM (volcanic tremor and eruption intensity indicator) between 00:00 (20h UTC) on July 14th and 16h00 (12h00 UTC) on July 31st on the seismic station of RVL, located on The southern flank of the volcano. (© OVPF / IPGP)
The ground reconnaissance carried out on July 30, with the assistance of the Air Force Section and the PGHM, enabled the OVPF members to carry out various surveys on site. The eruptive cone continues its edification, it is now completely closed and presents a main mouth from which bursts of intermittent projections. A second, smaller mouth on the northern edge of the cone is significantly less active, only a few projections are rarely observed.
Most of the activity is now in lava tunnels. Fractures within these tunnels allow escape arms of flows with a small lateral extension. This activity remains confined in the near part of the effusive cone. The flow front has not changed since the last survey and is still 2.8 km from the eruptive vent.
Estimates carried out by satellite methods via the HOTVOLC platform (OPGC - Clermont Ferrand) show a minimum flow rate of 1-2 m3 / s.

Sources: OVPF & Fournaise Info