Publié le par Bernard Duyck
Between 7:14 and 7:29, on 19 September 2017, the Concepcion volcano in Nicaragua was the site of five gas explosions; no expulsion of ashes or volcanic materials.
RSAM values ​​reached up to 123 units during the last explosion, before falling back to around 30 units.

Source. El 19 digital / INETER

At Agung, the seismicity remains important according to the PVMBG:
From yesterday to today, the volcano is clearly visible. No fumaroles are observed.
The seismograph recorded, on19 September 2017, 427 volcanic earthquakes (VA), 20 shallow volcanic earthquakes (VB) and 11 local tectonic earthquakes.
On 20 September 2017, from 00:00 WITA to 06:00 WITA, 94 volcanic earthquakes (VA) and 2 shallow volcanic earthquakes (VB) were recorded.
The alert level remains at 3.

Source: PVMBG
Magma Indonesia reports a landslide affecting the vicinity of the Gallungung crater on West Java on 17 September at 14:48, spotted by the seismometers. Around 5 pm, the webcams have captured the result of this landslide, which is not related to a volcanic activity.

Source: Dr. Devy Kamil Syahbana, / Magma Indonesia
A strong intraplaque earthquake of magnitude 7.1 hit central Mexico, in the Puebla region / southeast of Mexico City on 19 September at 18:14 UTC / 13:14 local, and 51 km deep.
According to the USGS, focal mechanisms indicate that the earthquake occurred on a diving fault with stretches to the southeast and northwest, near the boundary between the Cocos and North American tectonic plates ; the Cocos plate subducts here with a ratio of 76 mm per year, in a northeasterly direction.
The intensity of the earthquake is estimated at VII in the city of Puebla. Earlier reports revealed about 250 killed and many material damage.

Sources: USGS earthquake hazards program - EMSC - IPGP -Earthquake report.

Puebla earthquake - localization of the hypocentre with respect to the subduction plate and potential orientation of the faults - Doc. USGS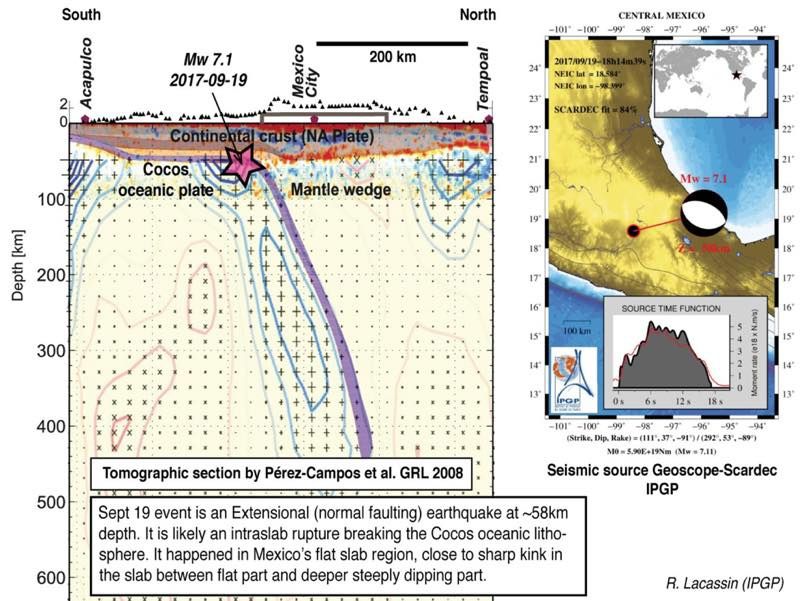 Puebla earthquake - location of the hypocenter in relation to the plate in subduction - doc. R.Lacassin / IPGP