Publié le par Bernard Duyck
A moderate eruption, which lasted 2 minutes, is reported at Cleveland, in the volcanic arc of the Aleutians, this September 25 at 17:47 local / 26 September at 1:47 UTC. The explosion was detected by seismic and infrasonic detectors,
The level of alert remains at Orange / Watch

Source: AVO.
Explosive activity of the Nevados of Chillan on 24.09.2017 / 12h55 and the 25.09.2017 / 12h35 - photos Sernageomin
Pulsatile explosive activity continues at Nevados de Chillan Complex, with more than forty episodes since the beginning of September. It demonstrates the interaction between a small ascending magma body and the superficial hydrothermal system.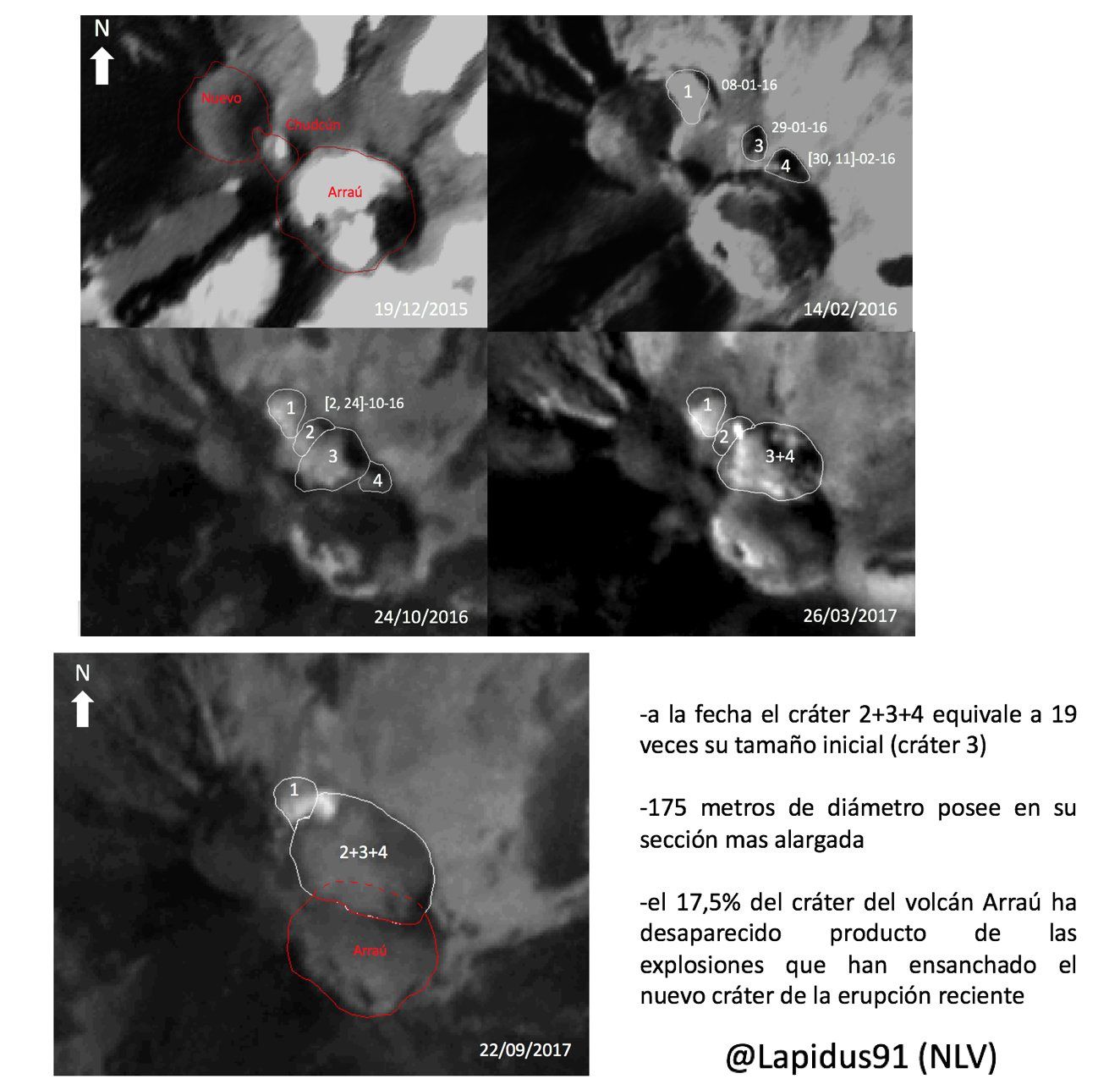 Evolution of the craters of Nevados de Chillan between 19.02.2015 and 22.09.2017 - Doc. Lapidus91 (NLV) / Twitter
A document shows the evolution of the summit craters between 19 December 2015 and 22 September 2017; we note the globalization of craters (2 + 3 + 4), which now measures 175 meters in its greatest width. The Aarau crater lost 17.5% of its area after the explosions that expanded the new crater.

Sources: Sernageomin & Lapidus 21 (LNV)

On Ambae, a new cinder cone formed on the edge of the freshwater lake. Violent interaction between magma and water is potentially very explosive.
Evacuations are continuing and 36 schools have been closed. The director of the National Disaster Management Office was in Ambae yesterday to assess the establishment of the 5,000 people who have been displaced so far.
The New Zealand government has announced that it is sending a RNZAF P-3K2 Orion maritime surveillance aircraft to monitor Manaro Voui and the other two Volcanoes in Vanuatu, Benbow and Lopevi, which is currently erupting.

Sources: Vanuatu digest & photos Haos Blong Volkeno, via Shérine France.
At Agung, there was no noticeable change in the situation,
A count of the seismic activity makes possible to realize the current instability; On 26 September, between 0 am and 6 am, 86 deep VA volcanic earthquakes, 74 VB shallow volcanic earthquakes and 5 local tectonic earthquakes were recorded.

A summary of the total number of refugees and the distribution map of these refugees was updated on 25 September by the Red Cross.

Sources: PVMBG, BNPB & Red Cross.