Publié le par Bernard Duyck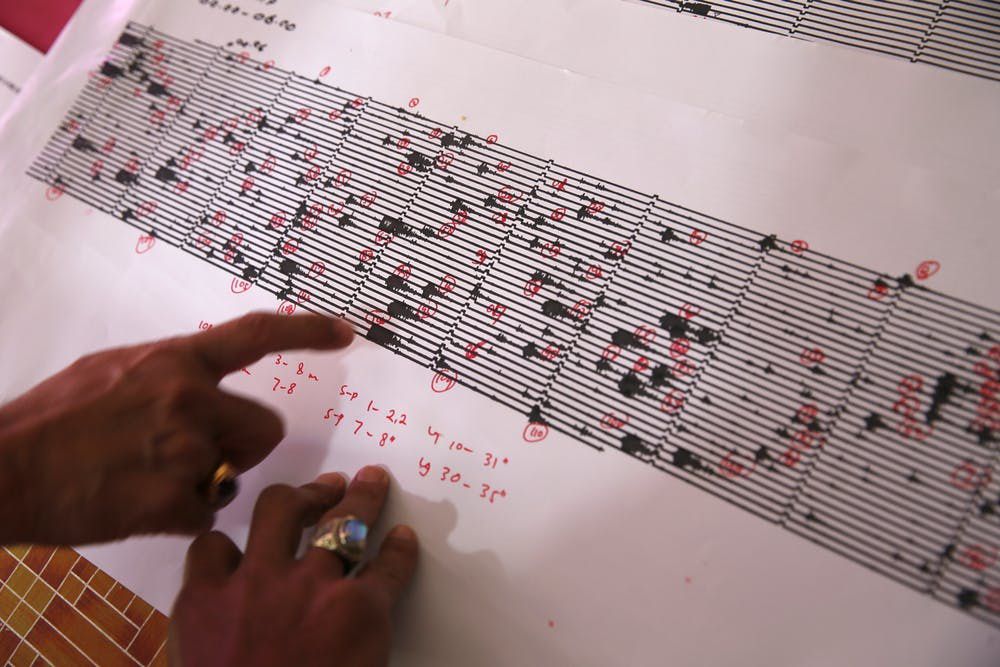 The seismic activity of the Agung is followed closely at the observatory - photo September 19, 2017. EPA-Made Nagi
Seismicity remains high on the Agung, where the observatory reports, on 22 September, 586 volcanic earthquakes VA, 119 Superficial volcanic earthquakes VB, and 119 local tectonic earthquakes. On September 23rd, between 0h and 6h local, there are already 72 volcanic earthquakes VA, 16 volcanic earthquakes VB and 6 local tectonic earthquakes.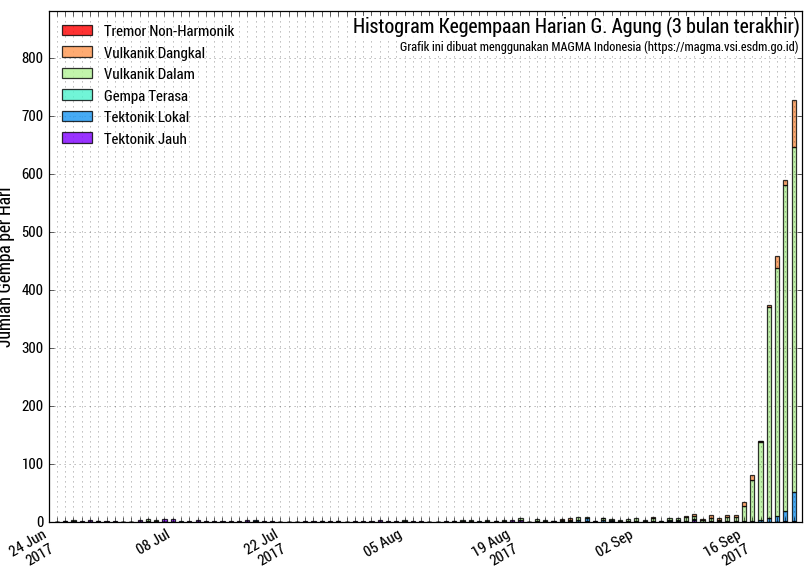 Agung - histogram of the number of earthquakes seriated according to their nature - Doc. Magma Indonesia 22.09.2017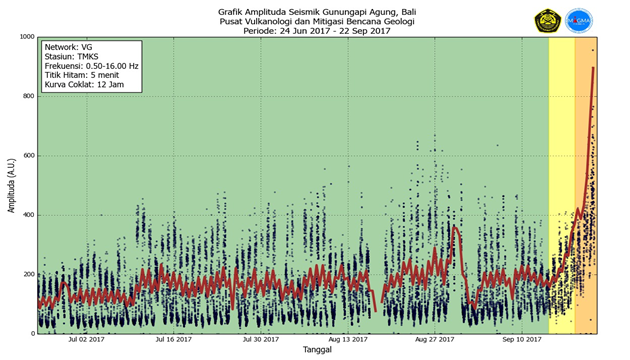 Agung - seismic amplitude between 24 June and 22 September - Doc. Magma Indonesia 22.09.2017 / 22:19 WIB
In addition to the thermal anomaly caused by forest fires on 19 September, ASTER TIR satellite images show an anomaly since mid-August, indicating an energy transfer of magma fluids to the surface.
Satellite deformation measurements between August and September 2017 indicate an inflation of the volcano.
However, concentrations of SO2 in the air around the Agung do not show any activity-related abnormalities.

On the basis of the visual and instrumental analysis, the conclusion is imposed on a high level activity, increasing the likelihood of an eruption, without any precise moment or intensity.

Monkeys and snakes desert the volcano for the benefit of the residential areas around the volcano for three days; this "migration" confirms the proximity of an unusual event. (Tribun Bali)

In order to minimize the risks associated with a strong eruption, the access prohibition covers a 9 km zone around the crater, extending 12 km on the NE, SE and S. slopes. These zones are constantly evaluated and can be modified as necessary.
The number of villagers evacuated, either on order or spontaneously, continues to increase. They can be found in temporary shelters, sports centers and village halls, or in close relatives, in Karangasem, Klungkung and Buleleng districts.
All Balinese communities must prepare masks and eye protection to anticipate the potential danger from volcanic ash.

Sources: VSI Badan Geologi, Magma Indonesia, and local press.
The Ambae / Vanuatu Volcano alert level was increased from 3 (effective from September 6) to 4 on September 23, 2017 at 8:31 am local by the Vanuatu Geohazards Observatory.
This level is linked to a moderate eruption state, and hazard zones, as shown on the hazard map, define different hazard zones : red 6.5 km radius at risk of volcanic impacts and gas emission ; orange and gray areas should expect unusual volcanic hazards and ash falls; the white zone, which is a function of prevailing winds, is especially affected by ash falls and acid rain.
The level of alert of the Lopevi was also raised from 1 to 2 / major instability this September 23 at 9:54 local. The risk zone is around the volcanic cone that should not be approached.

Source: Vanuatu Geohazards Observatory