Publié le par Bernard Duyck
The alert level of the Dieng Plateau / Java Island has changed from normal to alert / waspad - level II, resulting from visual observations and analysis of instrumental data.
Seismicity remains important. Temperature measurements show an increase in both soil temperatures (58.6 ° C to 69.4 ° C) and the waters of the Sileri Crater (90.7 to 93.5 ° C between July 8, 2017 and on September 14, 2017 at 10:30 pm WIB). Temperature measurements at the Timbang crater also show an increase (57.3 to 62.7 ° C between May 25 and September 13, 2017)
The PVMBG recommends standing 1,000 meters from the lip of the Sileri Crater and ordered the temporary evacuation of the villages of Kepakisan and Sekalam, located in this area.
It is also advisable not to carry out any activity in the Timbang crater, due to the potential threat of CO2 and H2S fumes.

We must remember the phreatic eruption that took place on July 2, 2017 at 11:54 WIB at the Sileri crater, with ejection of mud and materials over 150 meters high, wounding 11 of the 18 tourists present.

Sources: VSI Badan geologi & Global Volcanism Program
The Nevados de Chillan complex continues to present, as in the previous month, a minor explosive activity of pulsatile character and ejection of gas and ash up to 1,000 meters above the summit, following the interaction between a small volume of magma and the system hydrothermal and its destabilization.
On 14 and 15 September Nuovo Crater presented this type of activity.
The level of alert remains at Amarillo / Change of behavior of the volcanic activity, with a zone of restriction of 3 km of radius.

Source; Sernageomin, Volcanes de Chile & VAAC Buenos Aires.
On September 10, 1914, a part of the west wall of the White Island / Whakaari crater collapsed and generated a lahar that buried the ten miners who worked in the sulfur mine.
Only one survivor, named "Peter the Great", was found hungry, three weeks later, with a cat. The bodies of the other miners and the many other cats in the camp were not found.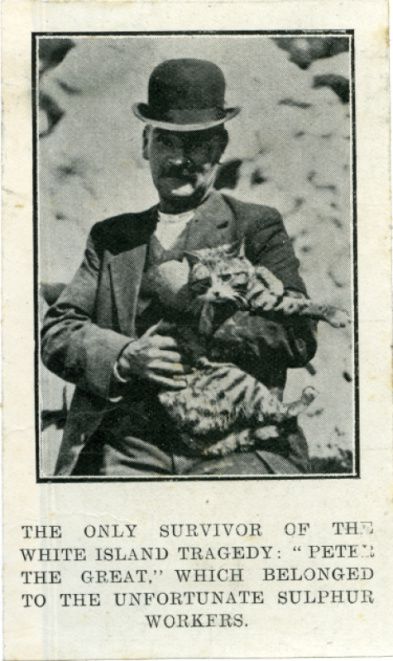 A final phase of exploitation took place between 1923 and 1933; George R.Buttle purchased the island in 1936 and donated native sulfur specimens to the collections of the Auckland Museum in 1947. In 1953, the island was declared a private scenic reserve, but still owned by the Buttle family.

Sources: New Zealand Media, Auckland Museum / Grenfell, Hugh. The 1914 White Island / Whakaari mining disaster.