Publié le par Bernard Duyck
A high-magnitude earthquake, M8.2, was recorded on September 7 at 23:49 local / September 8 at 4:49 UTC, 87 miles southwest of Pijijiapan, Mexico. The coordinates of the epicenter are 14.85 lat.N - 94.11 long.W; his hypocenter to 69.7 km. (USGS data)
The focal mechanism shows a fault of the normal type, characteristic of an intraplate quake within the Cocos plate. In the region, the Cocos plate subducts under the continental North American plate, at a ratio of 76 mm / year to the north-east. The Cocos plate is generated by an expansion of the ocean floor at the East-Pacific ridge, and "recycled" in the mantle in southwestern Mexico and Central America.
The subduction zone is characterized in Mexico by a deep oceanic ditch at the meeting point of the two tectonic plates, and a chain of volcanoes inland on the upper plate: among them the El Chichón volcanoes, Tacana, Popocatapetl, Colima, Pico de Orizaba and Parícutin.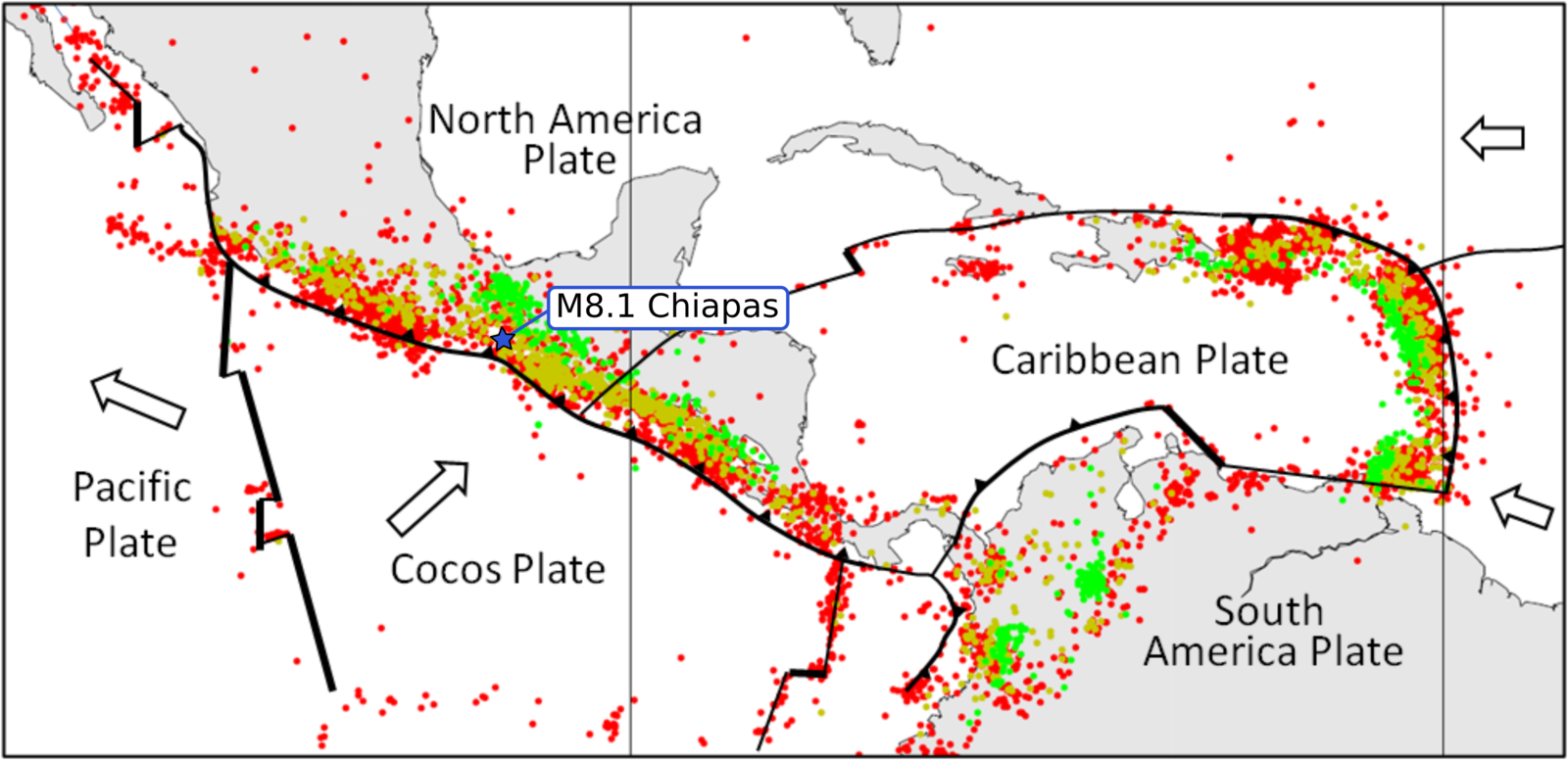 Tectonic context of the Pijijiapan earthquake - Doc.CSEM (Modified figure from Physical Geology by Steven Earle used under a CC-BY 4.0 international license).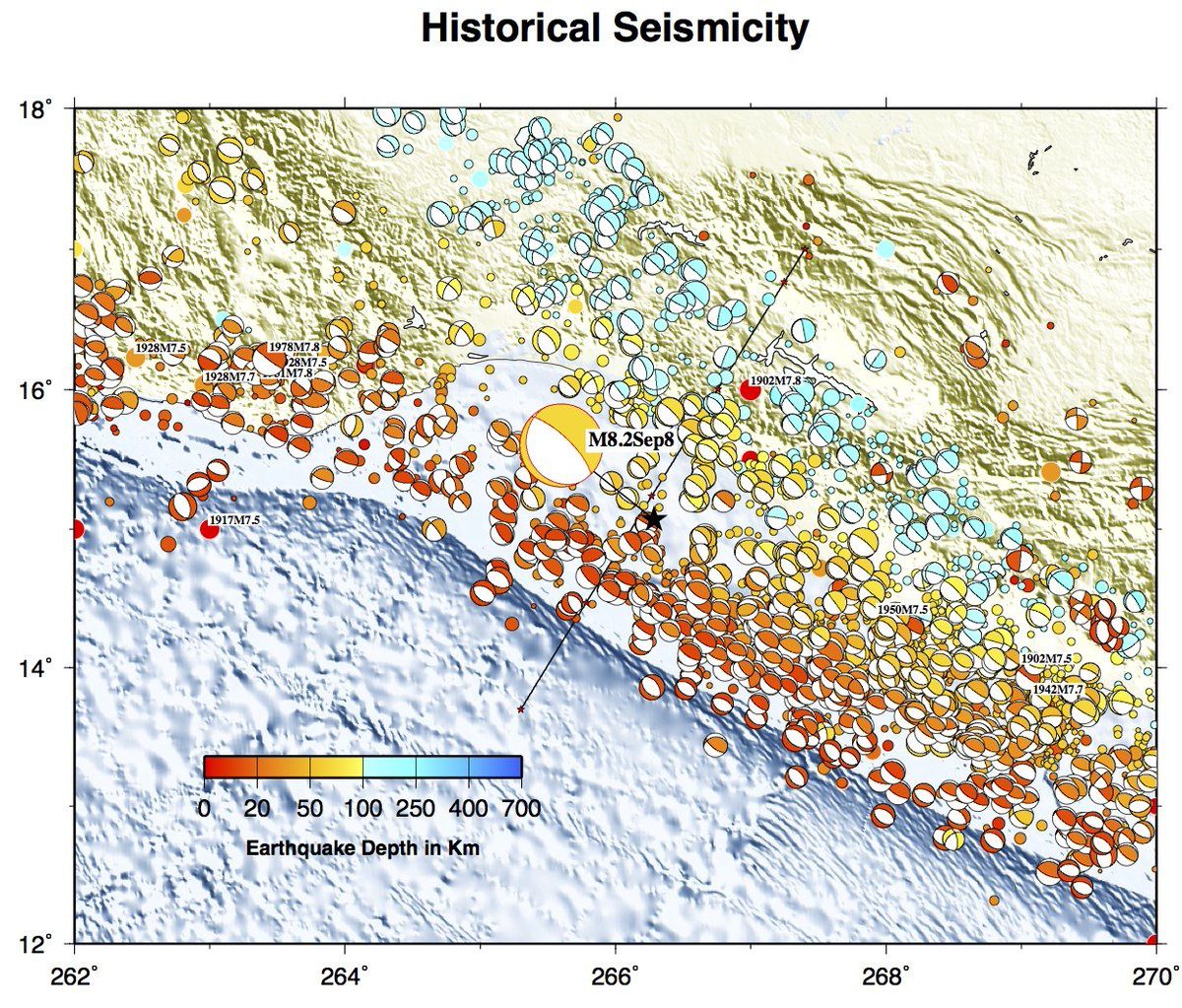 Historical seismicity in the Mexico's southern coast. (Figure modified from USGS by Jascha Polet) / CSEM.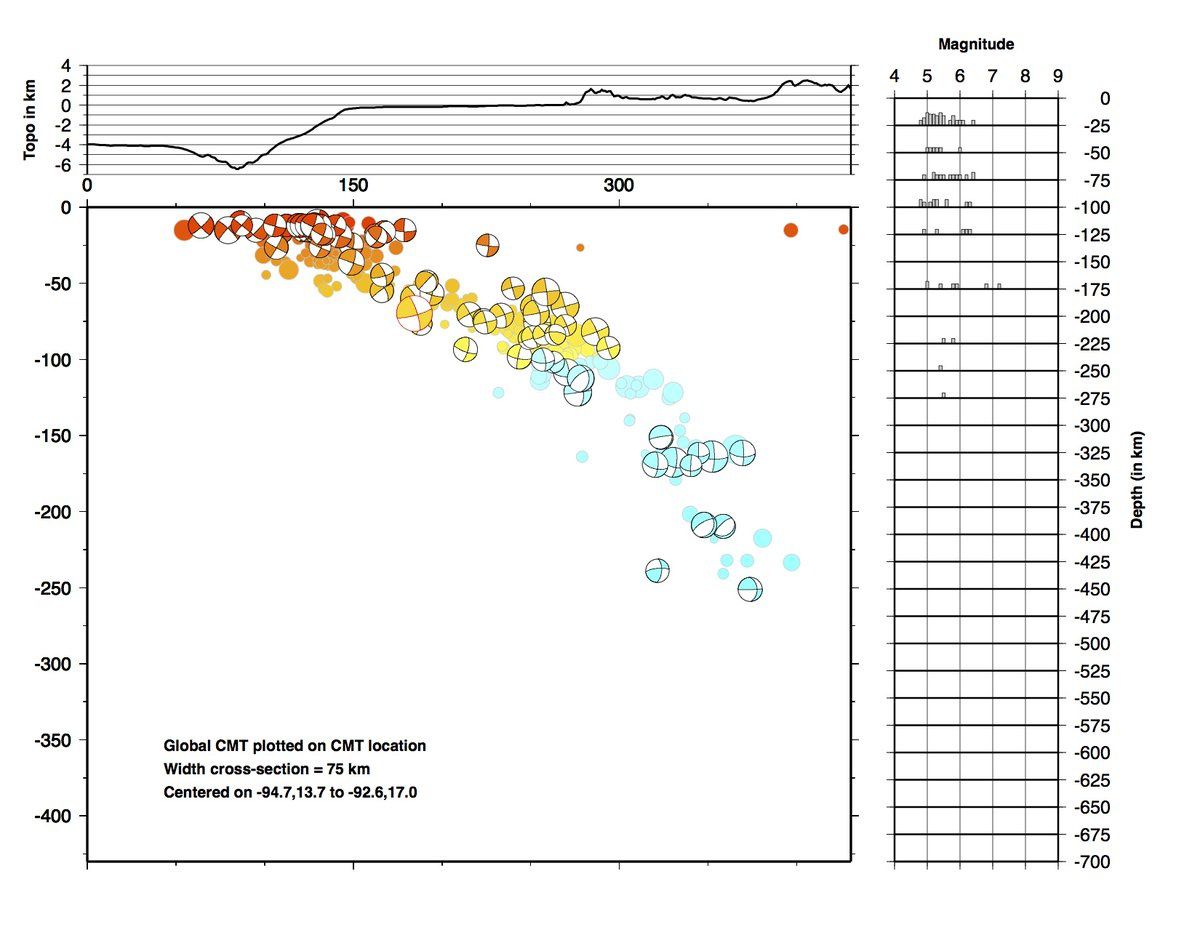 Seismicity cross-section of M8.2 quake occurring in region with similar intraslab quakes, inland and at greater depth than interface thrusts - Doc. Jascha Polet / Twitter
The state of Chiapas is an area of ​​high seismicity following the interaction of no fewer than five tectonic plates: the Pacific, North American, Cocos, Rivera and Caribbean plates.
According to the seismologists, the earthquake took place in a potential seismic gap (tectonic plate segment having no recent rupture).
The earthquake was followed by numerous replicas (the number is now approaching 200) and felt as far as Guatemala City 350 km and Mexico more than 1,000 km. from the epicenter. Only small tsunamis with an amplitude of less than 50 cm reached the Galapagos Islands / Ecuador.

The count of the victims at 23:21 on 8 September is 61 deaths, of which 45 for the region of Oaxaca only, the number of injured is not fixed certainty.

Sources:
- USGS earthquake hazards program
- CSEM
- Servicio Sismologico Nacional UNAM
- Sasmex
- AGU Blosgosphere / Mountain Beltway