Publié le par Bernard Duyck
Mount Mézenc is a dome of phonolite dating back 7.6 million years; it consists of two separate summits and 500 meters apart.
The southern summit is the highest: 1,753 m. and is located in the department of Ardèche. The northern summit, surmounted by a cross, culminates at 1,744 m., and constitutes the highest point of the department of Haute-Loire ... specificity "all French".

The Mézenc appellation comes from two Celtic radicals "mez" and "enc", one of which means space and the other fire.
Another explanation comes from the fact that the Mezenc massif separated the Vellaves and the Helvians, two Gaulish peoples ... and would derive from the pre-Latin word "mege", designating a frontier.
The summits are accessible within 1 hour of walking, which explains in part the extensive erosion, and a phenomenon of overgrazing. They offer a view of the valley of the Rhone and the chain of the Alps on the one hand, and on the other hand on the Cevennes and the chain of the Puys.

The Mont Mézenc constitutes an exceptional botanical site; 80 rare species are listed, including many alpine and rupestrian blooms amongst the lauze slabs: the Rosier des alpes, the mountain arnica and the "spider web" houseleek.
Numerous species of mountain birds are observed here: the wheatgrass, the crawling sparrow, the common rock thrush, the ring ouzel, and the spikelet pipit.


Monticola saxatilis - male of common rock thrush - By Pierre Dalous / Personal work, CC BY-SA 3.0, commons.wikimedia.org (2)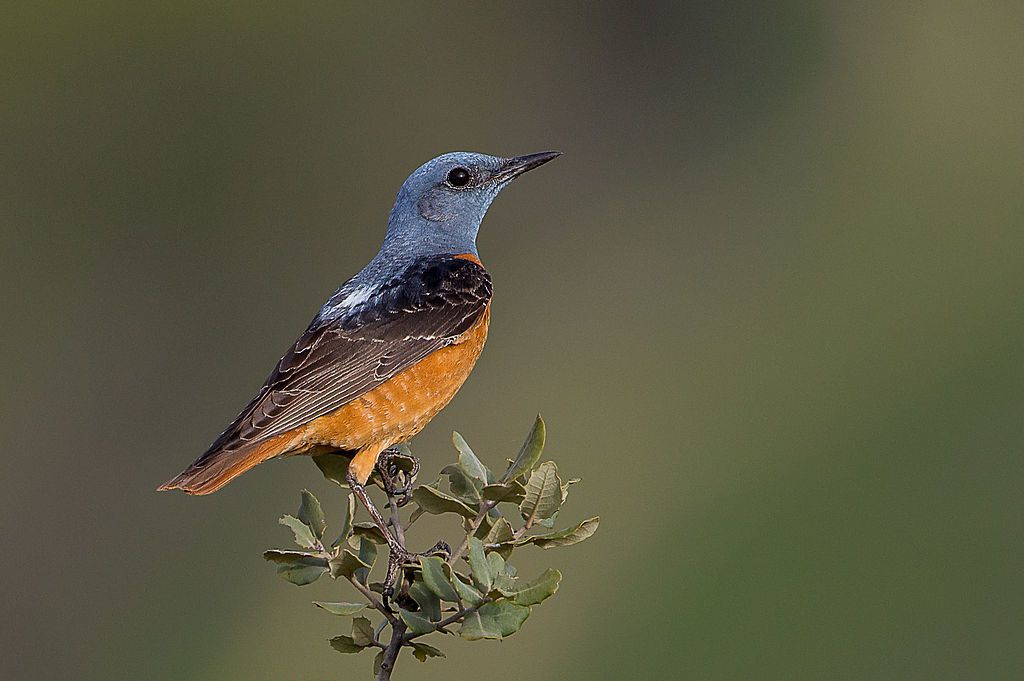 Monticola saxatilis - male of common rock thrush - By Pierre Dalous / Personal work, CC BY-SA 3.0, commons.wikimedia.org (2)
Nearby, the Suc de Sara: an annular system of ring-dykes consisting of microsyenite with nepheline, semi-deep rock, visible along the right bank of the Eysse river, which bypasses the suc. It is traversed by dark green millimeter filaments of aegyrine, edged on purplish brown nepheline. (Krafft)
The proposed explanation for the formation of these "suc" would be a succession of four stages:
1. slow rise of basaltic magma along faults in the Hercynian granitic basement. This slowness resulted in a "magmatic differentiation": the basalt was transformed into a phonolite richer in feldspathoids, or phonolite to nepheline;
2. after at least partial draining, collapse of the roof of the magmatic reservoir, causing the central compartment of the granitic base to disappear;
3. magmatic rise by faults giving an approximately annular structure. This rise of basalt probably did not reach the surface;
4. surface erosion showing a crescent-shaped relief with a diameter of 2,500 m, a thickness of 150 m, a ring-dyke. The erosion due to the Eysse river which flows to the north has revealed the structure of volcanism and the rocks with a particular phonolite facies, a tinguaite. This type of rock is a nepheline microsyenite, a microgiven hypovolcanic root of the vein edge that has undergone the slow cooling of the hypovolcan.
(Saga - Ph. Berger-Sabatel)

Sources:
- Guide to volcanoes in Europe and the Canaries - M.Krafft & F.D.de Larouzière - ed. Delachaux and Niestlé
- Saga - Commission of volcanism in the Velay - link
- Ardèche - the Velay volcano - C.Nicollet - link