Publié le par Bernard Duyck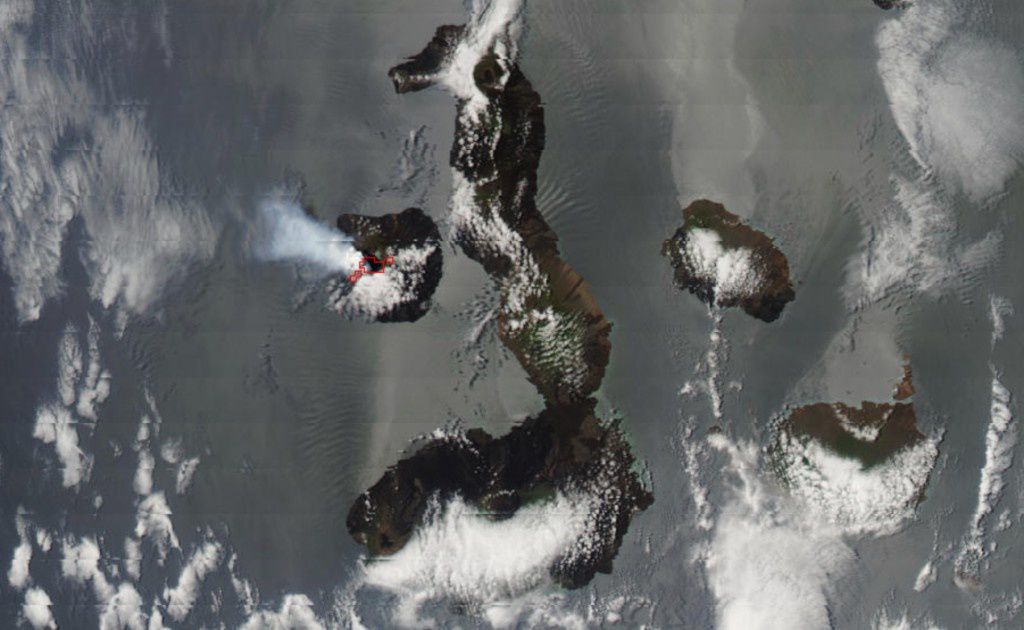 The plume and the thermal signature ( red box) of the eruption of the Fernandina on 04.09.2017 - image Terra MODIS / NASA.
The IGEPN gives details of the current eruption at Fernandina.
From 11:25 local time, a change in seismicity occurred, with the appearance of LP earthquakes, associated with fluid movements. At 12:25 local, the appearance of the tremor is associated with the onset of the eruption.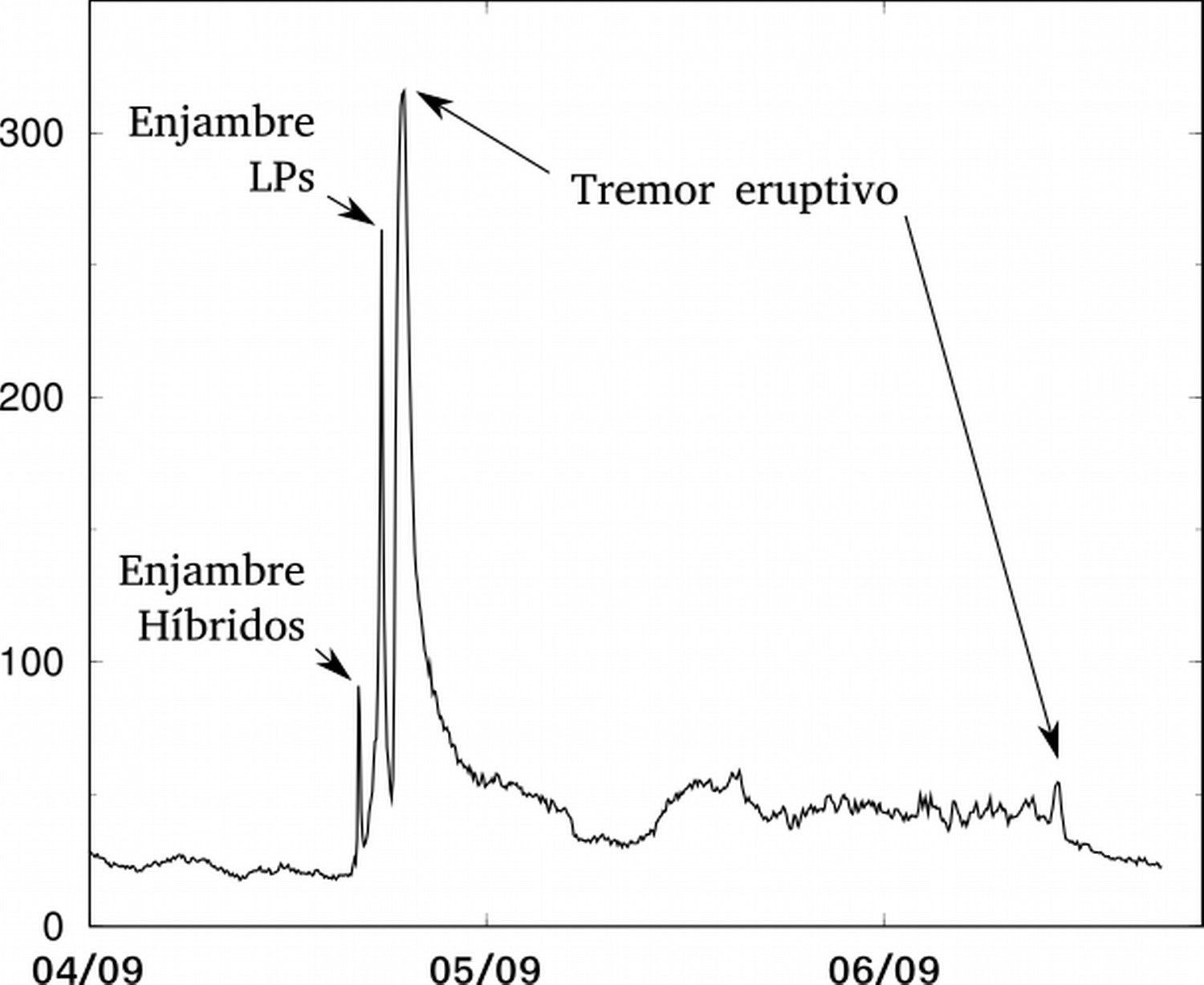 Fernandina - eruption of 04.09.2017 - Average Amplitude of the seismic signal - document IGEPN / Jean Battaglia, Universidad Clermont-Auvergne.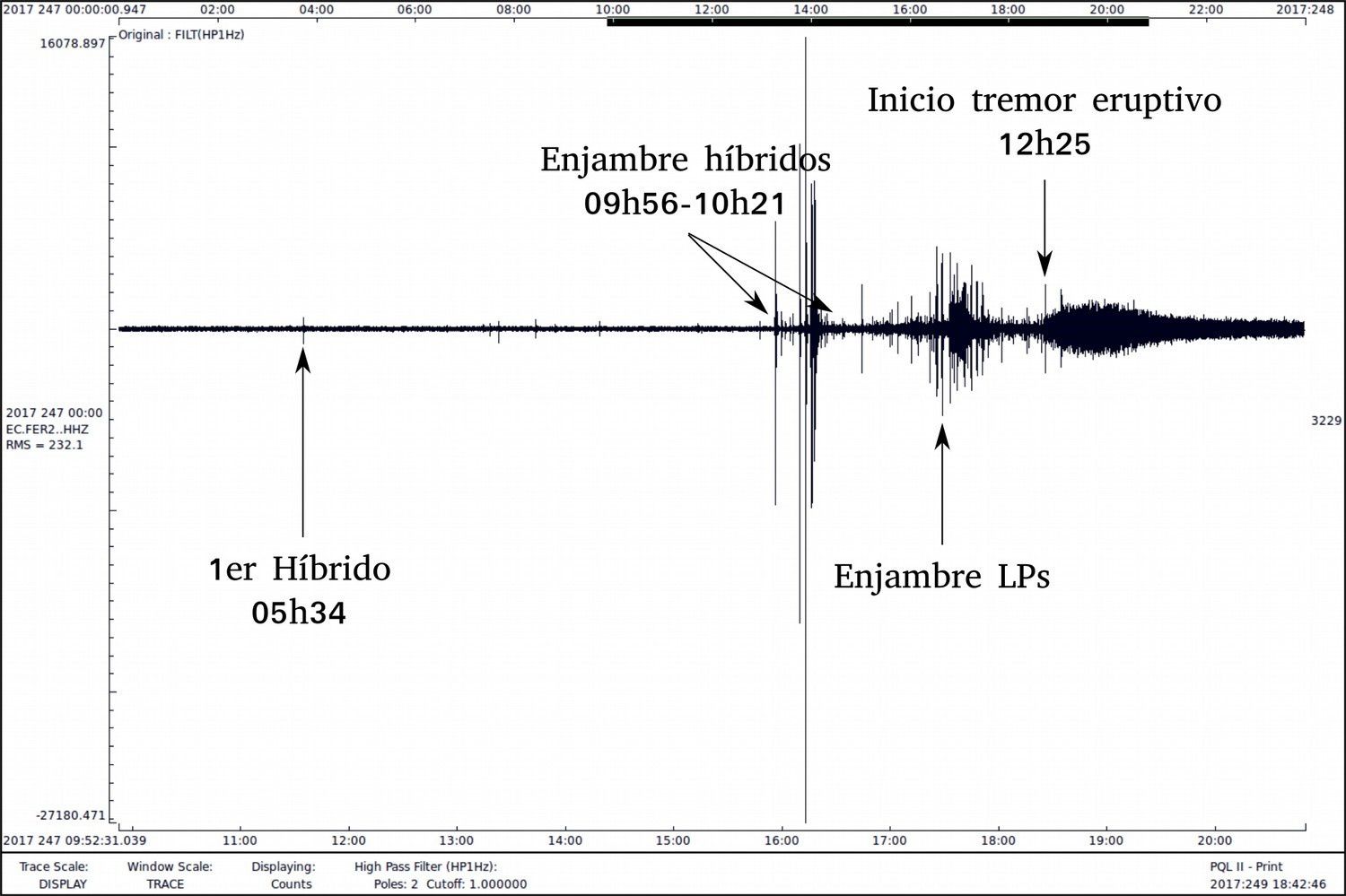 Fernandina - eruption of 04.09.2017 - seismogram of the station FER2, with the chrononogy of the seismic events - evening: IGEPN / Escala temporal in UTC / Fuente Jean Battaglia, Universidad Clermont-Auvergne)
The eruption continued, from direct and satellite observations, until the evening of September 5th. The thermal anomaly, declining, remains high according to the Mirova site.
The eruption seen from the Endeavor II / National Geographic.
According to InSAR data, realized by Yu Zhou, univ. Oxford, and Mike Stock, univ. Cambridge, a deformation of 17 cm was observed between March 2015 and September 2017. In the last two months, inflation reached 5 cm. These deformations would be associated with the entry of new magma under the caldera before the eruption.

Various scenarios are possible: stop the eruption, pause followed by a re-increase of activity, collapse of the caldera associated with an explosive activity, or sliding of the walls of the caldera.

Sources: IGEPN & Mirova.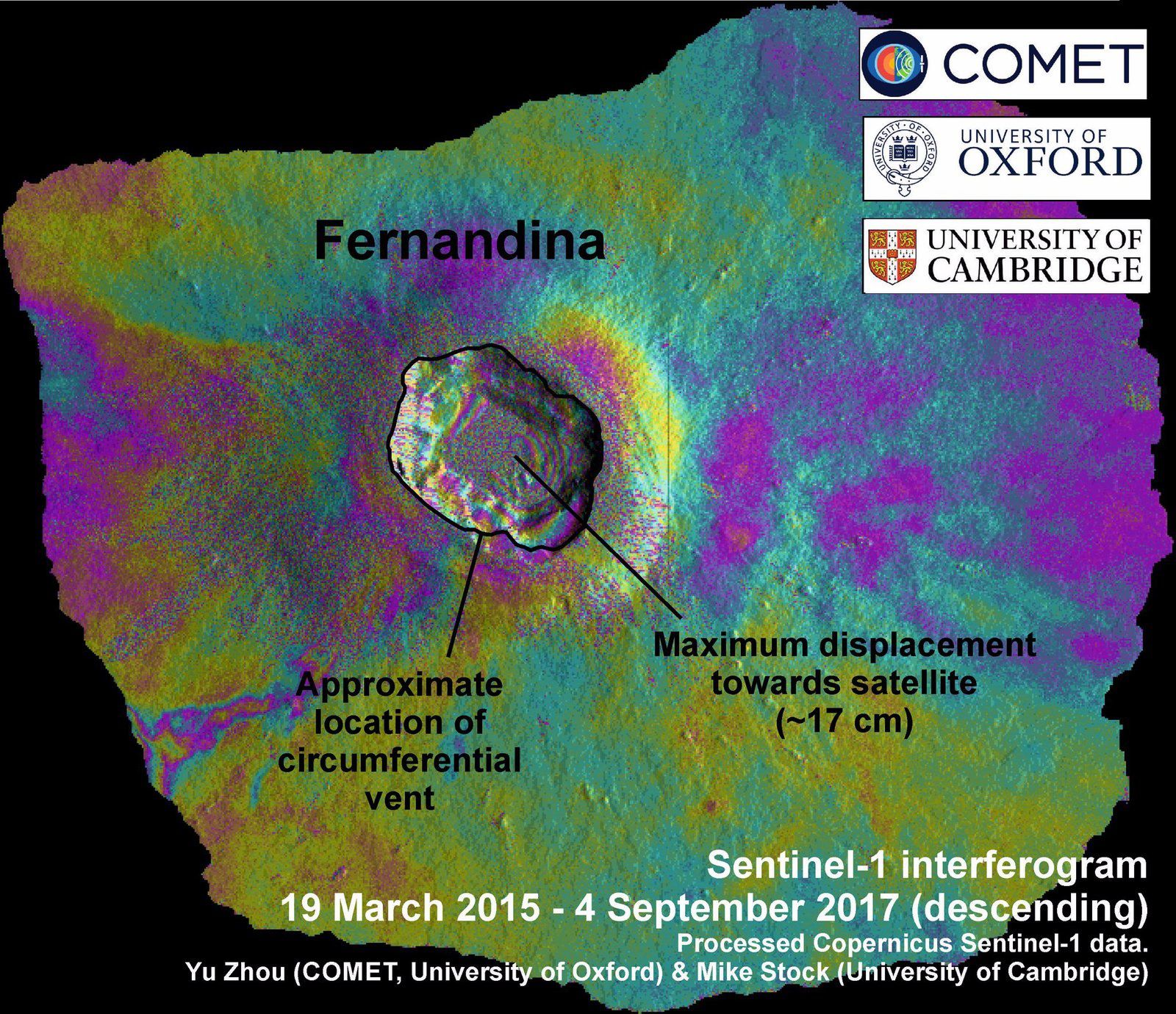 Fernandina - interferogram Sentinel 1 / Comet / univ. Oxford / Univ.Cambridge - deformation of 17 cm between March 2015 and September 2017 .- doc. via IGEPN
Lahars marked the drainage of the Santiaguito and Fuego volcanoes on September 6, 2017, Guatemala being impacted by Atlantic cyclonic activity.

Moderate lahars are reported at Fuego, in the Santa Teresa and Rio Mineral barrancas, leading to the Pantaleon River. Removing recent deposits, these hot lahars release steam and carry fine sediments, rocks 2 to 3 m and trunks and branches of trees. This type of lahars cause problems for the routes to Santa Sofia, Morelia and San Pedro Yepocapa.
Other drainages may be the theater of such lahars.
A moderate lahar was observed at the Santiaguito, on the Rio Cabello de Angel, 20 m wide. and 1.30 m. of height, carrying many fine and pasty materials, rocks from 50 cm to 1 m in diameter.
The rains on the upper parts of the volcano suggest the possibility of other lahars on other rios.

Sources: Special Bulletin Insivumeh 06.09.2017 / 13h45 & 14h15 local & Conred