Publié le par Bernard Duyck
The numerous Maars of Devès are basaltic maars. They are located in the south-east / north-west axis of the volcanic plateau, in two main groups separated in the center by large basalt layers, coming from cones.
These craters of explosions, of consequent diameter, are either occupied by a lake, called "gour", or have evolved towards the more or less marshy stage by filling, called "narse".
These craters, formed by phreatomagmatic explosions, punch out the pre-existing substratum, the fragments of which constitute an important part of the products thrown out of the crater. These projections are stratified, depending on the rhythm of the explosions varying from one hour to half a day, and intersected by phenomena of collapse according to curved fractures which participate in the widening of the crater.
Some of the materials are ejected at great heights and drop in a parabolic trajectory; the other part is transported horizontally by basal surges, which generate beads concentric to the crater (antidunes, dissymmetry opposite to that of the wind dunes with a steeper slope on the side of the vent).
The filling of the chimney by rocks resulting from the explosion forms the diatreme, composed of debris from the base and volcanic products.
In the southeastern group, Lac du Bouchet is an explosion maar dating back 600,000 years; it measures 800 meters in diameter, for an initial depth of a hundred meters, brought down to 28 meters by sedimentary deposits.
The lake is not fed by any river, but its limpid waters show an incessant renewal. It is an excellent natural laboratory for the study of the recent Quaternary climates, for 120,000 years, and for the refinement of the paleomagnetic scale.
Eruptive debris can be observed in rings around the crater.

The Maar of Costaros, 30 meters deep, with a diameter of 800 meters, has been cut in the basaltic table.
In the commune of Landos-Sauvetat, three maars are present: the maar of Praclaux, or Curve of Praclaux (diameter 600 m and depth 20 m); the narse of Landos (1,000 m in diameter and a depth of 30 m) and the narse of La Sauvetat.

The Narse of La Sauvetat forms a depression of 1,500 meters in diameter and a depth of 80 meters. Containing a lake originally, it evolved into peatland, whose exploitation in the 1970s modified the site. Close to the village, on the edge of the depression, quarries exploit the breaches of explosion and structures typical of the deposits of maars are visible: stratification of deposits, where vitreous basalt (quenching with water) appears, fragments and blocks more or less important, blocks impact patterns, basaltic and granite sands, curved faults due to the sliding of the breccia panels in the crater.
This wetland has been rehabilitated and equipped with observation and discovery elements, including a 500 m loop. with a label Tourism and Handicap, accessible to four disabilities.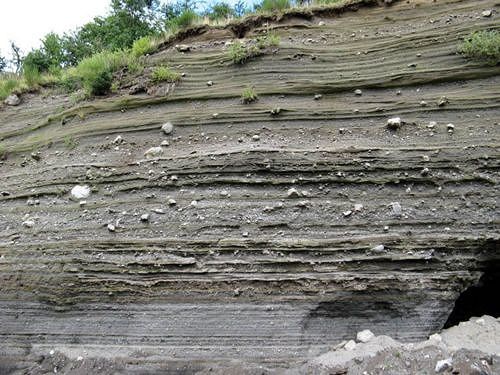 Career of Landos-La Sauvetat - Section in the projections - An open quarry in the pyroclastic ring of the maar shows the rhythmic character of the explosions, the typically black color of the deposits, the abundance of material sprayed: vitreous basalt (quenching with water) , fragments and blocks (sometimes enormous) of the base (granitic rocks), basaltic and granitic sands. - photo Geowiki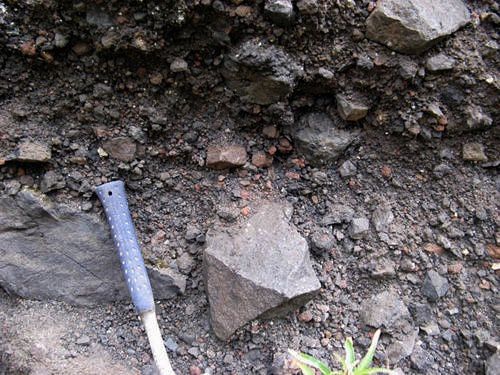 Career of Landos-La Sauvetat - Close-up on the projections. We can observe the fragments and blocks (sometimes enormous) of the base (granitic rocks) mixed with the basaltic and granite sands - photo Geowiki
In the north-west group, the Maars of the egg, of Beyssac, of Laimagne, of Lespitallet, of Vazeilles, and of Chantuzier are less well documented.

Sources:
- Guide to volcanoes in Europe and the Canaries - M.Krafft & F.D.de Larouzière - ed. Delachaux and Niestlé
- BRGM - The volcanoes of the Massif Central - by P. Nehlig & al.
- Massif du Mezenc Gerbier, and surrounding areas - by Alexandre Aubry
- Note on the Landos-La-Sauvetat marshes (Canton of Pradelles, Haute-Loire) - R.Bouzigues, JC.Favrot, L.Argeles