Publié le par Bernard Duyck
Volcanic activity continues at Ambae, minor state and limited to Lake Voui; the alert level remains at 3, with a prohibited zone of 3 km radius around the active vent.
Observations and analysis of the 10, 12, 13 and 14 October 2017 seismic data confirm that the new magma intrusion into the volcanic duct generates frequent explosions with a moderate ash column and that activity occurs only at summit crater lakes. This eruptive activity consists of explosions, the emission of columns of ash and gas from the eruptive vents. The lava flows from the eruptive vents to the lake have ceased. The activity on Ambae is similar to that seen and experienced in Yasur on the island of Tanna. The local population of Ambae and the neighboring island can hear some of the explosions, see volcanic ash and columns of gas and an incandescence above the mountain at night.
The eruptions in mid-September 2017 are similar to those of 2005. The style changed around September 22 with the observation of lava at the surface. The volcano returned to a more stable activity later, which lowered the level of alert a notch.
Current level 3 indicates: "a minor eruption; of the danger on the volcanic cones, within the caldera and other specific zones, possibility of moderate eruption and chance of flank eruption".

Source: Vanuatu Meteorology & Geo-hazards department 14.10.2017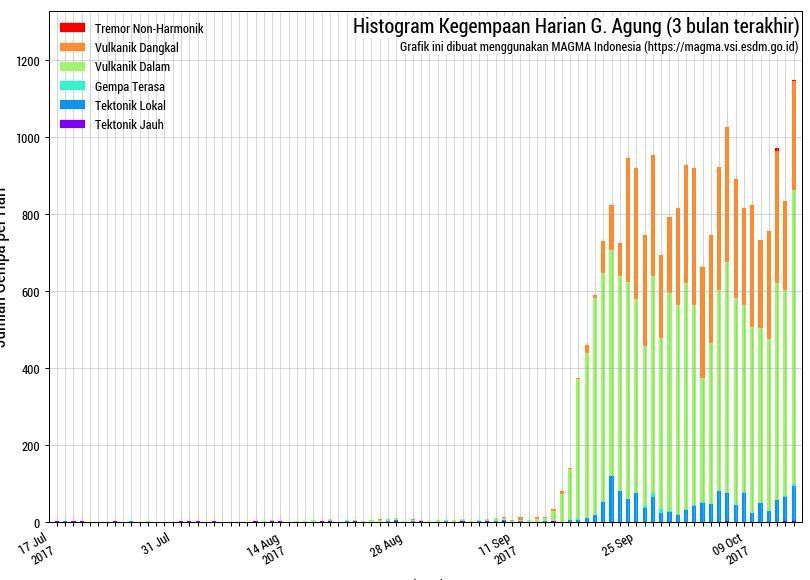 Agung last seismicity histogram 14.10.2017 - the episodes of tremor are little visible, in bright red header column - doc. Magma Indonesia
At Agung, no great changes of activity;
- On 13 October, 536 deep VA volcanic earthquakes were recorded, as well as 230 volcanic earthquakes VB, 61 local tectonic earthquakes.
- On 14 October, there were 764 VA earthquakes, 283 VB earthquakes, and 89 local tectonic earthquakes.
The number of episodes of non-harmonic tremor is 7 on 12.09, one on 13.09 and 6 on 14.09.

It should be noted that the tests of surveillance by drones have resulted in a failure and the crash of the drone.

Source: PVMBG
At the Shinmoedake, after a slight lull on 13 October, the ash emissions resumed on 14 October at 8:24 local time, to cease at 14:20 local time; a reactivation is reported around 15h. The ash plume reached over 2,300 meters in height, dispersing in a northeasterly direction.
The VAAC Tokyo does not give notice of visualization of ash on 14 and the 15 of October.

Source: JMA, VAAC Tokyo, and Asahi Shimbun (photo)