Publié le par Bernard Duyck
On 3 October 2017, the Costa Rican observatories recorded two phreatic-type eruptions at the Rincon de La Vieja, at 8:48 and 14:45 local time respectively.
The first was accompanied by a white plume rising 700 meters above the crater, the second, stronger, emitted an eruptive column 1500 meters high above the crater and caused small lahars on the upper slopes of the volcano ,
The latter resembles to the eruption of 29 September, and since then the Rincon de la Vieja maintains a high hydrothermal activity and numerous fluids movements.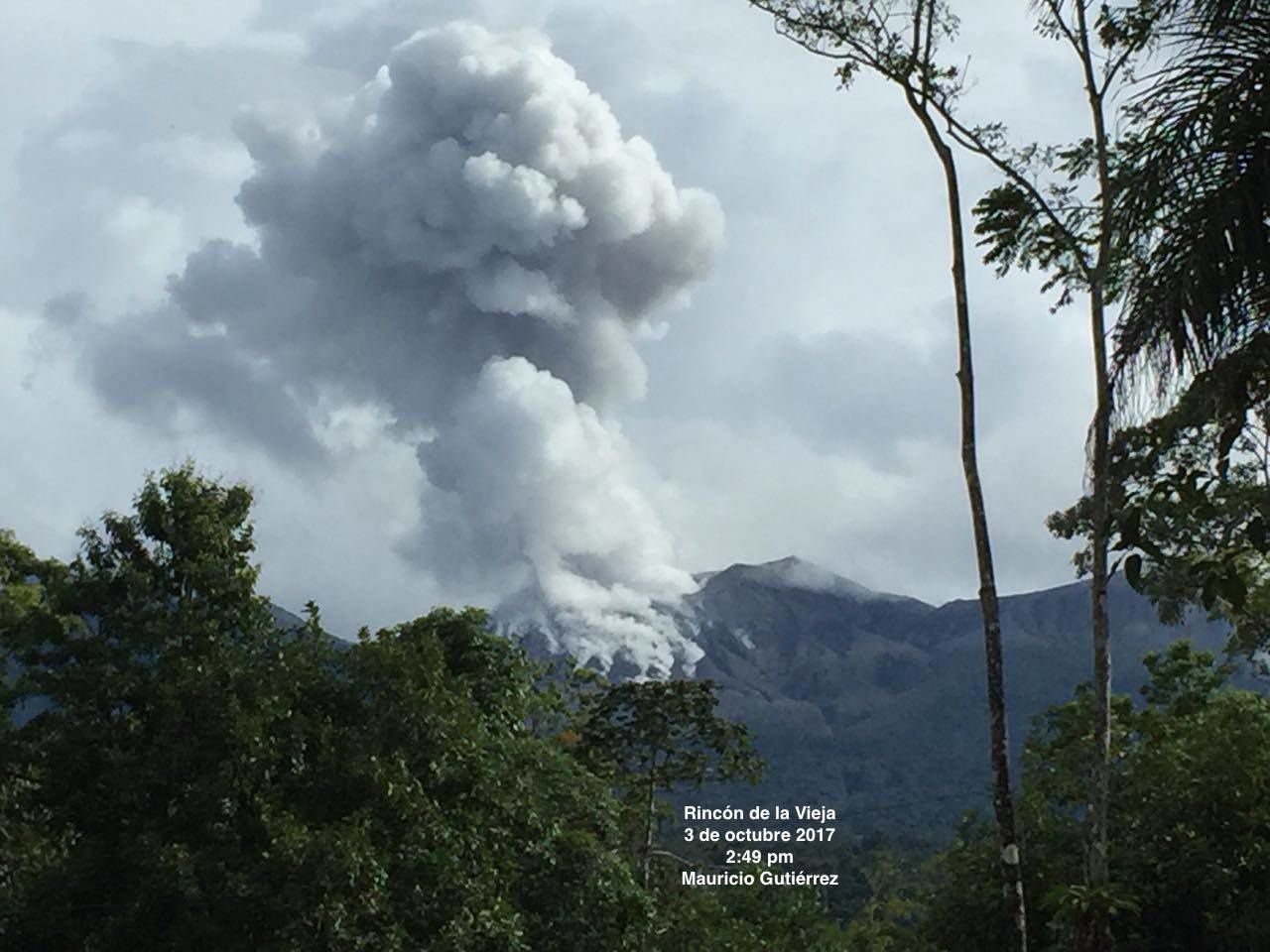 Rincon de La Vieja - 03.10.2017 / 14h49 loc. - eruptive plume and lahar on the top - photo Mauricio Gutierrez / Ovsicori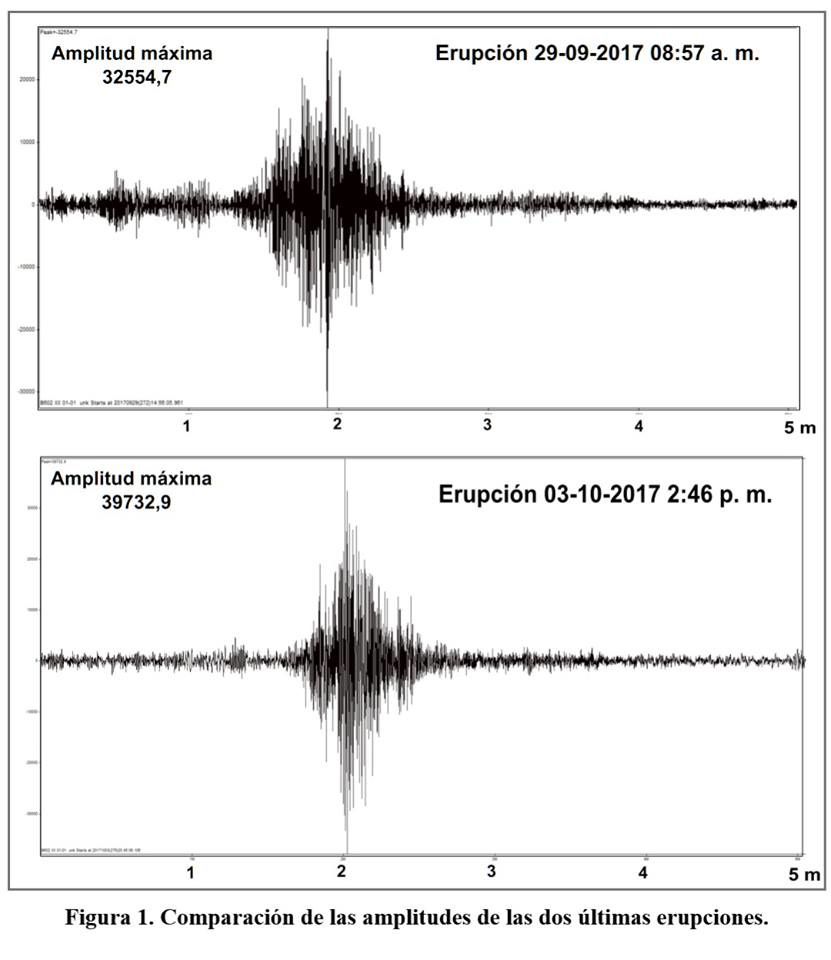 Rincon de La Vieja - comparison of the amplitude of the eruptions of 03.10 / 14.46 and 29.09 / 8.57 - Doc. RSN
3 of octubre 2017. Video of Jorge Viales. - VolcánRincóndelaVieja alrededor de las 02:45 pm
The Turrialba also appeared, with a small eruption on 3 October at 7 am local, accompanied by a plume rising 500 meters above the crater.
Falls of ashes are reported on Santa Cruz, Las Verbenas, Santa Teresita, Calle Vargas, Guayabito, La Isabel.

Sources: Ovsicori & RSN
Over the past few hours, the Fuego has been the site of a series of explosions at the rate of 10-12 / hour, expelling plumes of ashes between 4,400 and 5,000 meters asl., scattered about twenty kilometers to the east and north-east.
Depending on the direction of the wind and the power of the eruptions, there are reported ash falls on Antigua Guatemala, Alotenango, Villa Nueva, San Miguel Petapa and a possibility of falling on the capital Guatemala City.

Source: Insivumeh report 20:15 local / 03.10.2017
Pacaya activity is also on the rise, with weak to moderate explosions, expelling materials 40-80 meters above the Mackeney cone crater. This new cycle of activity is likely to result in larger explosions and new lava flows towards the 2010 collapse zone.

Source: Insivumeh report 03,10,2017 / 15:15 local.
The situation at Agung does not show much variation: a small white plume surmounts the summit, and the number of earthquakes remains important, slightly lower than the previous day, with on 3 October, 322 deep volcanic earthquakes VA, 287 volcanic earthquakes VB and 48 local tectonic earthquakes.
This decline should not suggest a decrease in danger, the situation is often encountered before an eruption.

Source: PVMBG.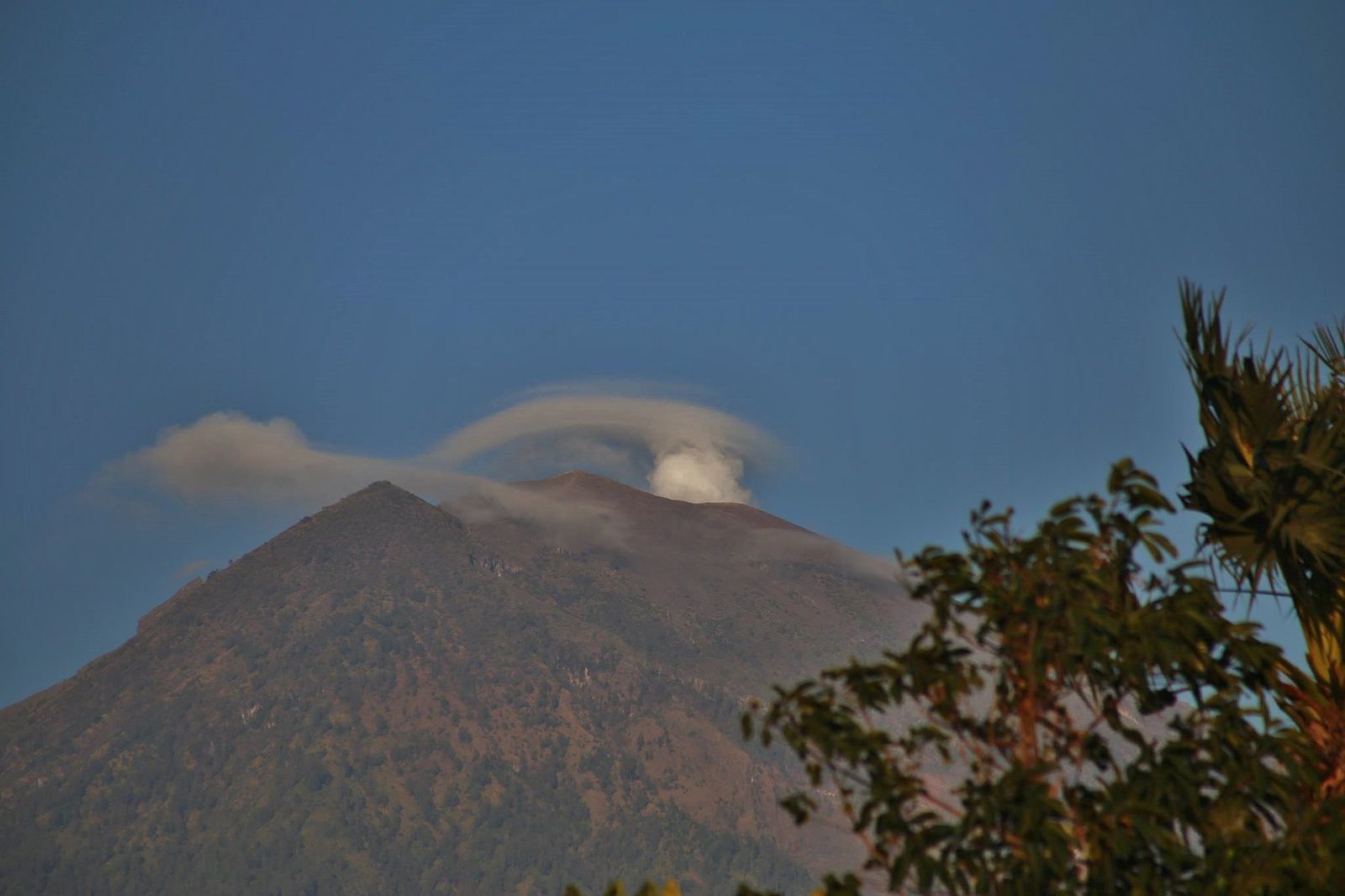 The Agung surmounted by a small plume of gas and steam this 04.10.2017 - photo Hakon Gustavsen via oystein Andersen