Publié le par Bernard Duyck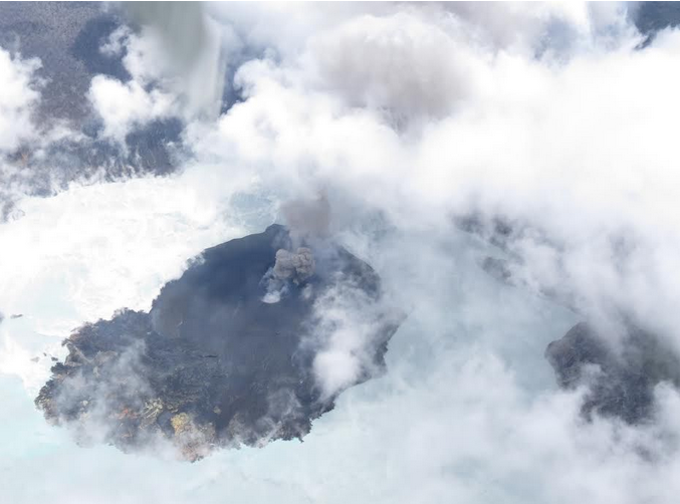 Ambae - emissions of ash by the cone in the Manaro Voui on 12.10. 2017 -. Image Geohazards Department / Vanuatu Daily Post
On Ambae-Aoba, the cone grew in height. After the total evacuation, the volcano's manifestations, ash emissions and rumblings, seem to be perceived more strongly ... because they emerge from a "dry" cone, or heard more clearly by the evacuees on nearby islands facing to the winds.
The prohibition standards remain in force.
Source: Asia Pacific and Vanuatu Daily Post
At Agung, there were few changes, apart from the appearance for the first time of 7 episodes of non-harmonic tremor, lasting 80-14 seconds, on 12 October; for the rest, seismicity remains high with 562 deep volcanic earthquakes VA, 344 VB shallow volcanic earthquakes and 57 local tectonic earthquakes.
Source: PVMBG

Shinmoedake 12.10.2017 - video-drone - Earth Uncut TV / James Reynolds - non-commercial use
At the Shinmoedake, as reported yesterday, the ash emissions, probably generated by spraying of cold and old lava of the dome, were strong on the day of October 12, as evidenced by the video shot by a drone / via earthUncut TV / James Reynolds .
Emissions of sulfur dioxide to the NE, identified by the Aura / IMO satellite, are significant.
The ash dispersed east and north-east in the districts of Miyazaki and Miyakonojo, where children go to school equipped with anti-dust masks and helmets.
At the end of the day of October 12th and this morning, despite a greater clouding, we can see on the webcam a clearer and less turbulent degassing.
Sources: EartUncut TV / James Reynolds, satellites and local press
Shinmoedake the 13.11.2017 / respectively at 9h38 & 10h13 local time - webcam JMA - a click to enlarge
A meeting of the various bodies concerning the current seismic activity on La Palma, expressed the opinion of its origin possibly linked to a small magmatic intrusion at great depth under the Cumbre Vieja, a phenomenon called as normal in a volcanologically active zone.
Since Saturday, about 300 micro-earthquakes have been recorded; only three of them have a significant magnitude, between 2.1 and 2.7. Over the past 48 hours, they do not exceed M1.5.
Nevertheless, hydrogeochemical, thermographic, seismic and diffuse CO2 emissions tests, as well as satellite interferometry, have been reinforced. In the next few days, a ship of the Oceanographic Institute will carry out deep-water checks near La Palma.
Source: AVCAN