Publié le par Bernard Duyck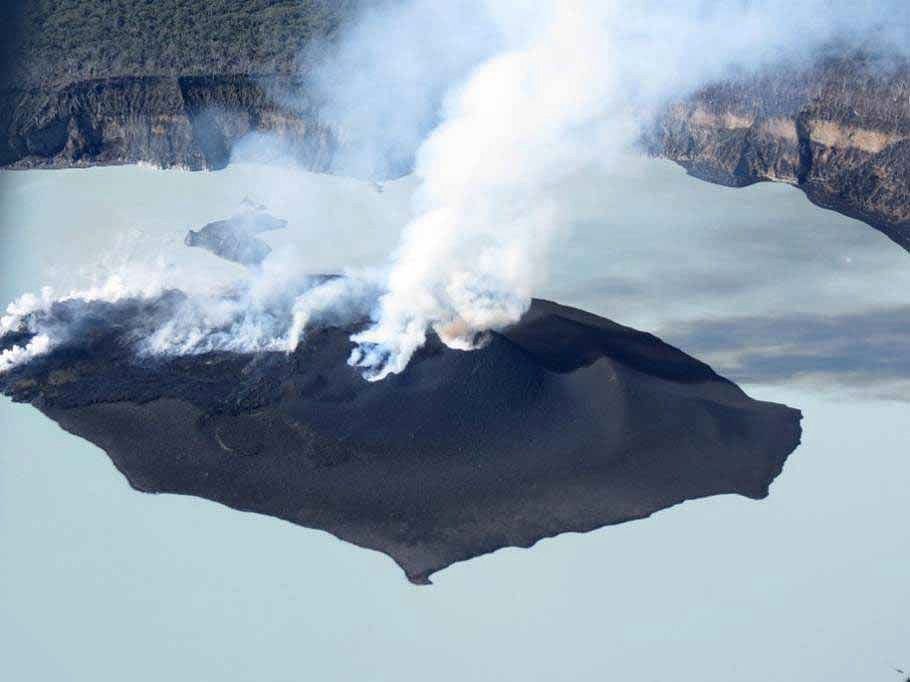 Ambae - photo taken during a flyover this weekend - activity centered on the cone and lava flows towards the lake (to the left of the photo) - Photo VMGD
On Ambae, photos and thermal images, taken during two observation flights over the weekend, show that the activity of the volcano is confined to the crater area ... the possibility of a large eruption affecting all the island thus appears less likely.
"Explosions are observed every 8 to 10 seconds, propelling bombs at 50-100 meters above the crater, and there are two small lava flows on the island towards the lake," says NZ volcanologist Brad Scott. The photos testify of a delta enlarging the island side lava flows.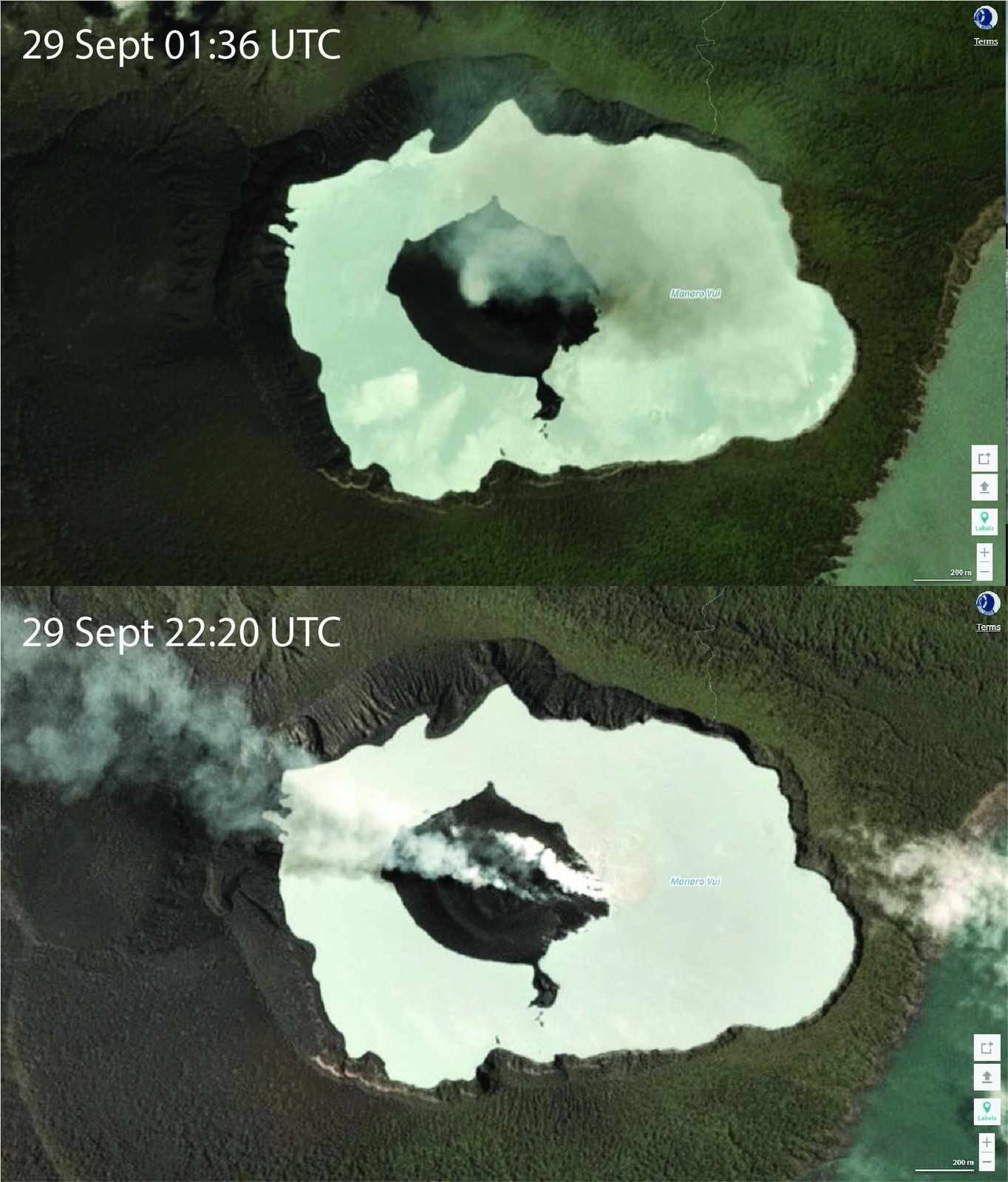 Ambae - expansion of the island between 1:36 and 22:20 UTC on 29.09.2017 (see right side of the island) - via Nathan Magnall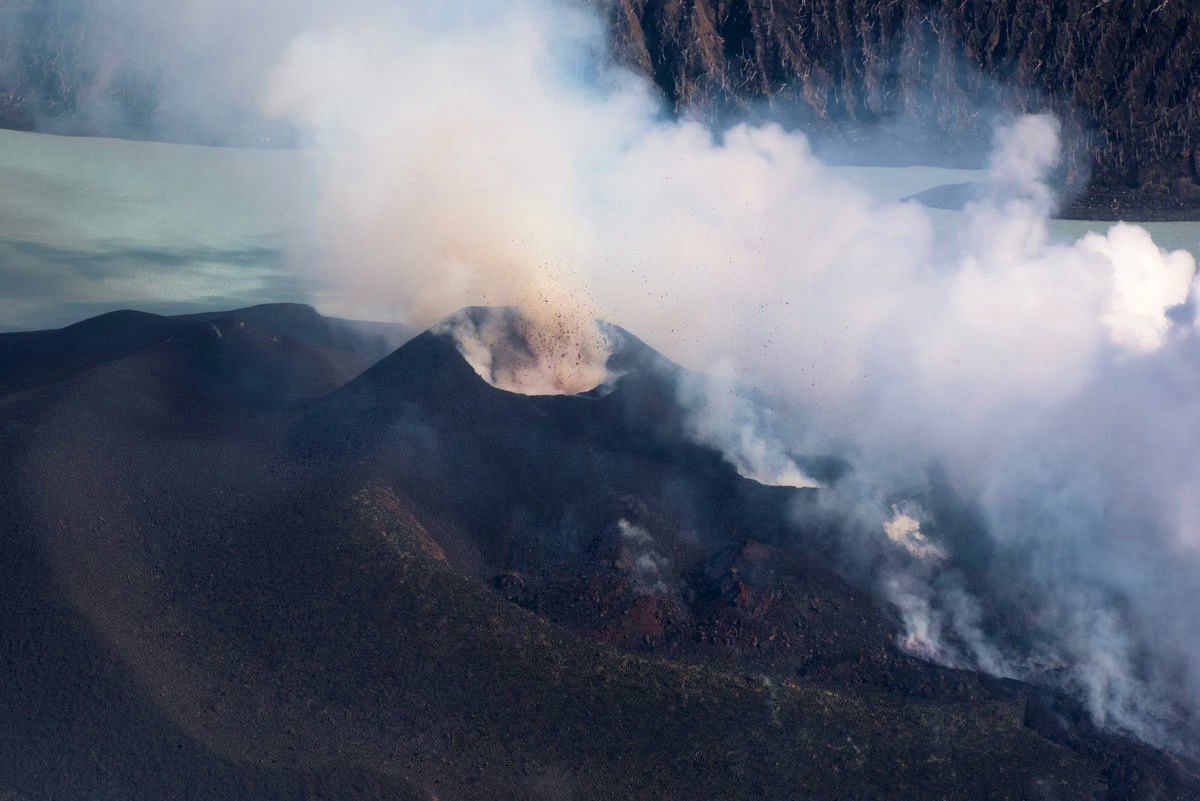 Ambae - 2017.10.01 - Large volumes of stone and cooling lava can be seen spewing non-stop from two new vents in the volcano on top of Ambae's mount Lombenben.- photo Dan McGarry / Dailypost.vu
Evacuations are continuing: the number of evacuees is about 5,000 at present, and more than 4,000 inhabitants are still on the island; more detailed information on this situation on RNZ - link.
Due to the pollution of waters by the eruption, drinking water needs have become crucial for thousands of people.

Sources: Vanuatu Geohazards Observatory, Vanuatu Red Cross, Radio NZ
At Agung, an overflight on October 1 still shows no signs of eruption.
Seismicity remains high, with 1 October, 587 deep VA volcanic earthquakes, 306 superficial volcanic earthquakes VB, and 32 local tectonic earthquakes; this 2 October, between 0 and 6h local, the count is 128 earthquakes VA, 94 earthquakes VB and 5 local tectonic earthquakes.
All recommendations remain in effect.

Sources: PVMBG, Magma Indonesia & BNPB
Agung - sismos of 01.10.2017 and 02.10.2017 (between 13h30 - 10.01 14h30 local) - a click to enlarge - Doc. Magma indonesia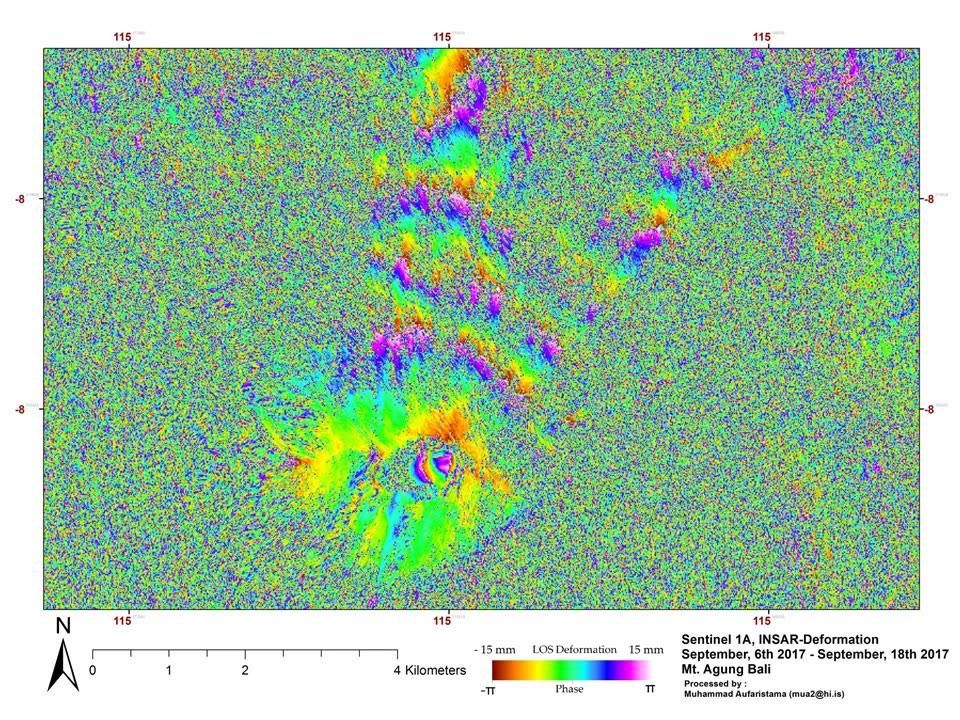 Agung - deformation detected by InSAR Sentinel 1A between 6 and 18 September 2017 - on Twitter, via shérine France
The activity continues in Sinabung, where a white plume surmounts the summit, varying between 50 and 800 m high, intersected by eruptions.
The seismic network has recorded 4 eruptions over the last 24 hours, accompanied by plumes of gray-white ash reaching 1,500 - 2,000 meters above the crater.
An info on the social networks must state a rash this 1st October at 15:17 local, accompanied by a plume of 3,600 meters in height, and a pyroclastic flow of 1,000 meters long south side,

Source: PVMBG
An explosion occurred on 30 September at 22:57 local time at Popocatépetl; it was accompanied by incandescent projections falling on the flanks for a maximum of 800 meters in relation to the crater, and a plume with a moderate ash content rising to 2,500 meters before dispersing northeastwards and then southeast .
All or part of the dome set up in September is likely to have exploded,
The alert level remains unchanged.

Source: Cenapred & Segob
Bonus:
a video of the Sakurajima where it is interesting to monitor the development of lightning in the eruptive plume.