Publié le par Bernard Duyck
The seismic activity of the Agung remains high and fluctuates after the upgrade of the activity to level IV (Awas).
On 17 and 18 October, the summit is visible, and surmounted by a plume of steam and gas rising this 18.10 between 300 and 500 meters above the summit.

Seismicity is characterized
- on 17 October, by 408 deep VA volcanic earthquakes, 220 shallow volcanic earthquakes VB, and 52 local tectonous earthquakes
- 18 October, by 4 episodes of non-harmonic tremor, 676 volcanic VA earthquakes, 266 volcanic VB earthquakes, and 102 local tectonic earthquakes.

Sources: PVMBG, Magma Indonesia and BNPB
The Sinabung was clear on October 18, leaving see a plume of 50 to 200 meters above the summit.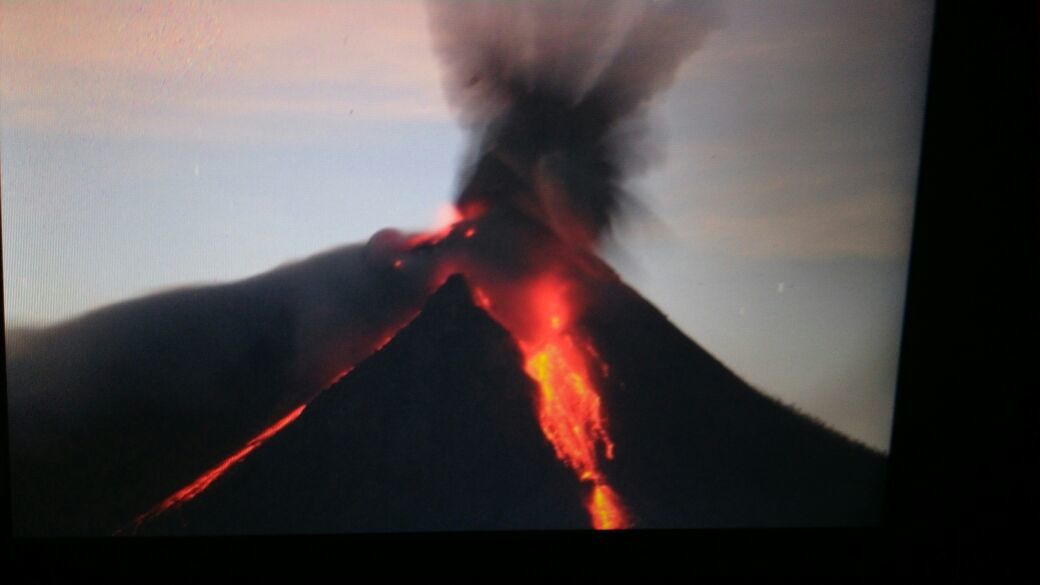 Two eruptions occurred yesterday, accompanied by ash plumes of 700 to 1,500 meters above the summit, and pyroclastic flows of 1,500 m to the ESE and 1,000 m to the SE.
Dams on the River Laborus, formed by accumulation of deposits of previous pyroclastic flows, remain at risk of lahars in case of collapse.

Source: PVMBG
NOAA provides information on thermal anomalies at Sarychev in the Kuril Archipelago, on 12 and 14 October.
A plume of unknown composition accompanied the thermal anomaly on 14 October.

For the record, the last eruption of this volcano, from VEI 4, dates from June 11th to July 16th, 2009, and is famous for its plume covered with a pileus, the base of which allows us to glimpse two volcanic clouds of pyroclastic flows, of different colors.

Sources: NOAA, Mirova and Global Volcanism Program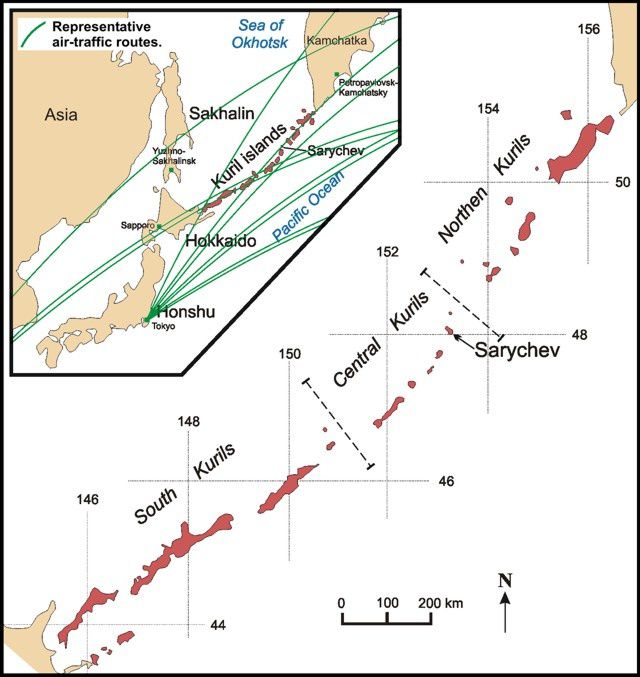 Sarychev - location on air routes - Doc. Sakhalin Volcanic Eruption Response Team (SVERT). Casadevall and Thompson (1995).
An unusually clear image of the Erta Ale massif in Ethiopia, taken on October 16 by Sentinel 2, shows the changes in the current lava flows.
The northeastern lava field, which had enlarged at the beginning of October in the distal part, shows a front divided into several arms; two of them have reached the sedimentary plain, a rare phenomenon. If there is no significant difference in elevation, the lava field will slow down in the days to come.

Skylights are visible between this lava field and the source, located on the rift zone, and not yet visu visu so far, several expeditions having had to give up because of difficulty of progression, or following injuries contracted on this tormented terrain.

The southwest lava field is no longer visible, due to a weakening diet for weeks.

The lava lake, present in the pit crater of the caldera, is still active.

For comparison, see the article on the great African volcanoes of 08.10.2017 on this blog.

Source: Satellite image Sentinel 2