Publié le par Bernard Duyck
Since mid-October, a change is observed on the recordings of the volcanological observatory of Piton de La Fournaise with:

- a resumption of inflation (swelling) of the volcano: The GPS of the summit zone and in far field record an inflation, witness of the putting in pressure of a superficial and a deep source.
- low concentrations of SO2 (coupled with CO2) and H2S (coupled with H2O vapor) observed in the summit emissions of Piton de la Fournaise.
- a slight seismicity under the summit craters. On 24.10, 3 volcano-tectonic earthquakes (VT) are recorded under the summit cone, including a magnitude of 0.27 with a duration of 3.72 sec.
All these parameters will be followed and confirmed in the coming days.
Source: OVPF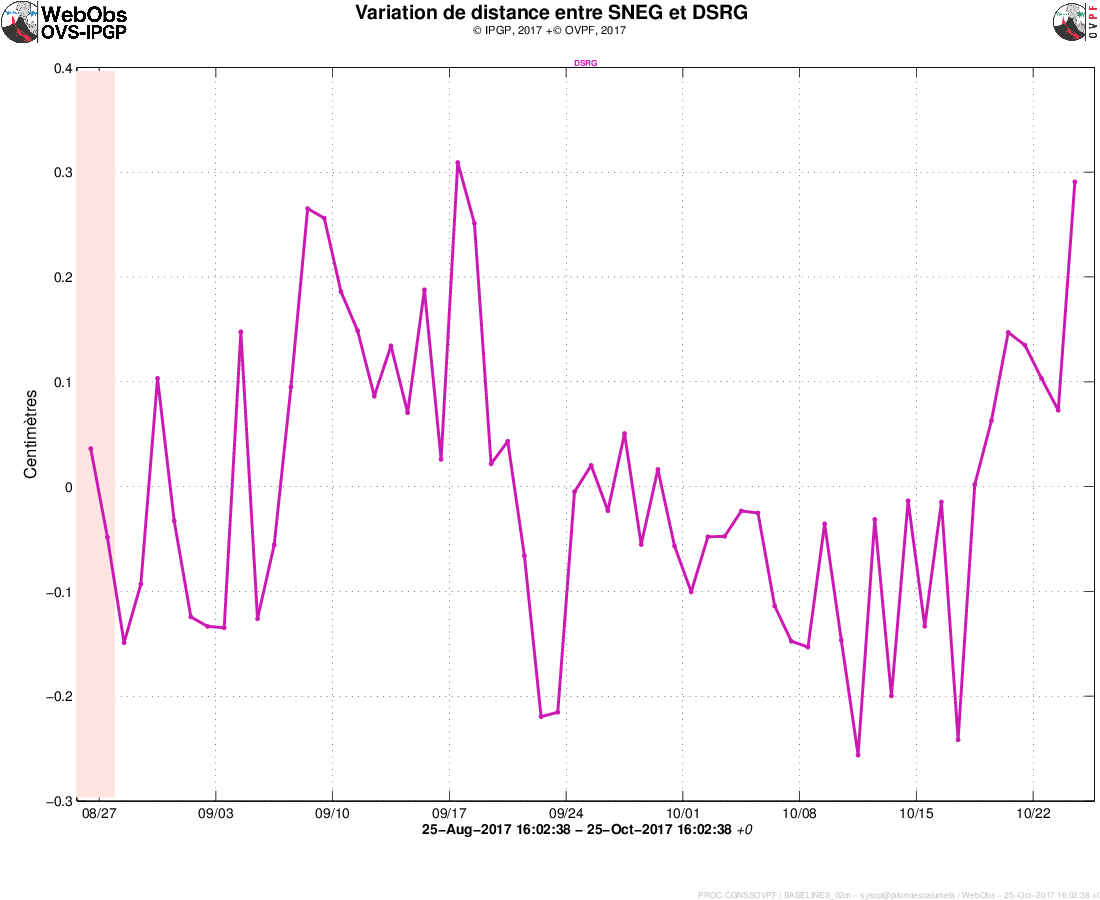 Piton de La Fournaise - Illustration of the summit deformation over 2 months. Here is shown a baseline (variation of distance between two GPS receivers) crossing the crater Dolomieu. A rise is synonymous with elongation and therefore swelling of the volcano; conversely, a decrease is synonymous with contraction and therefore deflation of the volcano. Any periods colored in light pink correspond to eruptions. - Doc. OVPF
At Agung, October 26, the status remains unchanged. A plume of steam is observed between 100 and 300 meters above the summit.
On 25 October, a non-harmonic tremor episode, 119 VA deep volcanic earthquakes, 87 VB superficial volcanic earthquakes, and two local tectonic earthquakes were recorded.
Despite a decreasing seismicity, volcanologist Devy Syahbana at the Rendang observatory recalls, in an interview with "Ubud now and then", that this is not the only factor to consider when setting the alert level.
The inflation marking the volcano is more than 6 cm, and the level of magma, raised to 4 km, is estimated at 18.5 million cubic meters. These factors somewhat offset the pressure from the local authorities to lower the alert level and allow operations to return to normal.

Sources: PVMBG, Magma Indonesia, Ubud now and then.
Almost a month after the total evacuation of the island following the eruption of Lombenben, the first inhabitants returned by boat to Ambae.
The operations are under control, at the beginning and at the finish, of the officials sent first. Food is sent at the same time for the refugees.
Some residents still fear a possible cataclysm, and at least one whole village has decided to get land on a nearby island.
Despite the lowering of the alert level, the government estimates that it is necessary to remain more than 3 km from the active vent in Lake Manaro Voui.

Sources: NPR, & Government of Vanuatu