Publié le par Bernard Duyck
Following the increase in seismicity at Oraefajökull volcano in recent days, the IMO has stepped up its surveillance.

During the last week of October, two new seismic stations were installed, respectively south of the glacier and on its eastern flank and labeled on the map hox and kvi.
In addition, earlier this month, the IMO was able to access the seismic station near Falljökull (fal on the map), belonging to the British Geological Society, established for research on glacial earthquakes.

The addition of these new stations to the existing network increases the sensitivity, allows the detection of magnitude earthquakes between M0 and M1, and improves the location.
Data on the deformation for the period 2015-2017, analyzed in a meeting with the Icelandic University and the Civil Protection Department, correspond to a slight inflation of the Oraefajökull and could be attributed to changes in ice cover on the entire Vatnajökull area.
A case to follow

Sources: IMO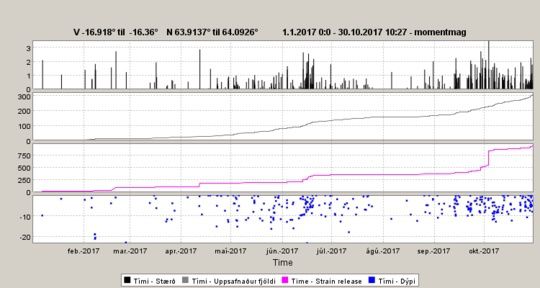 Seismicity in Öræfajökull volcano in 2017: Top, the graph shows the magnitude of each detected earthquake; the next graph shows the cumulative number of earthquakes; the third graph shows the cumulative seismic moment. From this graph it is well visible the M3.5 earthquake measured at the beginning of October 2017. This is the largest earthquake detected in Öræfajökull volcano since the beginning of the measurements; the last graph shows the depth of earthquakes in kilometers .
A joint study of INGV, the University of Palermo, the University of Savoie Mont Blanc, and the Volcanological Institute of the Canaries, published in Geology, was carried out on "the fumarolic tremor and geochemical signals at during a period of volcanic unrest "on an area of ​​the Phlegraean Fields.
Following a significant increase in hydrothermal activity in 2010, a seismometer was installed near the main fumarole of Pisciarelli.
The fumaroles are known to generate seismic and infrasonic tremor, but not so far as a signal of unrest / active instability of a volcano.
An increase over time of the fumarolic tremor has been correlated with an increase in fumarole activity, and that of CO2 concentrations in the plume, different ratios between CO / CO2 and H2 / H2O, and temperature and pressure conditions of the hydrothermal system.
This association between RSAM ( Real-time Seismic Amplitude Measurement) and geochemical data suggests that the increase in the fumarole tremor is due to an increase in gas transport and ventilation of the hydrothermal system evolving to higher temperature and pressure parameters ... more broadly, the monitoring of the tremor generated by fumaroles paves the way for real-time monitoring and interpretation of the evolution of ongoing hydrothermal-magmatic unrest, and can complement the information provided by periodic gas measurements.
This new monitoring method could be applied to capture signals of instability on any active volcano, including in remote areas.
Sources:
- Geology - Fumarolic tremor and geochemical signals during a volcanic unrest by G. Chiodini & al - link
- Blitz - Campi Flegrei, INGV registered the sculpin of fumarole per controllare il vulcano - link