Publié le par Bernard Duyck
The last 24 hours were marked at Popocatépetl by 188 low-level exhalations, accompanied by water vapor and gas. A continuous emission of ashes began at 14:13, highlighted by a plume of 2,000 meters; ashes have drifted south-southeast, where falls are reported.

Sources: Cenapred & webcamsdeMexico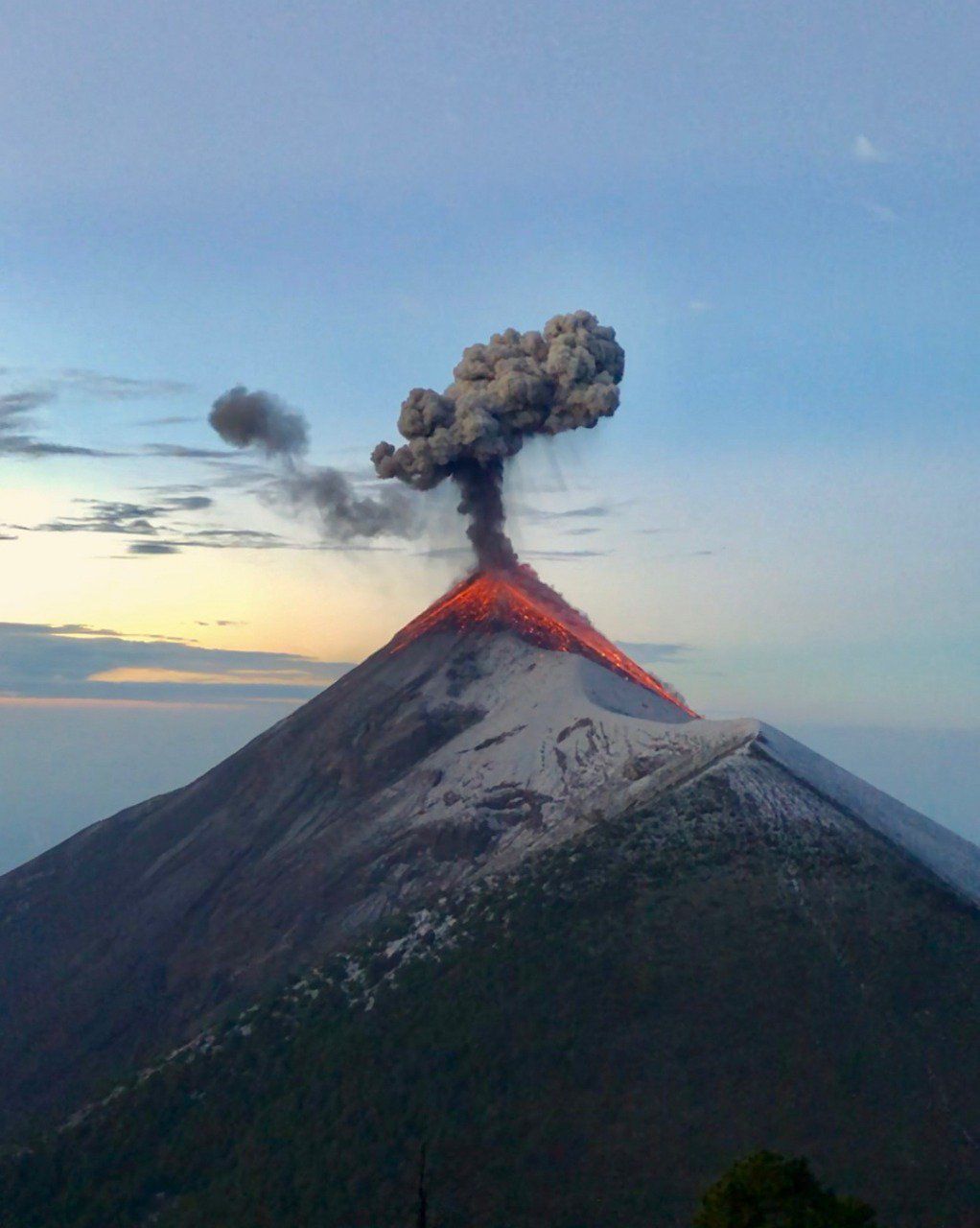 Fuego - activity of 23.11.2017, view of snowy background from the acatenango - photo Fabian via Clima Guatemala
In Fuego, the 6 to 9 weak to moderate explosions are interspersed between episodes of degassing of white color. Incandescent impulses rise 100-150 meters above the crater, standing out well against snow-capped peaks; the plumes of ashes, reaching a height of 4,500-4,800 meters asl, disperse to the west.

Sources: Insivumeh & Clima Guatemala
 Reventador on 23.11.2017 - IGEPN webcam photo 6h53 and VAAC Washington Volcanic Ash Advisory - one click to enlarge
In Ecuador, the Reventador still has high activity, with emissions of steam, gas, and ash between 400 and 600 meters above the crater, dispersing to the northwest and west. An incandescence is accompanied by falls of incandescent blocks on the high parts of the volcano, reaching 800 meters under the rim of the crater, which mainly affects the south and south-west flanks.

Source: IGEPN
At Agung, after the November 21 groundwater eruption, DOAS measurements carried out on November 22 reveal the recording of a SO2 flow of 660 tons / day.
A tremor of amplitude between 2 - 5 mm (with a dominant at 3 mm) was observed by the 11 seismic stations distributed around the Agung; this 22nd of November, the total duration of this tremor is about ten hours; The Duku station, located at NE and used to distinguish tremor signals from those generated by human activities, was able to record it continuously.
Agung - measurements made by volcanologists and ash sampling on 22.11.2017 - Devay Natamanggala photos - a click to enlarge
On November 23, the central plume reached between 100 and 500 meters above the crater, and the weak seismicity was characterized by 12 deep volcanic VA earthquakes, 9 VB superficial volcanic earthquakes, and 5 local tectonic earthquakes.
A flight by drone from the top of the volcano, made this November 24, has seen a new hole in the middle of the crater, probably formed during the phreatic eruption.

Sources: PVMBG & Devay Natamanggala
At the Öræfajökull, despite a decrease in seismicity, the preventive work continues with the presentation of an evacuation plan in case of eruption established by the Civil Protection, and presented by the police who visit the farms dispersed in this southern region of Iceland.
The plan is for a total evacuation of the area before a possible eruption, but if it were to occur without warning, should allow residents to go to higher places to escape the sudden glacial ice-flood.

Sources: IMO, mbl.is