Publié le par Bernard Duyck
In the past 24 hours, Cenapred has reported to Popocatépetl 343 low-level exhalations accompanied by water vapor and gas.
In mid-day of November 19, two explosions were observed, respectively at 11:46 and 12:24, generating an ash plume of 1,000 meters.
On 20 November, an increase in activity was manifested by the emission at 13:23 of a column of steam, gas and ash reaching 1,800 meters, drifting to the east-southeast.
At the seismicity level, 4 volcanotectonic earthquakes were recorded, respectively on 19.11 at 14:28 and 14:52 of M1,6 and M2,0, and on 20.11 at 0:59 and 9:14 of M1,6 and M1,4; 310 minutes of harmonic tremor of low amplitude are noted.
The alert level remains at Amarillo Fase 2.

Source: Cenapred & WebcamsdeMexico
The week of 13 to 19 November in Sabancaya / Peru is characterized by an increase in the number of explosions, with an average of 82 per day, accompanied by ash plumes with a height of max. 4,000 meters above the crater, with dispersion on a large northern sector.
The sulfur dioxide flow is max. 3.103 tonnes per day; the deformation is maintained in its horizontal component.

Sources: IG Peru / OVI / Ingemmet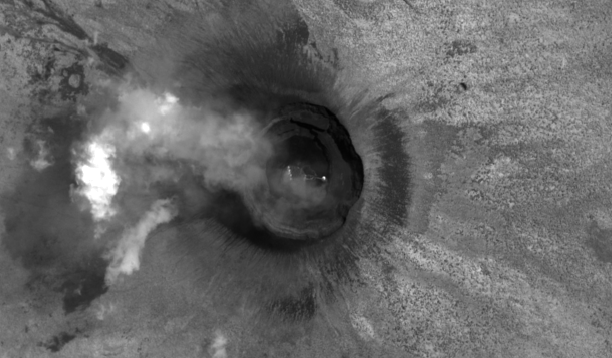 Nyiragongo - image Sentinel 2 thermal IR 21.08.2016 - via Goma Volcano Observatory - the activity of the intracrateric cone is visible by the luminous dot recorded on the right of the crater
In Nyiragongo, the activity of the intracrateric cone, which had given rise to lava flows from August 17, 2016, which returned to the direction of the lava lake (GVO & sentinel image 2 thermal IR of 21.08.2016), resumed as early as the beginning of October 2017. This activity is still relevant.
Some recent photos illustrate this activity.

Sources: Goma Volcano Observatory, Mirova Turin and the photographers mentioned.
The Sinabung presented on November 20 three explosions, accompanied by ash plumes rising to 3,200 meters. They were not accompanied by pyroclastic flows

Sources: PVMBG and the photographers mentioned.