Publié le par Bernard Duyck
The magmatic eruption continues at Agung. The ash plume oscillates between 2,500 and 4,000 meters above the summit, before drifting to the southwest.

The ash cloud is attracted by the low pressure of tropical cyclone Cempaka, located south of Yogyakarta.
The flow of sulfur dioxide follows the same path, spotted by the GOME-2 satellite.
Heavy rains increase the risk of lahars and landslides. The mudslides and lahars in progress have so far been no casualties.
This particular situation has a direct impact on air traffic: the authorities extended the closure of Ngurah Rai International Airport until 29 November at 7am. The Lombok airport has however reopened this November 28 at 6am WITA. An assessment must be made every 6 hours.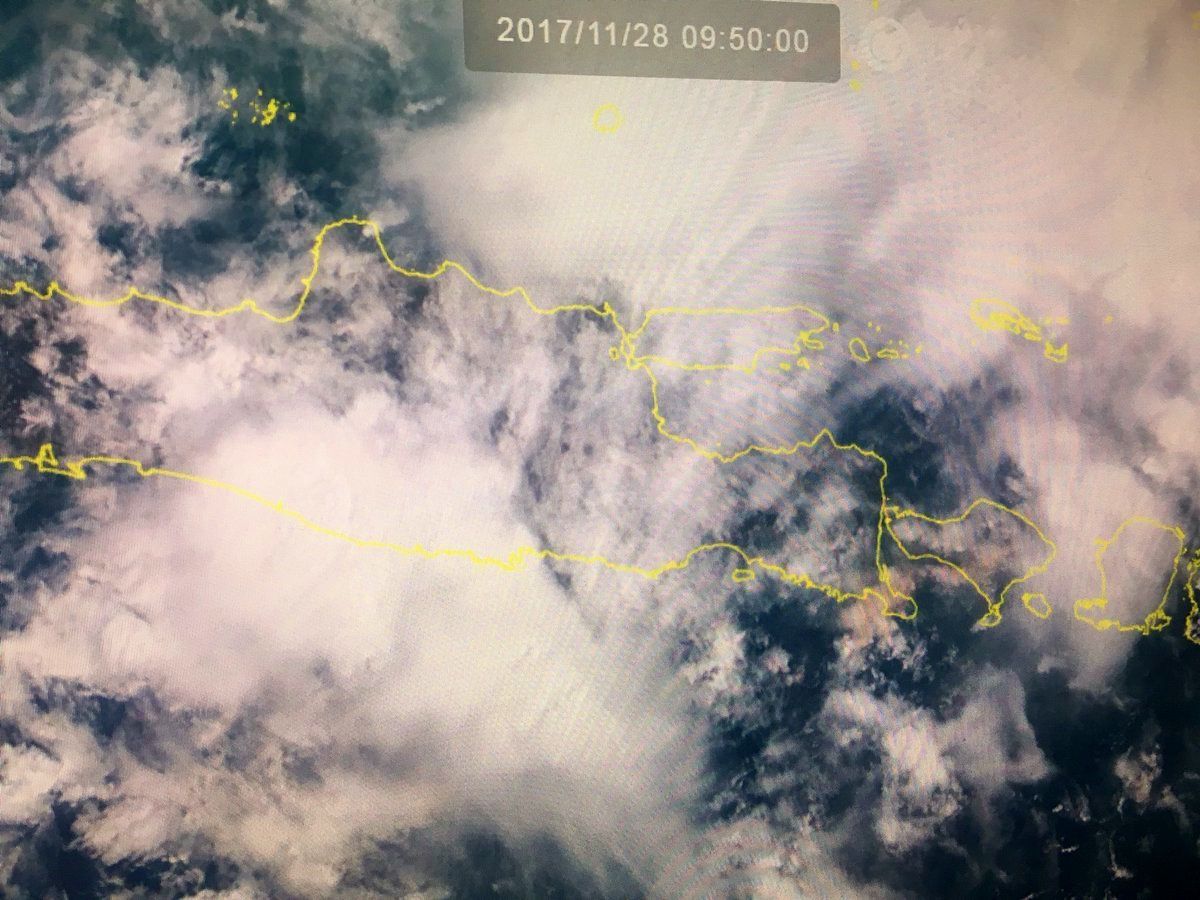 The ashes of Agung,(more brown in direction of SE of Java) and cyclone Cempaka - 28.11.2017 / 9h50 - image Himawari 8
Agung flow of SO2 - 2017.11.28 - Doc. GOME-2 Eumetsat / sacs.aeronomie.be & Volcanic ash adisory of VAAC Darwin - a click to enlarge
The PVMBG reports an increase in volcanic activity, and an opportunity for larger eruptions.
It should be noted that on November 27, the MIROVA site detected for the first time a thermal anomaly of 51 MW, indicating the presence of lava on the surface. Tremor, of amplitude 1 to 2 mm (dominant 1 mm) is recorded continuously, and reported increasing 28.11.

The instructions to exercise no activity in the 8-10 km fixed area are recalled ... 22 villages are present in this zone of danger, and the number of people living there is estimated between 90,000 and 100,000. Some people still refuse to evacuate, for various reasons: they feel safe, or have to take care of their animals and gardens, or for religious reasons.

For touristic-economic reasons, more and more announcements are made "Volcano is not so scary as long as you keep a safe distance" .. how to handle the information with caution and discernment, if you compare it to other posters.
Sources: PVMBG, Magma Indonesia, BNPB, Mirova, Himawari-8, Gome-2
In Sabancaya, the activity of the week is decreasing slightly, with 78 explosions a day. The plumes rise to a height comparable to the previous week, around 4,200 meters above the crater, with a dispersion towards a large sector north, northwest and northeast.
The seismicity remains dominated by LP earthquakes (fluid motions) and emission tremor. The flow of SO2 recorded on November 23 is 2,944 tons / day.
Eleven thermal anomalies with values ​​between 3 and 43 MW of radiative power were recorded by MIROVA.

Sources: IGP / OVI / Ingemmet