Publié le par Bernard Duyck
The Agung remains at the second highest level of warning about the risk of eruption ... however, this did not prevent 253 people to climb on Thursday to celebrate the Balinese Galungan.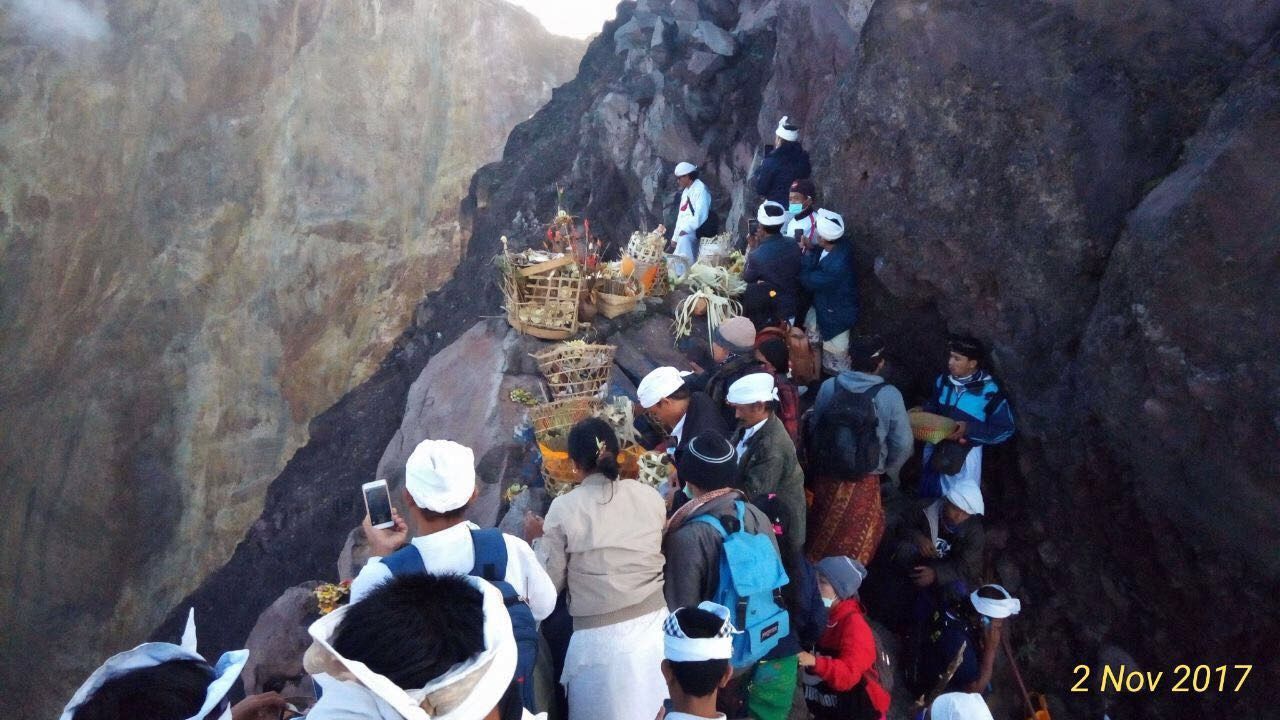 Balinese rush to the crater of Agung to pray and make offerings during the Galungan festival - photo released by the BNPB
Galungan is a holiday season, where we celebrate the victory of dharma (the good) on adharma (the devil). This 10-day period marks the moment when ancestral spirits visit the earth, and where the present inhabitants have the responsibility to be hospitable by prayer and offering; it ends on November 11 by the day of Kuningan. Galungan is similar to Diwali, celebrated by Hindus from other parts of the world.
The governor of Bali says he wants to give permission to the villagers to return to pray in the red zone; some decided to spend the holidays in the evacuation centers, others by hundreds to pray at the temples of Besakih, in the red zone.
A typical Indonesian duality, where religious practices often take precedence over the cautious advice given by volcanologists.
As can be seen in the photos of the crater, fumaroles are still present, as well as a smell of sulfur, and aircraft noises. On November 2, the observatory recorded 3 episodes of non-harmonic tremor, 42 VB shallow volcanic earthquakes, and 33 deep volcanic earthquakes.

Sources: PVMBG, BNPB, and local press
On Ambae, still on alert level 3, the activity consists of small explosions, with ejection of bombs and plumes of gas and ashes.
The impact of these ashes and gases, dispersed according to the prevailing winds, should change with the beginning of the rainy season (from November 2017 to April 2018), and contain the ash on the upper parts of the volcano. On the other hand, with the rains, the acid rains and the mudslides will become more current, which in addition to the direct danger, will contaminate the reserves of drinking water for the humans and the animals.
It is recommended to clean the drainages in order to facilitate the flows, and not to drink the water in case of contamination.

Sources: Vanuatu Geohazards and Daily Post.